Getting a female horse and naming it can be a fascinating experience. It is essential to find the perfect name for them to help kickstart your new life together.
It is probably one of the most important decisions you will make for your horse because the name will stick with her for the next 20-30 years. Not only that, but finding the right name for your girl horse is also crucial because it will determine her personality, behavior, and attributes.
However, finding the right name that accurately depicts just how beautiful and fashionable she is can be rather difficult.
We understand how overwhelming this process can be, which is why we have made a comprehensive list of cute and quirky female horse names that you can refer to help narrow down your search for the perfect name.
The names are divided into categories based on your horse's color and inspired by famous movies and shows and other broad themes.
So, without further ado, let's get started!
Unique Female Horse Names
Are you bored of the typical and quintessential names for female horses?
If you are looking for a rather unique and distinctive name for your mare, then you might find something from our long list of unique female horse names.
Troktsky
Moonlight
Moon Dancer
Alvira
Trauma
Sirena
Valentine Kiss
Celestia
Camie
Zsa Zsa
Mystery
Peaceful
Merry
Isabella
Autumn
Pip
Willow
Dinah
Elvira
Duchess
London
Athena
Aiko
Snickers
Baity
Candy Lilly
Poppy
Polly
Gucci
Diva
Bella
Bess
Firefly
Peach
Pookie
Prada
Rosie
Fury
Pepper
Good Female Horse Names
Didn't like the names in the previous list? Perhaps these good female horse names will pique your interest.
Mona
Millie
Lucy
Bonnie
Juliet
Fifi
Destiny
Bloom
Bree
Blanca
Dazzle
Bikini
Mika
Bella
Epona
Clover
Astro
Marigold
April
Luna
Aurora
Hera
Holly
Amara
Brandy
Cinderella
Heta
Ivy
Desire
Dahlia
Charmed
Bliss
Bluebell
White Female Horse Names
White horses are considered absolutely magnificent and beautiful. You can spot a white horse from a distance, and they will always stand out among other horses.
That is why it might be a good idea to give your female horse a name that accurately reflects her pearlescent coat. Consider this list of the best white female horse names.
Queen: White horses are typically used to transport royalty. Even in ancient times, kings and queens were the only ones who could ride on white horses. For that reason, naming your white mare queen would be apt.
Ash
Shimmer
Lilly
Snow feet
Swift silver
Fauna
Night Sparkle
Jasmine
Cream
Daisy
Angel
Blizzard
Celeste
Cloud
Coconut
Cotton
Custard
Feather
Glacier
Glimmer
Iris
Ivory
Lacey
Marshmallow
Marzipan
Milkshake
Orchid
Pearl
Polar
Snowdrop
Snowball
Sugar
Tofu
Whitney
Black Female Horse Names
Alternatively, if you have a beautiful black female horse, you can consider giving her a name that corresponds with her dark coat. Similar to white horses, black horses are also just as mesmerizing.
They have a unique aura and mysterious beauty that can't be compared to other types of horses. So, take a look at our top picks of black female horse names.
Noir: The word Noir means black in French. It is also a popular genre of dark films. So, if you're a fan of either the dark genre or anything French, perhaps this name might appeal to you.
Ebony
Black Beauty
Black Pearl
Midnight
Stormy
After Dark
Black Shadow
Choko
Chocolate
Dark Angel
Dark Shadow
Eclipse
Espresso
Moonlight
Moonshine
Night
Raven
Beetle
Charcoal
Blackheart
Famous Female Horse Names
Flurry Heart: Also known as princess Flurry heart, she is an Allicorn foal from the TV series, "My Little Pony." If you think your mare is a princess, you might want to consider naming her after this adorable fictional character.
Fluttershy: Another lovable fictional character from the 'My Little Pony' series is Fluttershy, a female Pegasus pony known for her kindness. This will be an apt name for your female horse if she exudes kindness.
Spirit: If you have grown up watching animated movies, you have probably heard of the name Spirit.
This was the name given to a Buckskin Mustang in the animated film 'Spirit: Stallion of the Cimarron.' The film is about a horse that gets captured by the army and communicates with other horses to find his way home.
Funny Female Horse Names
This list of funny female horse names is for those horse owners who want to add a funny twist to their female horses' name or love puns.
My Little Pony
Hay Girl Hay
Penny Loafer
Shoe Crew
Chatters
Lady She
Lucy Fur
Pony Soprano
Tina Hay
Hay Neighbor
Night Mare
Hermoineigh
Horsen Around
Hoofy Heart
Gaits of Hell
Whatshesaid
Whinny the Horseshoe
Fifty Bales of Hay
Mane Attraction
Also, check out our list of Funny Horse Names.
Cool Female Horse Names
Perhaps your mane exudes coolness, which is unlike that of other female horses. So why not give her a name that highlights just that about her? Take a look at some cool female horse names below.
Pinna
Mia
Chica
Arabella
Dorra
Glitter
Bella Gina
Dancer
Flicka
Diva
Plum
Sasha
China
Gypsy
Flicka
Gamora
Ruby
Flora
Shella
Aqua
Beauty
Cute Female Horse Names
Think your female horse is as cute as a button? Then we're positive you will find the perfect name for her from this list!
Dolly
Glory
Amber
Edna
Grace
Ruby
Sadie
Wisteria
Ladybird
Sassy
Diana
Spice
Holly hock
Firefly
Amber
Fox
RDR2 Female Horse Names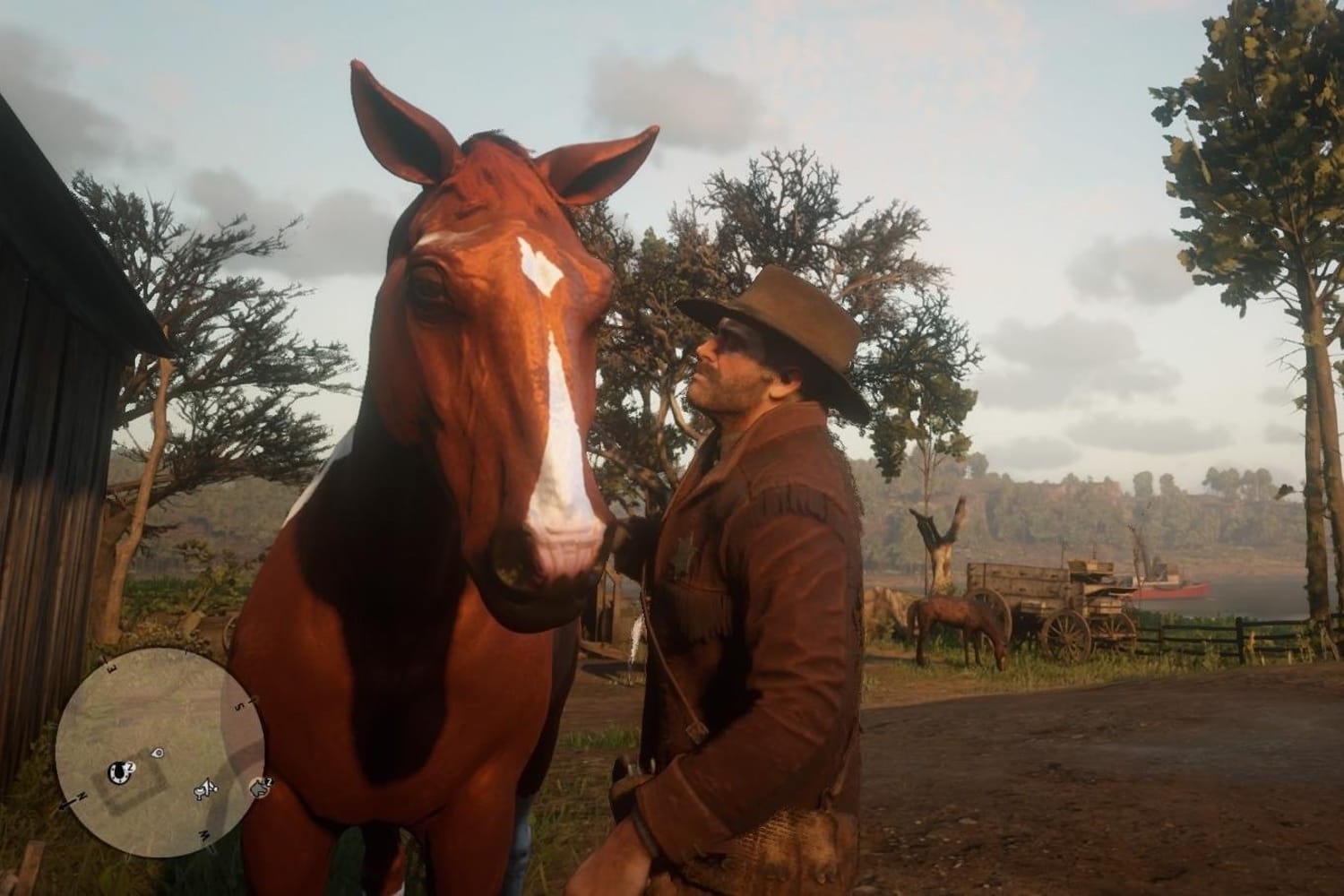 One of the most popular video games, Red Dead Redemption 2, features nineteen different types of horses, each having its unique characteristics.
If you're a fan of this game, it would be fitting to give your girl horse a name inspired by this game. Here are our top picks.
Civic
Fluffiness
Tina
Benita
Athena
Venus
Epona
Blinca
Dahlia
Capella
Chika
Lady
Disney Female Horse Names
Buttercup: This is the name of a unicorn from Disney's famous movie, 'Toy Story.' If you've grown up watching this movie or have been a fan of it, give your girl horse a name inspired by this movie.
Bullseye: This is another character from Toy Story, who is pretty famous. Bullseye is Woody's trustee sidekick horse. She is kind, sweet, and rather clumsy.
Angus: If you have been a fan of the Disney movie 'Brave,' and if your mare has a black coat, then giving her the name Angus would be quite fitting. Angus was Meridia's big black horse and faithful companion in the movie.
Legendary Female Horse Names
Are you a fan of mythology and folktales? Then you might find the right name for your female horse from this list.
Epona: She was known as a horse goddess and protector of horses, donkeys, and unicorns.
Arion: Known popularly as a fast and swift horse. If that description aligns with your horse, this name would be perfect for her.
Enbarr: Popular in Irish mythology, this horse was swifter than speed and could travel both on land and water.
Powerful Female Horse Names
This list is inspired by powerful women in history, including political figures, feminists, celebrities, and female warriors.
Rosa Parks
Frieda Kahlo
Oprah
Michelle Obama
Taylor Swift
Margaret Thatcher
Marie Stopes
Lozen
Grace O' Malley
Jane Austen
Diana
Amelia Earheart
Red Female Horse Names
We are sure you will find the right name from this list for your horse if she has an orange or red-toned coat. These names will accentuate her unique color.
Applejack
Chestnut
Nutmeg
Cheeto
Cinnamon
Copper
Crimson
Burgundy
Fire
Ginger
Auburn
Amber
Goldilocks
Blaze
Butterscotch
Clementine
Mandarin
Volcano
Lava
Marigold
Dorito
Tang
Sierra
Sienna
Ginger Spice
Apricot
Peaches
Mahogany
Ruby
Big Red
Cremlin
Scarlett
Salsa
Female Horse Names Beginning with A
Adalynn
Ava
Addison
Aurora
Amelia
Aubrey
Audrey
Anna
Alice
Annabelle
Abigail
Aria
Aaliyah
Adeline
Ariana
Arianna
Avery
Allison
Alexa
Aubree
Alexandra
Female Horse Names Beginning with S
Satine
Saphhire
Sahara
Sandy
Sakura
Santana
Sapphire
Saturn
Santiago
Sargento
Savannah
Female Horse Names Beginning with L
Laura
Lavender Sky
Layla
Lea
Leather'n'Lace
Legacy
Legend
Lydia
Lennox
Lina
Lara
Louise
Layla
Lisa
Female Horse Names Beginning with R
Riley
Raelynn
Ryleigh
Rachel
Rebecca
Ruby
Rose
Reese
River
Regina
Royalty
Ruth
Remington
Raniyah
Roxana
Ria
Raelee
Rosaleigh
Female Horse Names Beginning with M
Madelyn
Mackenzie
Maria
Margaret
Morgan
Melanie
Malia
Madeline
Mary
Melody
Molly
Mckenzie
Makayla
Mckenna
Maggie
Makenna
Melissa
Michelle
Maci
Mariana
Myla
Female Horse Names Beginning with C
Cadillac
Chloe
Charlotte
Camila
Caroline
Clara
Claire
Cora
Charlie
Callie
Cecilia
Camille
Catalina
Charlee
Collete
Cleo
Conclusion: Female Horse Names
And with that, we conclude our thorough guide on cute and quirky female horse names. By now, you may have picked a few of your favorite names for your girl horse.
Don't feel overwhelmed and confused. We recommend taking it easy, trying out each name on your horse, and picking the one that best suits her.
We wish you and your female horse good luck!