A horse is arguably one of the most majestic animals that roam the Earth. Other than their striking beauty, they're also loyal companions when trained well. Horses come in various colored coats, including pure white.
If you've got a white horse or any colored horse, the first thing you must do to bond with it is to give it a great name. If you're in search of some, here are some cute and funny white horse names that you can use.
Pure White Horse Names
If you've got a pure white horse, giving it a name that's related to its appearance isn't a bad idea. So, we've come up with a few names that you could use in that case.
Heavenly
Avalanche
Snowball
Angelo
Ice
Banshee
Ice cream
Poseidon
Angel
Rader
Chiffon
Sugar
Angela
Pancake
Arctic
Alaska
Ace
Cute White Horse Names
Casper: Casper is a fictional character from the novel and cartoon series The Friendly Ghost. Casper is a cute and friendly ghost, so Casper can make for a cute white horse name as well.
The list below includes a few more cute white horse names.
Cloudy
Biscuit
Ollie
Peanut
Birdie
Pixie
Billie
Ghost
Buddy
Bebe
Fido
Frosty
Honey
Joey
Willie
Allred
Buzz
Bianco
Apollo
Billy
Connie
Caviar
Clover
Carolina
Champion
Clodhopper
Cherish
Caritas
Gallic
Dover
Diana
Dexter
Debbie
Eleanor
Exterminator
Funnel
Rona
Fizz
Grace
Isabelle
Juliet
June Jack
Jockey
Jalopy
Love
Leon
Lincoln
Midsummer
Merry
Marigold
Mermaid
Meadow
Mint julep
Maryann
Marina
Miracle
Margarita
Moonshine
Marcy
Marquis
Nally
Noel
Night sparkle
Rosie Ea Romeo
Rossana
Raider
Snowfeet
Senn
Svaftsilver
Shimmer
Star
Saint
Snow queen
Trapper
Traveler
Trigger
Tian
Tetra
Thelwell
Universe
Victoria
Vivian
Violeta
Verity
Valentina
White spot
White water
Winston
Washington
Willow
Winter white
Ziggy
Black and White Horse Names
All horses are beautiful and deserve the same amount of care – whether they have one solid color or have a mix of different colors. Considering that, we started this article with names for black and white horses.
This way, you can give your horse a name that fits with its appearance and develop a close bond with it. Here are a few names you may like.
Dalmatian: If your white horse has black spots on it, a good name for it could be Dalmatian. For those of you who don't what that is, dalmatians are a dog breed. Dogs of this breed all have white skin and black spots.
Deville: This is the last name of the fictional character Cruella Deville from the novel and the film, The One Hundred and One Dalmatians. Deville's hair is black and white in color, and all of her belongings are shaded in the same way as well.
Ace of Spades: If the name Ace of Spades is too wordy, you could stick with Ace instead.
Chaplin: If you're a fan of the original Charlie Chaplin, you'll know that the footage was shot in black and white. If Chaplin isn't to your liking, go for Charlie instead.
Oreo: This name is derived from the sandwich cookie that is both black and white in color.
Inkblot: Have you ever seen an inkblot test? If you haven't Google that right now, and you'll know why this name is apt for this category.
If you're not satisfied with those names, here are some more for you to consider.
Domino
Inkspot
Mickey
Minnie
Penguin
Pirate
Moo
Panda
Snoopy
Skunk
Tux
Zorro
Orca
Good White Horse Names
We've comprised a list of good white horse names for you.
Cotton
Starry
Starlight
Marshmallow
Moonlight
Halo
Ivory
Whiskers
Elegance
Ice cube
Crystal
Globe
Blanche
Jamaican snow
Tiara
Desert
Jupiter
Moonchild
Whitewater
Lotus
Funny White Horse Names
We have put together a perfect list of funny white horse names never known to man. Keep on reading to get entertained.
Bunny killer
Badly
Bounce
Brave Broom
Bored
Bucktooth
Bull's eye
Bandito
Clear
Carrots
Cloatooper
Crouching tiger
Cowboy
Cloud
Chief
Clear night
Cinnamon
Crazy horse
Cheyenne
Diamond
Dynamite
Donkey
Dairy
Ed
Elegance
Funneigh
Glow
Geronink
Grazer
Houdini
Ned
Horsepower
Hoofer
Henri
Heisenberg
Goomer
General
Hannibal Lector
Hall and oats
Ice cream
Ice cube
Iroquois
Jupiter
Jolly boy
Jalopy
June
Lame
Famous White Horse Names
Below are some names of famous horses that have existed throughout history.
Marengo: This was Napoleon I's famous warhorse. The horse was named after the Battle of Marengo. This name is a great choice for history fans.
Desert Orchid (Dessie): This was an English Racehorse and was ranked as the fifth-best National Hunt horse that's ever lived.
Palomo: Palomo was Simon Bolivar's horse and accompanied him throughout his life.
Brown and White Horse Names
Here are a few names that are well-suited for brown and white horses.
Coconut
Champagne
Clay
Chanting
Toffee
Luna
Magnolia
Gizmo
Kiwi
Nova
Lily
Milky way
Moon
Caramel
Clyde
Falcon
Eagle
Morning glory
Scooby
Choco
Numbus
Lady snowbird
Beaver
Shadow fox
Brownie
Teddy
Woody
Cinnamon
Milton
Cappuccino
Cool White Horse Names
Icefall: Icefall just sounds a lot cooler than saying snow. So, why not name your white horse Icefall?
Swiftsilver: This is a cool name you can give to your horse if they're on the fast side.
Phantom: Phantom is Zorro's horse. The name is cool because it symbolizes mystery.
Albert
Amelia
Alexander
Alaric
Ann
Austen
Amish
Beau
Bronco
Blake
Cadence
Diesel
Dessie
Dandy
Evangeline
Ember
Edgar
Elmer
Fonde
Falsh
Fairly
Franklin
Glorious
Greyjoy
Goliath
Heaven
Ice wen
Jiminy
June
Kuzco
Kenning
Kendra
Mighty
Milo
Montague
Mateo
Michaels
Michele
Maximillion
Maurice
Milky
Mariana
Nia
Nelson
Octavia
Prince charming
Pongo
Persephone
Peach blossom
Pure white
Ringo
Raven
Romeo
Rose
Spear
Shining star
Secret
Scout
Silver
Snow fire
Spot
Socks
Spotless
Smudge
Sparkle
Strider
Shadow
Shinny
Tiger
Tide
Tyler
Tristan
Talmo
Tabby
Topper
Tabitha
Twinkle
Tin
Vanilla
Viola
Vann
Victoria
Victor
Vincent
Velvet
White
Wednesday
Willy
Win
Menden
Warrior
Winner
White flash
Yin-Yang
Zachary
Zephyr
Best White Horse Names
Thor: According to Norse mythology, Thor is the God of Thunder. Since lightning is white in color, naming your white horse Thor makes perfect sense.
Here are some more of the best white horse names we could think of.
Dragonfly
Whiskey
Alaska
Cloud
Snowscape
Tornado
Lightning
Bolt
Royal White Horse Names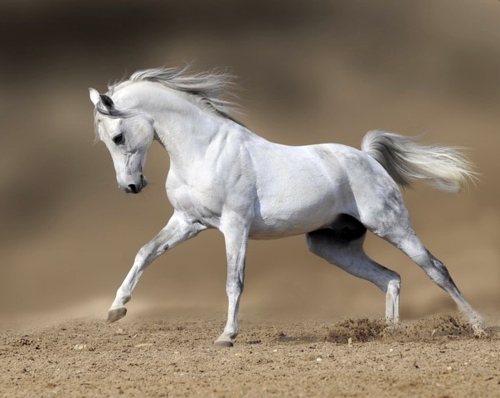 Khaleesi: Khaleesi is the Dothraki word for "queen" in the fantasy world of Game of Thrones. The character, Daenerys Targaryen, is referred to as Khaleesi, and she has white hair. So, you can't go wrong with giving a white horse this name.
Here's a list of royal white horse names.
Wisdom
Storm
Nayru
Malkia
Chew
Kral
Bremer
Charmeuse
Damask
Thulium
Meringue
All White Horse Names
Here are a few names for an all-white horse.
Swan
Coconut
Twister
Sugar Star
Siberia
Blanca
Storm Chaser
Snowdrop
Arabian
Vanilla
Cold
Diamond
Dazzle
Celestial
Polar
StarfireChew
Starlight
Buttermilk
Blizzard
Cashmere
Grey and White Horse Names
Grani: Grani is a grey horse from Norse mythology and belongs to the hero Sigurd. Grani is a descendant of Odin's steed Sleipnir. If you're interested in mythologies and history, the name Grani is a great choice.
Marble: Marble comes in various colors, one of which is grey and white. So, this name is great for a grey and white horse. You can also consider the name Granite instead. However, Granite may not sound too great for a horse name.
Male White Horse Names
If you're looking for some great names for your stallion, here's a comprehensive list of them.
Wilbur
Wilder
Buck
Coco
Calisson
Jake
Jammie
Blazer
Popcorn
Lucky
Casper
Colt
Pure
Alfie
Alto
Opal
Basil
Barney
Bobby
Omega storm
Charlie
Edgar
Donut
Freddie
Cinnamon
Duke
Kipper
Leo
Icarus
Hercules
Mustang
Max
Niko
Prince
Ozzy
Orion
Rocky
Rick
Sonny
Rex
Spider
Yoshi
Rufus
Murphy
George
Leon
Smartie
Badger
Ben
Chester
Jimbo
Morgan
Montie
Sprint
Turner
Benny
Jack
Dustin
Phillip
Female White Horse Names
Daisy: Daisy is a fairly common name for a female pet, and considering the flower has white petals, this name is perfect for a female white horse.
Jasmine: This is another name that's named after a flower with white petals.
Here's a long list of female white horse names.
Pearl
Cream
Millie
Princess
Butter
Samantha
Betty
Camilla
Chantilly
Molly
Rosie
Powder
Sable
Sienna
Ginny
Layla
Ellie
Lexi
Jessie
Sydney
Bailey
Poppy
Mona
Lucy
Lilly
Polar
Bonnie
Bella
Sasha
Athena
Betty
Belle
Bess
Bloom
Amber
Abbie
Cassie
Dolly
Duchess
Suzie
Dixie
Canela
Charmaine
Buttercup
Cleopatra
Sandy
Pixie
Savanah
Piper
Rapunzel
Joyce
Heidi
Kiara
Katie
Gretel
Stella
Jemma
Strawberry
Lavender
Natasha
Iris
Hope
Jewel
Starlet
Snowdrop
Merida
Mildred
Lolo
Lolita
Odyssey
Missy
Niagara
Orchid
Zodiac
Olivia
Candice
Zelda
Pate a choux
Tilly
Tara
Snowy
Ursula
Ballerina
Disney White Horse Names
There have been various horses in Disney films – some have had more major roles than others. With that said, these characters can be a good source of finding names for horses. Here are three Disney white horse names.
Pegasus: Pegasus is a major character from Disney's animated feature film Hercules. Pegasus is a white-color horse that has wings and a blue mane. Pegasus is Hercules' trusty steed.
Achilles: Achilles is a white horse from the Disney film The Hunchback of Notre Dame. He was named after Greek Mythology.
Maximus: This fictional horse is a character in the Disney animated feature filmTangled. Maximus is determined to his work, so if you know a horse like that, Maximus might be a good name for it.
Here are some additional Disney horse names.
Note: some of the following names are of white horses, but there are names for horses of different colors too.
Major
Samson
Abu
Buttercup
Destiny
Jaq
Pdomo
Gus
Kjekk
Khan
Altivo
Donkey
Spirit
Bullseye
Snow white
Bugsy
Buck
Angus
Phillipe
Smokey Joe
Mythical White Horse Names
White horses have been present in different mythologies and historical literature. They've usually been associated with warriors and heroes, the sun chariot, fertility, and more.
If you're looking for horse names that have some historical significance, you've come to the right place.
Sleipnir: Sleipnir is from Norse mythology. It's Odin's steed has eight legs, and is the best horse that could ever be, according to the mythology.
Uchchaihshravas: Uchchaihshravas is a seven-headed horse from Hindu mythology. The horse can fly and is considered to be the king of horses.
Rhiannon: Rhiannon is a mythic figure from Celtic mythology. It's known that she rode a white horse. Considering the name is unknown, you can name your horse after this Rhiannon herself.
Here are some more mythical horse names that may interest you.
Kanthaka
Sirius
Hayagriva
Pegasus
Svantovit
Native American White Horse Names
Giving an American-bred horse a name that stems from Native American mythologies is a great way to ground them in their heritage.
So, if you've got an American-bred horse, here are some names that you can use for your horse.
Isha
Tamuchi
Ahone
Appaloosa
Jamul
Kipitaki
Kujuri
Silver Fox
Shiok
Kolowa
Stonecoat
Manetoa
Uktena
Culloo
Conclusion: White Horse Names
Once you've given your horse the perfect name, make sure to take good care of it. If you show your horse love, it will reciprocate that as well.
Top 7 Magnetic Boots for Horses