Chameleons are absolute superstars. They change colors, are super-cute, and make for lovely pets. If you thought fish were the easiest pets to look after, wait till you have a chameleon. Since they're slow-moving and tend to stay in one place, chameleons are quite low-energy pets.
If you're someone who wants an easy-going, happy-go-lucky animal, chameleons are it.
However, deciding a name for these silent creatures can be challenging. You want to give them a name that is just as unique as their personality.
If you need some inspiration, read on for some cute and funny chameleon names!
Good Chameleon Names
If you're looking for a decent yet friendly name for your chameleon, here are some of the best suggestions to consider.
Leon
Fidel
Neon
Berry
Smidge
Yoshi
Frosty
Dodo
Twiggy
Sally
Harley
Tabasco
Blue
Cricket
Eddie
Claws
Charlie
Atlas
Pebbles
Turquoise
Chuckles
Pedro
Dusty
Inky
Newt
Elwood
Haiku
Biscuit
Beanie
Dawna
Breezy
Grogy
Prism
Noodle
Pixie
Maximus
Clumsy
Peanuts
Sky
Zee
Skittles
Elmo
Echo
Dynamite
Dino
Earl
Dexter
Olivia
Cute Chameleon Names
If there's one thing we can all agree on, then it's that chameleons are the cutest animals on the planet.
If you're looking to pet a small chameleon, you should definitely choose a cute name from the list below.
Daisy Belle
Fluffy
Princess
Coco
Cuddles
Cutie pie
Junebug
Scoot
Goggles
Fuzz
Cookie
Chamy
Peaches
Pooh bear
Bam Bam
Freckles
Baby
Honeybun
Smootches
Powderpuff
Blinkly
Boo
Dusty
Littlefoot
Clawy
Beanie
Dessert
Rainbow
Buttons
Meow
Badass Chameleon Names
Chameleons are certainly one of the most badass animals. The fact that they can camouflage and change their colors to protect themselves is quite special.
With that said, here are the best badass chameleon names you should know!
Claws
Spiney
Diesel
Raider
Rock
Siege
Chop
Beast
Hunter
Reaper
Black Knight
Dynamite
Ryder
Muscles
Chills
King
Gorilla
Raptor
Bender
Armor
Nemesis
Dragon
Metal
Bundy
Storm
Hammer
Warrior
Thrash
Maximus
Terror
Atticus
Fang
Blade
Bruce Lee
Bones
Funny Chameleon Names
Chameleon names can be all too funny as well.
If your beautiful pet makes you laugh and is the reason for your smile, then here are some super-funny names for your chameleon.
Some of these are actually comical puns and will definitely make you laugh anytime you call them out.
Chameleonardo Da Vinci
Tong Tong
Chamuel L. Jackson
Funny Bones
Scale Caesar
Jabberwock
Chammie Davis Jr.
Grouch
Psycho
Savage
Tie-dye
Eddie Lizard
Lynyrd Lizard
Whistles
Chameleo Estevez
Chamwow
Rumpleshedskin
Chamiliionaire
Chamelo Anthony
Queen Elizardbeth
Benedict Skaleyhat
Chameleopetra
Raptile
Charmeleon
Scalzy
Karma
Charmander
Nessie
Houdini
Mr. Pretty Pants
ChameleonardoDicaprio
Chameleon Cabello
Cool Chameleon Names
Chameleons are certainly the coolest pets ever. If you are looking for cool chameleon names to help you out.
Trailblazer
Climber
Leon
Greedo
Leslie
Iggy
Kodak
Blade
Zendaya
Axel
Castiel
Pebbles
Godfather
Azura
Goliath
Crowley
Patches
Rango
Clyde
Dagger
Bentley
Comet
Blizzard
Cooper
Darwin
Eros
Robin
Dinah
Delta
Echo
Harley Quinn
Falcon
Shimmer
Juana Iguana
Splash
Girl Chameleon Names
Young girl chameleons are beautiful and carry a young aura. They flaunt beautiful colors and are extremely easy to look after. Here are some wonderful name suggestions for them.
Eve
Skye
Jane
Ivy
Skittles
Gibby
Lilly
Roxy
Meg
Izzy
Pearl
Pixie
Meg
Ruby
Janet
Nala
Elizabeth
Kona
Lola
Zoey
Luna
Crissy
Lisa
Pennie
Moana
Kiara
Leia
Koda
Cameo
Speedy
Daisy
Lolita
Elena
Mila
Hazel
Poppy
Rose
Felicity
Bella
Sadie
Elly
Jennie
Frankie
Lakota
Amelia
Sarah
Camilla
Sophie
Female Chameleon Names
If you're petting a slightly older female chameleon, you can opt for these mature and sophisticated names for your pet.
These names carry a vintage and retro spirit with them.
With that said, let's get into them!
Dorothy
Birdie
Clarissa
Adelaide
Greta
Julia
Liliana
Marilyn
Barbara
Charlotte
Delia
Alice
Anabelle
Isabella
Martha
Polly
Linda
Augusta
Cora
Georgette
Anne
Frances
Lorene
Olivia
Chloe
Caroline
Clementine
Grace
Hattie
Ida
Madelyn
Ruth
Ava
Delilah
Audrey
Elizabeth
Flora
Jewel
Margaret
Molly
Stoner Chameleon Names
These stoner pet names for your chameleon are going to stand out for their uniqueness and sound extremely cool every time you say them out loud.
Here are the best stoner chameleon names!
Space Cowboy
Herbivore
Bong Buddy
Zooie
Ganja
Puffer
Jack
Cheifer
Rasta Man
Flyer
Blower
Hippie
Doper
Fela
High Flyer
Herbalist
Space Cadet
Red Eye
Blaster
Junkie
SmokieMcPot
Spliff Queen
Weedhead
Potthead
Smoker
Lettucehead
Asparagus
Weedie
Veiled Chameleon Names
Since chameleons are known for changing colors, here are some veiled chameleon names you should check out!
Ninja – This name is perfect for your chameleon as it perfectly captures the sneaky and stealthy nature of the animal.
Sam Fisher – You can also name your chameleon after the famous video game spy in Splinter Cell.
Solid Snake – Here's another name, which is taken from another sneaky video game spy. If your chameleon hides often and likes to remain veiled, then this is the perfect name.
Best Chameleon Names
If you still haven't found a wonderful name for your chameleon, then here's another list of the best chameleon names that are surely going to win your heart.
Alistair
Droopy
Blue Beard
Cappy
Ceberus
Gorgon
Hydra
Hymie
Bob
Alda
Droogie
Earl
Gabriel
Elvine
Camelion
Antigone
Cricket
Sneaky
Dusty
Elmo
Fancy
Gucci
Cham newton
Benny
Frank
Digit
Darcy
Fabio
Camo
Abraxas
Bobby
Curt
Dezzy
Freckle
Carizard
Gee
Dawna
Balerion
Drake
Argon
Gumby
Goldy
Frosty
Chua
Bosco
Apollo
Clepatra
Grumpus
Baby Chameleon Names
Baby chameleons are super-cute and sneaky.
They are small and can hang around on your arm or in the palm of your hands. You can take your baby chameleon with you in your pocket during your travels.
With that said, here are the cutest baby chameleon names you should know!
Bam Bam
Rainbow
Ace
Fuzz
Milky
Babykins
Baby Boo
Goggles
Cuppy Cakes
Loco
Peaches
Bitsy-Boo
Cutie Pie
Fluffy
Beau
Peakaboo
Lucy
Cookie
Little Feet
Ripple
Oscar
Babushka
Molly
Max
Disney Chameleon Names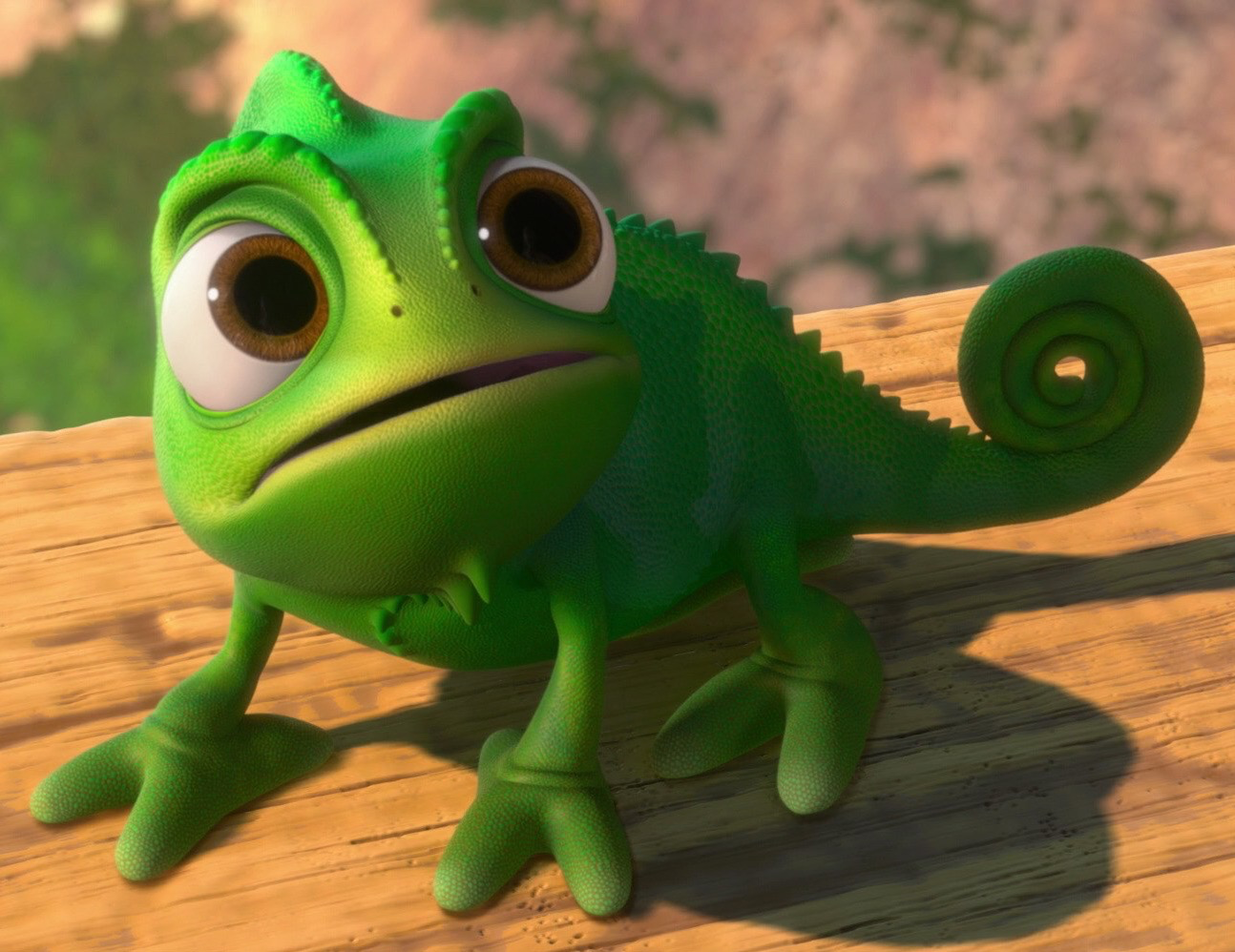 There are many Disney movies and shows that have the sneakiest and smartest chameleons. Here are some you probably already know about.
Pascal – This famous chameleon belonged to Rapunzel and remained her best friend in the famous Disney movie 'Tangled'. He was intelligent and always protected Rapunzel in his own little way.
Randall Boggs – This little guy is from the movie Monsters. Inc and played the role of a cunning antagonist.
Hilarious Chameleon Names
Ready to enjoy a good laugh? Here are some of the most hilarious chameleon names that you should definitely consider for your pet. They are funny, lovable, and cute.
Chamron Diaz – Here's a funny pun name that takes after the famous actor Cameron Diaz. If you have a female chameleon, you can definitely use this name.
Seth Rollins – Named after the famous show host, "Seth Rogen", this name perfectly encapsulates a funny, chirpy, and energetic chameleon.
Randy Savage – The name takes after the stellar American wrestler 'Randy Mario Poffo'. If you think your chameleon is rough, strong, and athletic, then this is a super-funny name to give it!
Jackson Chameleon Names
Jackson chameleons are a unique variety that is native to East Africa, Hawaii, Florida, and California. They usually have three horns.
Here are some of the best names for a Jackson chameleon!
Tricky – Jackson chameleons can be difficult to predict. They can also be aggressive sometimes. Therefore, Tricky is a funny and nice way to call out your pet.
Violet – This name is perfect for a Jackson chameleon as it represents a calm and unique color – much like the temperament of these chameleons.
Paxton – Since Jackson chameleons like to stay alone and enjoy solitude, Paxton is a good name that represents peacefulness.
Popular Chameleon Names
Here are some popular chameleon names you've probably heard of.
Godzilla – Many people name their chameleons Godzilla, which takes after the giant lizard in the movie itself.
Yoshi – Yoshis can be described as four-limbed animals that are either a dinosaur or a dragon. Therefore, this is a popular name for a chameleon.
Rango– This name comes from the movie where the chameleon named Rango was played by Johnny Depp.
Red Chameleon Names
Red chameleons are absolutely breath-taking and beautiful. Here are some amazing names that do their beauty justice.
Scarlett
Rose
Ebony
Jade
Amber
Fire
Brick
Auburn
Unique Chameleon Names
Looking for some out-of-the-box and ultra-unique names for your chameleon? Here are some ideas!
Cucumber
Bulbasaur
Kodak
Taco
Tate
Sid
Freckles
Dizzy
Seaweed
Pet Chameleon Names
If you thought this was the end of the list, think again! Here are some more cool and unique pet chameleon names.
Anakin
ChaCha
Cameo
Basil
Blu
Lucky
Mac
Pogo
Maddie
A Final Word: Chameleon Names
With that, we come to the end of the wonderful list of cute and funny chameleon names.
Whether you want a cool nickname, funny pet name, or a sophisticated feminine name, you can find a treasure trove of pet names for your chameleon.
Use all the above-mentioned ideas as inspiration and make sure to share them with your friends and family!