Koalas are arguably one of the cutest-looking creatures to walk this planet. If you're looking for some cute and funny names for koalas, you've come to the right place. This article includes lists of cute, funny, good, popular, and Australian names for koalas.
Cute Koala Names
Koalas are cute creatures, so it's only fitting that their names are cute too. Here's our list of cute koala names.
Cuddles: We can't be the only ones who've looked at Koalas and thought about how badly we'd like to cuddle a cute, little koala, right? Perhaps, that's because they're such soft-looking creatures. So, "cuddles" is the name to choose if you want to keep things simple.
Furry: Sometimes, it's best to use the physical features of an animal to come with a name for them. Koalas are furry animals, so why not name a koala Furry?
Teddy: Have you ever noticed that a Koala is about the size of a large teddy bear? They're also cute and cuddly like teddy bears too! That's why we've recommended Teddy as a cute name for a koala. It just seems so apt for a koala's name.
Here are some other adorable names for Koalas:
Sleepy
Bogey
Roxie
Wiggles
Shelby
Squeeky
Coconut
Thyme
Sandy
Cocoa
Bobo
Woofie
Otto
Truffles
Waldo
Snowflake
Bonnie
Taffy
Rosie
Scruffy
Kolie
Snuggles
Chip
Papa
Spotty
Konnie
Rosa
Softy
Coco
Bodie
Tiffany
Spot
Climby
Snowy
Tiggy
Boo
Roxie
Snoopy
Panda
Good Koala Names
This is our most exhaustive list because most names can fit in this category. You can't go wrong by picking a name for a koala from this list.
Stitch: If you watched a lot of Disney as a kid, you'll probably remember the animated TV series Lilo and Stitch. In that show, Stitch was a blue-colored alien that looked a lot like a Koala. So, why not use that show's reference for a koala? It'll be a great way to indulge in nostalgia – which can be pretty comforting for the most part.
Here are some more good koala names that you can consider for a koala.
Bongo
Joy
Kai
Milan
Kaly
Keiko
Logan
Kaya
Kalua
Keanna
Ramona
Pixie
Kiefer
Kona
Laguna
Jenne
Landon
Mercedes
Lefty
Murphy
Lil'bit
Koby
Lilypie
Kassie
Luca
Redford
Luke
Madonna
Lucy
Malble
Larissa
Malibu
Midnight
Niana
Paisley
Marti
Linus
Max
Marshmellow
Maya
Leia
Lexi
Merlot
Mozart
Merry
Lola
Mia
Roxie
Midori
Mika
Mira
Mischa
Mitzi
Phoenix
Moby
Mochi
Rico
Monkey
Biggie
Mulder
Nugget
Mulligan
Mylo
Nanda
Pepper
Nate
Romeo
Nico
Parker
Noodle
Olive
Keesha
Pipsie
Onyx
Scout
Owen
Muggles
Ozzie
Peanut
Pinot
Margo
Paris
Rocky
Paulie
Mooshie
Pazzo
Pesci
Meadow
Picasso
Monet
Porche
Nell
Reece
Robin Hood
Quattro
Pearl
Rocco
Persia
Otis
Rufus
Paddington
Rusty
Scotty
Longleat Koala Names
There's a good safari in Longleat with a shelter for koalas. If you're planning on naming any of the koalas there, here are a few suggestions you should consider.
Flopsy
Rosie
Alfie
Milo
Meggie
Poppy
Minnie
Charlie
Gizmo
Sam
Little-Rascal
Bella
Mia
Mindy
Loki
Ozzie
Cookie
Patty
Mikey
Lola
Athena
Muffin
Peter
Luna
Monty
Thumper
Polly
Sam
Funny Koala Names
Keeping a funny name for a small creature can brighten up the mood every now and then. Thus, here's a list of some funny koala names.
Koalumbus: This may sound like a weird name but it's a play on the name Columbus.
Koleepy: Koalas sleep a lot during the day. In fact, that's pretty much all they do for the day – they're asleep for about 18 to 22 hours each day. This is because they need to conserve energy for digestion. So, when you put koala and sleepy together, you get Koleepy – a funny and quirky name for a koala.
Kolimber: Koalas are excellent climbers, and because of that, they like to spend a lot of their time in trees. You can name a koala Kolimber as a testament to their great climbing skills.
Koddles: There's no doubt that koalas are cuddly creatures. That's why we think that Koddles is a funny and apt name for a koala.
Here are some other funny names for Koalas:
Zippy
Squiggles
Fluffy
Pongo
Blu
Pooch
Wiggles
Bootycheekas
Poochie
Muffin
Key
Poncho
Zeus
Popular Koala Names
Here are some popular names for koalas.
Koko: Coco is a rather popular pet name. To make the name a bit unique, you could write it as Koko. It's still pronounced the same way, but it'll have a bit of a Koala's identity included in the name.
Huggin'Bear: There's a character from the film Toy Story 3 called Lotso Huggin' Bear. Therefore, the name Huggin' Bear is a reference to the character from that film. Even though he's a teddy bear, Huggin' Bear could be a good name for a cuddly Koala.
Looking for more Popular Koala names? Here are some suggestions:
Sheba
Phoebe
Skinny
Charlie
Shelby
Luna
Snoopy
Tilly
Skye
Skippy
Shorty
Millie
Alfie
Scooby
Best Koala Names
It's difficult to determine what's best with something as subjective as names. That said, we've compiled a list of some of our favorite names for koalas. Before we delve into the entire list of best names for koalas, here's one of our absolute favorites.
Lola: A lot of nicknames and pet names come from playing around with the original name or the animal's name. So, we did the same and recommend Lola as one of the best names you could keep for a koala.
You could also choose:
Bones
Cyrus
Daffy
Rowdy
Daisey-Mae
Dandy
Gasby
Fuzzy
Sparky
Morgan
Dante
Spencer
Roxie
Daphne
Muffy
Darcy
Cujo
Eva
Fido
Moose
Freddy
Fifi
Fifo
Furby
Furball
Mouse
Roxy
Speed
Judy
Joy
Speedo
Mulligan
Kali
Jojo
Ruby
Spanky
Joe
Muffin
Jodie
Spirit
Jelly
Spike
Jewel
Munchkin
Katie
Kate
Spookey
June
Kasey
Roxanne
Hope
Howdie
Honey
Sweetie
Sox
Moonshine
Daisy
Moses
Julie
Dakota
Mr Kitty
Sparkle
Kaylie
Mugsy
Speedy
Darby
Murphy
Rover
Famous Koala Names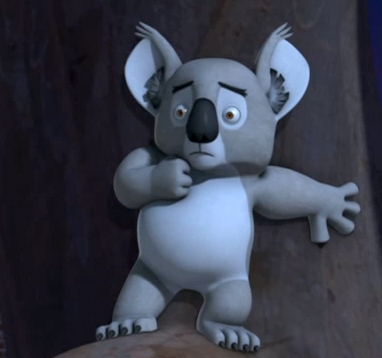 There aren't a lot of koalas that are famous, which is why this list is not exhaustive. However, we still aimed to give you some of the best famous koala names out there.
Anwen: Anwen is the name of a female koala who survived the recent bushfires in Australia. She was rescued by a team of professionals and received treatment for her burns at the Koala Hospital in Port Macquarie. You can't go wrong naming a koala after this strong survivor.
Leonard: The koala from the animated film The Penguins of Madagascar is called Leonard. If you're a fan of the film, this is a good name for a koala. You could even shorten the name to Leo if that sounds better.
Lewis: Lewis was a very special koala who tried his best to fight the burns from the Australian bushfire. He had people from all over the internet rooting for his recovery. He was a brave and strong little creature. Sadly, the burns were too bad so it was in his best interest to be spared of his suffering. If you would like to prolong Lewis' memory, you can consider keeping a koala's name the same. After all, it's the name of a brave fighter.
Pooh: There's no real famous Koala that's named Pooh, but the name is a reference to the famous Disney character Winnie the Pooh. Koalas are cute and cuddly like Pooh, so it seems appropriate to name a koala Pooh.
Here are 3 more names of famous characters that you can consider for a koala.
Baby Koala Names
This list is full of names that are perfect for adorable little baby koalas.
Joey: Baby koalas are also known as joeys – which can also be a great name for a baby koala. It's a smart and simple name that also makes sense.
Jellybean: This name is often used as a term of endearment by parents for their children. But who's to say you can't use this name for a koala? It's a perfectly appropriate name for any small and cute little creature.
Here are some other baby names for Koalas:
Cubby
Cubs
Flower
Cuddles
Cupcake
Fluffy
Lola
Curly
Princess
Tweety
Love
Daisy
Cutie
Chuie
Lily
Australian Koala Names
If you're looking for koala names that are specific to Australia, this list of 4 excellent names is the best bet.
Drop Bear: In Australian folklore, a drop bear is an imaginary, vicious, and predatory version of the regular Koala. The hoax was created to scare tourists. If a koala is feisty, Drop Bear is a good name to keep for them.
Koolah: This name is the Aboriginal word for the animal, so it makes perfect sense to keep a koala's name Koolah. You could also think of the name as a play on the word cool.
Mel: Sometimes to get a good Australian name for a koala, you have to return to the roots. Melbourne is a rather long and boring name for a Koala. So you can cut it down to Mel. It's a short and sweet name for a koala.
Sydney: Sydney is another name that uses a geographical location for inspiration. It's a great name for a female koala. If you don't care about that stuff, then you can name any koala Sydney, regardless of what their gender is.
Conclusion: Koala Names
It's unfortunate that countless koalas have lost their homes, families, and lives to the Australian bushfires.
To counter their trauma, we should give as much as love and care as we can to the koalas in shelters. And the best place to start is by giving them great names.