Golden Retrievers are one of the most popular dog breeds. They're incredibly friendly, tolerant, and easy to train. These loyal companions will be there for you when you need support and comfort.
Also, if you're into hunting, a Golden Retriever is the perfect companion. They can detect and retrieve things from afar so that you don't have to.
What's more, they will support you if you have a disability. They'll guide you where you need to go and will ensure that you stay safe at all times.
So, if you're lucky enough to have a Golden Retriever, think of a great name for it. If you need help with that, here are some cute and funny names for Golden Retrievers that you can use.
Female Golden Retriever Names
Have you just given a golden doggo a new home? If yes, then you're going to need to name her before you start showering her with love.
Do you need some suggestions for names?
Well, look no further. Here's an extensive list of some female Golden Retriever names we're positive that you're going to love.
Penny
Grace
Elizabeth
Macy
Lucy
Yolanda
Ariana
Gertrude
Jenny
Adriana
Ariadne
Athena
Ariel
Haley
Alex
Karen
Summer
Samantha
Dakota
Jenna
Jessica
Tori
Belle
Birdie
Catherine
Rachel
Lola
Jennifer
Mckenna
Makayla
Zelda
Zoe
Zendaya
Emma
Jemma
Pauline
Chase
Bailey
Casie
Ella
Lilly
Stella
Sophie
Ellie
Nala
Olivia
Sasha
Judy
Julie
Iris
Brandy
Paisley
Georgia
Delilah
Allie
Ivory
Charlotte
Pepper
Ivy
Katie
Angela
Pamela
Ava
Sophia
Lacey
Amber
Sydney
Autumn
Nova
Sierra
Leia
Sabine
Sabrina
August
Sugar
April
Skye
May
Roxie
Male Golden Retriever Names
Cooper: Arguably, this is one of the most common names for male Golden Retrievers. It's cute, easy to pronounce, and just fits well, for some odd reason.
If those reasons aren't good enough to convince you to name your golden buddy Copper, maybe you'll reconsider after taking a look at the popular Instagram doggo, Cooper the Golden Boy.
Do you want more options to choose from? No worries, check out this list!
Gerry
Shelby
Rufus
Benji
Archie
Harvey
Bodie
Arthur
Frankie
Argo
Caleb
Reggie
Bailey
Cody
Clark
Sawyer
Chief
Odin
Tanner
Geralt
Tanner
Ryder
Otis
Brody
Oakley
Louie
Oliver
Champ
Theo
Jamie
Jackson
Drake
Finn
Zeke
Teddy
Boone
Dash
Captain
Arlo
Maple
Miles
Pippa
Luke
Nelson
Peter
Terry
Bowie
Brucie
Milo
Cosmo
Jake
Henry
Steve
Jerome
Paul
Ferdinand
Freddy
Sully
Earl
Felix
Dexter
Serby
Gill
Grady
George
Best Golden Retriever Names
Almond: While the best name for a Golden Retriever is subjective, we'd argue that Almond is indeed the best name. It's simple, cute, and just fits perfectly for a golden doggo.
Girl Golden Retriever Names
If you have a baby female Golden Retriever, you may want to browse through the following list of names to name your golden girl.
Goldie
Barbie
Molly
Roach
Holly
Kristy
Kirsten
Darcy
Nancy
Dixie
Lexi
Pauline
Polly
Kelly
Kenna
Maggie
Gracie
Rosie
Ruby
Annie
Cali
Maya
Zoe
Maddie
Jenny
Zoey
Savanah
Abby
Millie
Rosa
Coco
Hazel
Cute Golden Retriever Names
A cute creature needs a cute name. Period. And there aren't many creatures that can get cuter than a small Golden Retriever pup.
If you plan to go with that philosophy, you're going to need cute Golden Retriever names to choose from. Luckily for you, we've got a list.
Jellybean
Cookie
Bucky
Kylee
Fluffy
Otto
Happy
Sweetie
Mandy
Sunshine
Joy
Pearl
Peach
Cupcake
Squirrel
Furry
Fuzzy
Hairy
Uncommon Golden Retriever Names
Every pet owner's doggo is special to them. They have their unique personalities and quirks, which you'll always remember them by. If you want to make your furry friend stand out from the rest even further, you could give them a unique name.
Here are some uncommon Golden Retriever names that will be great conversation starters.
Enzo
Barley
Sashi
Amaris
Blaze
Loki
Jasper
Minerva
Luz
Leali
Buckshot
Maverick
Bendis
Fianna
Good Golden Retriever Names
Coach: One good quality of this breed of dogs is that they're natural leaders. What they do, others follow. So, it's fitting to name your golden doggo Coach.
Adorable Golden Retriever Names
Do you want some adorable names for your cute pet? Well, here are some that you can consider for your furry friend.
Blondie
Cinnamon
Buttercup
Apricot
Honey
Goldilocks
Maple
Nugget
Toffee
Chewie
Baby Golden Retriever Names
Joey: While the word joey is usually used for baby kangaroos, there's no harm in using it for your pup too. In fact, in Australia, people informally refer to babies as joeys.
Celebrity Golden Retriever Names
Liberty: This was the name of Gerald Ford's (the American president) doggo. It's the perfect name for those of who you who want to honor your country.
Bretagne: Now, Bretagne may not be a celebrity's dog, but it's worth mentioning it in this category nonetheless. Bretagne was a hero dog that participated in the search and rescue operations right after the horrific event on September 11, 2001.
Dark Golden Retriever Names
Syrup: A dark golden retriever is undoubtedly a beautiful-looking creature. If you want to name your dog after a word that represents its color and some sweet at the same time, then go for the name Syrup.
Disney Golden Retriever Names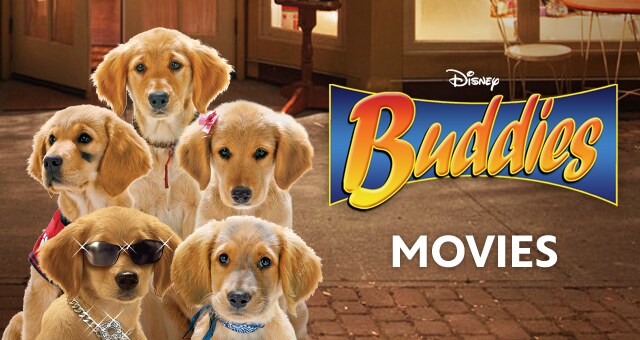 Are you a Disney fan? Check out this name, you will love it!
Buddy: Buddy was a basketball-playing Golden Retriever (pretty cool, right?) in the 1997 Disney film, Air Bud. If your golden doggo is into sports too, don't think twice about naming it, Buddy.
English Cream Golden Retriever Names
English Cream Golden Retrievers are rare. If you have an English Cream Golden Retriever, then check out this unique name that matches its characteristics!
Biscuit: The color of an English Cream Golden Retriever is closest to that of a perfectly cooked biscuit that's taken right out of the oven. So, this name is a great fit for those of you who want to name their doggo after its appearance.
Italian Golden Retriever Names
Bellissimo: Bellissimo means beautiful in Italian. And what is your golden doggo if not beautiful, right?
Cucciolo: This word is used for pups or any baby animals. Thus, Cucciolo is the perfect name for a baby Italian Golden Retriever.
Bruno: If you have got a dark Golden Retriever pup, then Bruno is an excellent and apt name for it. Why? Well, in Italian, Bruno means brown hair.
Bianca
Braco
Carina
Primo
Fedrica
Carlotta
Alessia
Chiara
Ludovica
Bella
Amore
Ginevra
Giulia
Vita
Amico
Piccolo
Dolce
Galileo
Caprice
Octavia
Aria
Aldo
Topolino
Alto
Michaelangelo
Polpetto
Tesoro
Pietro
Diego
Lorenzo
Claudia
Mussolini
Nero
Allesandro
Augustus
Tito
Federico
Salvatore
Sergio
Dante
Paolo
Domencio
Luigi
Martina
Irish Golden Retriever Names
For those of you who have an Irish heritage, do you want your dog's name to be rooted in your heritage? If you do, then you're in luck.
We've compiled a list of some Irish Golden Retriever names that may interest you. Take a look!
Dublin
Flynn
Flannery
Donovan
Aisling
Colin
Conan
Aoibheann
Finnegan
Darby
Cara
Alibhe
Carrick
One-Syllable Golden Retriever Names
Want a short and easy-to-pronounce name for your buddy? Here are some ideas!
Doge: It's highly likely that you're familiar with the popular internet meme Doge. Doge is now a meme format that's based on the image of an adorable Shiba Inu. Now, we get that the breeds aren't the same, but the name is easy to say, has significant meaning, and is funny. So, why not?
If you don't like the name Doge, here are some more one-syllable Golden Retriever names for you.
Bear
Bo
Chip
Duke
Leo
Rex
Tess
Chloe
Scout
Tex
Bud
Max
Zack
Burt
Kel
Sam
Pam
Bart
Red Golden Retriever Names
Red Golden Retrievers have a coat that is a shade of deep mahogany. They are mainly used for hunting purposes and are more athletic than Golden retrievers. If you have a Red Golden Retriever, then we suggest going with the following name:
Copper: Why not name your red Golden Retriever after a color that's a bit of both red and golden?
Scottish Golden Retriever Names
Ginger: Scotland has the highest percentage of people with red hair in the entire world. So, naming your dog Ginger (after the red hair many Scottish people have) won't go amiss.
Strong Golden Retriever Names
Did you know that a Golden Retriever's bite force is estimated to be 190psi? If you have a strong and fierce doggo, we have got the perfect name for you.
Lupo: Lupo is the Italian word for wolf. So, if you want to give your doggo a strong name, it really doesn't get better than calling it a wolf.
White Golden Retriever Names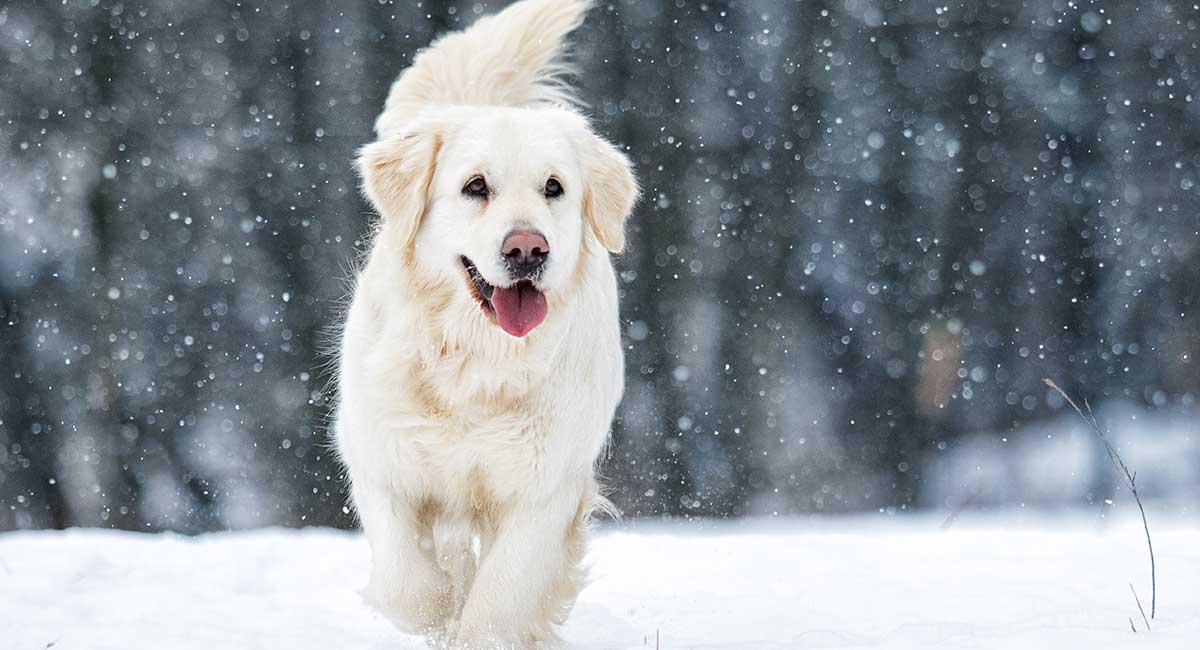 Angel: In almost all representations of angels, those creatures are luminescent white. So, ask yourself this: is your white Golden Retriever your little angel? If your answer is yes, then name your white doggo after they are.
If you don't like the name above, don't worry. We've got a lot more white Golden Retriever names for you to consider.
Artic
Dove
Moonglow
Alaska
Banshee
Marshmallow
Halo
Snowflake
Crystal
Ghost
Frost
Icecube
Ivory
Snowy
Polar
Tundra
Lightning
Cotton
Vanilla
Lunar
Yogurt
Yellow Golden Retriever Names
Comet: If you've ever had the privilege of watching a comet (a shooting star) in person, you may have noticed the gorgeous whitish-yellow trail it leaves behind. So why not name your golden friend after the source of something so beautiful.
Conclusion: Golden Retriever Names
Well, there you have it, a complete list of cute and funny names for Golden Retrievers. Pick any one of the names from the various categories above, and get your friendship started with your new furry buddy.
If you're not sure which category you should choose from, think about your doggo's specific quirks, personality, appearance, and more. Once you've identified that, select a name that best suits what your pet is like.
Can Golden Retrievers Eat Strawberries?
Can Golden Retrievers Eat Bread?
Can Golden Retrievers Eat Bananas?
Can Golden Retrievers Eat Apples?