Regardless of what breed of dog you bring to your home, you can guarantee that it's going to be a loyal companion to have around you. If you decide to keep a big boy like a German Shepherd, you're going to make a lot of great memories with it.
So, what's the first thing you should do to establish a bond with your furry pet? You must give them a name, of course!
To help you out with your selection process, we've compiled this article that contains a ton of cute and funny names for German Shepherds that you can use for your pet.
Female German Shepherd Names
Sam: If you've watched the film I Am Legend, you must've shed a tear or two when you watched the sad story arc of the protagonist's dog, Sam, come to a close. If you've got a doggo at home that's an awesome protector and friend like Sam, then you've got to consider this name for your good girl.
Other female names that you could go for include:
Bella
Princess
Sasha
Heidi
Maggie
Skylar
Ursula
Susanne
Alicia
Ariana
Alex
Nancy
Millie
Kelly
Jessica
Polly
Rachel
Adriana
Charmaine
Girl German Shepherd Names
This category is more suited for young German Shepherds. That is why this is separate from our list of female German Shepherd names above. Go through the names and pick the one that best suits your dog's personality.
Ariel
Betty
Barbie
Britta
Chloe
Helga
Sandy
Ellie
Rosa
Blossom
Iris
Greta
Dixie
Amy
Sabrina
Birdie
Hessia
Katrin
Daisy
Annie
Fritzie
Beatrix
Macy
Lucy
Gisela
Sine
Marta
Nia
Ilse
Zelda
Lulu
Lexi
Wendy
Gracie
Fergie
Zoey
Mischa
Jessie
Mandy
Bailey
Nadine
Minnie
Molly
Ingrid
Holly
Dora
Lizzie
Gigi
Harmony
Destiny
Missy
Mimi
Penny
Cassie
Jenna
Kenna
Rosie
Trixie
Good German Shepherd Names
All dogs are good dogs. If they aren't, it's likely that they weren't given the right attention, love, and care that they needed. So, if you have a furry friend running around your house, what name would you give it?
Are you stumped for ideas? Well, here are some good German Shepherd names that may interest you!
Pumpkin
Honey
Caramel
Maximus
Avalon
Liberty
Zeus
Rhea
Logan
Perseus
Nightcrawler
Boy German Shepherd Names
Did you just adopt a good boy from the shelter? If you have, then you're going to need to name him, if he doesn't already have a name. If you're looking for ideas, you've come to the right place.
Here are some boy German Shepherd names we're sure you're going to like.
Alaric
Dieter
Klaus
Adalard
Fritz
Fonsie
Atlas
Hubbard
Luka
Axel
Gregor
Bucky
Felix
Hugo
Curly
Maverick
Dino
Murdoch
Luther
Kaiser
Oscar
Scooter
Manfred
Casper
Indiana
Dieter
Skipper
Bruno
Porter
Rover
Clovis
Levi
Brock
Benz
Baron
Donner
Caesar
Bullet
Simon
Ernie
Otto
Hansel
Kort
Falcon
Zeke
Sirius
Dante
Sinbad
Cleo
Hamlet
Cosmo
Phoenix
Pluto
Ringo
Comet
Augustine
Adler
Sampson
Rudy
Fremont
Alfred
Hunter
Matrix
Arrow
Prince
Otis
Marmaduke
Dolphus
Titus
Arvin
Ferris
Best German Shepherd Names
We've saved one of the best names for now! In our opinion, this is the best name for your German Shephard:
Fenrir: Fenrir is a gigantic and monstrous wolf in Norse Mythology. Fenrir may not be a dog, but he sure looks like some version of him. If you want to boast about your knowledge of mythologies, naming your dog Fenrir is a great way to do that.
Military German Shepherd Names
GSDs have been used in the military and the police for a long time now—which isn't surprising considering they can be excellent attack dogs when trained right.
Finn: Now, Finn wasn't a military dog, but he was a part of the police force. What makes him particularly special is his story. This brave creature was stabbed in the head by an assailant but bravely endured the injury and recovered from it.
Other military German Shephard names that could match your dog's personality include:
Ace
Alpha
Buzz
Echo
Bravo
Rex
Tango
Sarge
Scout
Ranger
Charlie
Major
Ape
Tarkin
Thrawn
All-Black German Shepherd Names
An all-black German Shepherd is a thing of beauty. Its rich, monocolored coat is almost hypnotic when you look at it.
If you're lucky enough to have such a beautiful creature in your home, you need to put in a bit of effort while choosing its name.
Take a look at some of the names we've added to this category.
Vader: Darth Vader is one of the most iconic villains of all time, and for a good reason too. Other than being formidable, his all-black attire, his remarkably poised stature, and his unforgettable audible breathing command a certain sense of respect and fear. So, if you've a black German Shepherd that looks a little scary, go with the name Vader. You can also name your all-black furry friend after other Sith, like Lord Tyranus, Darth Sidious, or even the antagonist's grandchild, Kylo Ren.
Dahlia: You could name your dog after the gorgeous black dahlia flower. Dahlias often symbolize inner strength and elegance—which, we believe, is the characteristic of most German Shepherds.
Are none of the names above to your liking? Well, don't worry, for here are some more names you could give your all-black German Shepherd.
Eightball
Ebony
Raven
Jet
Crow
Carbon
Reaper
Spade
Midnight
Layla
Pepper
BlackJack
Inky
Panther
Zukua
Silhouette
Phantom
Viper
Aggressive German Shepherd Names
While some German Shepherds may have some aggressive tendencies, you can eradicate that with proper nurturing and care. However, if you want to name your dog after those tendencies, then consider the names below.
Dynamite
Canon
Fang
Storm
Blizzard
Direwolf
Cute German Shepherd Names
If you love dogs, every doggo is going to look cute, regardless of how fierce it may actually look. Well, a cute creature warrants a cute name, right? Well, we've got you covered with some cute German Shepherd names.
Brownie
Biscuit
Peanut
Huckleberry
Corky
Blondie
Pongo
Java
Pixie
Delilah
Cookie
Flo
Rolo
Disney German Shepherd Names
Bolt: This name is inspired by the white-haired German Shepherd named Bolt, from the Disney film with the same name. Bolt's character is seen as a symbol of resilience because even after many difficulties, he still rose on top.
If your doggo stands up for you any chance it gets or you're just a Disney fan, Bolt would be the perfect name for your pet!
Irish German Shepherd Names
Do you have an Irish heritage and want your dog to have a name that's rooted in your heritage? If your answer is yes, then here are some Irish German Shepherd names for you to consider. Even if you don't have an Irish heritage, you may like some of these names.
Liam: Liam is a common name for a guard dog, and, well, German Shepherds make fantastic guard dogs. They're obedient, loyal, and fierce. Their bark alone can be an excellent indicator that something is wrong.
Conan
Alibhe
Donovan
Aoibheann
Darby
Cara
Colin
Carrick
Flynn
Dublin
Murphy
Italian German Shepherd Names
Just like the previous category, this one focuses on specifically Italian German Shepherd names.
Amico: Dogs are a man's best friend. In case you weren't aware of this already, Amico is the Italian word for friend and thus, makes an excellent name for your doggo.
Siena
Mira
Mario
Carina
Stella
Raphael
Antonia
Vita
Versace
Amore
Florenence
Dolce
Cesare
Ciao
Marco
Biscotti
Luca
Giovani
Leonardo
Luigi
K9 German Shepherd Names
Are you looking for some badass names for your K9 force? Well, take a look at these names.
Admiral
Blaze
Boss
Blit
Butch
Chief
Captain
King German Shepherd Names
Kaiser: Kaiser is the German word for Emperor or King and can be used for your royal boy or girl.
Long-Haired German Shepherd Names
Every German Shephard dog is different. Some have long hair, while others have short hair. They can also have different colored and unique coats as well.
So, the following long-haired German Shepherd names are unique to GSDs that look a certain way.
Fuzz
Darcy
Cashmere
Scruffy
Earl Grey
Mufasa
Boots
Simba
Harley
Goldie
Aries
Jazz
One-Syllable German Shepherd Names
Giving a short name to your pet is a wise decision as it is easier to call out. So, if you like to keep things simple, you're going to like these one-syllable German Shepherd names.
Neo
Spike
Puck
Zane
Tex
Fern
Ada
Roz
Biko
Bug
Boo
Rain
Burt
Flash
Zoom
Strong German Shepherd Names
German Shepherds are undoubtedly strong creatures, which is why they're used in the military and the police force. Do you want to give your furry companion a name that is indicative of its strength? The following name will help you with that.
Chips: Chips was a war dog that fought in WWII. Chips was trained to be a sentry dog and bravely took down enemy shooters at a beach in Sicily.
White German Shepherd Names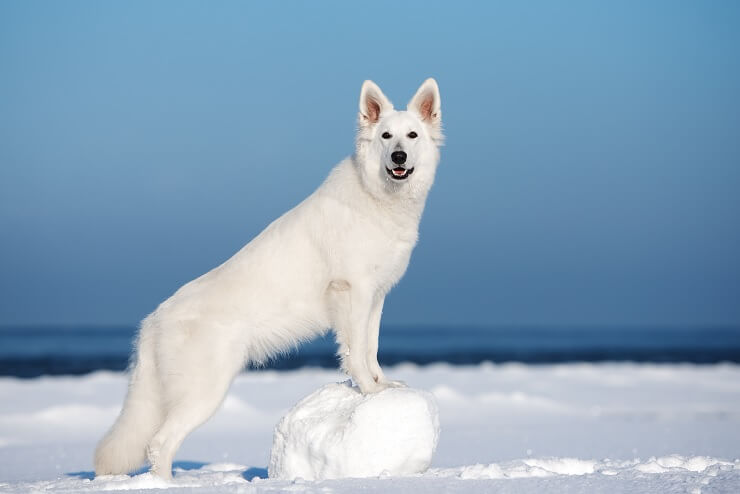 Finding a white German Shephard dog can be a bit of a challenge. If you're lucky enough to get one for your home, you should take your time before settling on a name. If you're looking for a name that refers to its color, check these out.
Alaska
Ghost
Halo
Angel
Crystal
Frosty
Ice
Artic
Ivory
Dove
Lacy
Tundra
Polar
Marshmallow
Lunar
Lightning
Pearl
Mayo
Skye
Sugar
Snow
Shiver
Zero
Vanilla
Conclusion: German Shepherd Names
Now that you know about so many cute and funny names for German Shepherds, what are you waiting for? Name your new pet after its personality-traits, appearance, gender, or whatever you see fit.
Just remember to put in a bit of thought into the name. This way, you will end up choosing the perfect name!
Can German Shepherds Eat Strawberries?
Can German Shepherds Eat Blueberries?
Can German Shepherds Eat Apples?