One of the best features of kangaroos is their ability to hop around. They move from place to place in a cute way for a marsupial. To celebrate kangaroo hopping, I have created this article of over 300 kangaroo names. The whole idea of this is to give you plenty of options. I really hope you will enjoy the list!
The kings of Australian animals, kangaroos are recognized worldwide for their incredible power and feistiness, not to mention their great looks!
Countless videos on the internet exist where these animals square up in boxing matches with one another, but even some videos where they fight with humans! Despite their feisty nature, their strong legs and tail are world-renowned and emblematic of their home country of Australia.
Kangaroos are medium-sized marsupials of the family Macropodidae. They are endemic to Australia–New Guinea, with some also in New Zealand, and the island of Sulawesi in Indonesia.
Here's a huge list of kangaroo names for you to use in your work or maybe just for fun.
Cute Kangaroo Names
Kangaroos are the most adorable animals on this planet.
We all love kangaroos, and having a pet kangaroo is indeed an aspiration of many zookeepers and nature lovers. Finding the perfect pet name for your kangaroo can be quite difficult, however.
The below names are perfect for a cute kangaroo that's adorable!
Chocolate
Skippy
Bounce
Cindy Roo
Remi Roo
Ruby Red
Dodger
Roo Roo
Thumper
Dozer
Little Roo
Wroo Wroo
Red Roo
Slugger
Rojo
Browny
Skipper
Barry
Sonnie (Sunny)
Bouncer
Red
Fester
Brooster
Yowi
Willow
Aussie
Russie
Windy
Lyric
Mary Roo
Fuzzy
Kari
LaRue
Boomer
Champion
Maverick
Kenny
Famous Kangaroo Names
Kangaroos are known to be cute animals that interact with humans, thus, they are often seen in movies. We have compiled the list of names of famous kangaroos so that you can get inspired and acknowledge the amazing work done by these talented kangaroos.
This list of names is inspired by all the kangaroos who have made it to the big screen whether it's in movies, animated series, or even video games!
The names below are linked to the famous kangaroos of the world.
Skippy (Skippy the Bush Kangaroo)
Ricky (The Legend of Zelda: Oracle of Seasons)
Kao (Kao the Kangaroo)
Kangaroo (Sweet Pickles)
Clive (Radio Roo)
Matilda (Matilda)
Bongo (My Big Big Friend)
Red Kangaroo (Dot and the Kangaroo)
Ginger Kangaroo (Spot the Dog)
Hopster (Wild Kratts)
Jackie Legs (Kangaroo Jack)
Ripper Roo (Crash Bandicoot)
Kiko (Terrytoons cartoons)
Sheila the Kangaroo (Spyro the Dragon)
Hippety Hopper (Looney Tunes)
Roo Boss (Wild Kratts)
Kip (Shirt Tales)
Rudy (Horton Hears A Who!)
Bungalow (Fur Fighters)
Dave (Beyond the Black Stump)
Roo (Winnie the Pooh)
Gracie (Pop 'Im Pop!)
Hopper (Dish Network mascot)
Rooey (Bomberman)
Austin (The Backyardigans)
Duncan (Dunk-a-roos mascot)
Zippy (Mascot of the University of Akron athletics team)
Kango (Gabby)
Bopp-A-Roo (Power Rangers: Ninja Storm)
Roo (Streets of Rage 3)
Chimera Punch (Tokyo Mew Mew)
Roger (Tekken)
Kangaroo Jack (Kangaroo Jack)
Funny Kangaroo Names
The names below are all comical in their own way, whether they are a play on words or simply inspired by a fearsome world-renowned boxer, the names are great for any kangaroo!
Floyd Mayweather – Kangaroos are known for their boxing skills, so why not honor a great boxer by naming your kangaroo after him.
Muhammad Ali – In honor of the greatest boxer of all time, Ali would be a great name for your kangaroo.
Manny Pacquiao – Another top-class boxer who would be a great name for a kangaroo.
Mike Tyson The most recognizable boxer worldwide would be a great inspiration for a name for your kangaroo.
Creed What better name for your kangaroo than the extremely popular boxing movie starring Michael B. Jordan.
Roopac Shakur Play on words inspired by the late rapper Tupac.
Australia Which country first comes to mind when thinking of kangaroos? Australia! No wonder wed consider this a funny name for kangaroos.
Roo Paul
Jill aRoo
T. Rue Blue
Jum Purr
Hoppermann
Joey Buttarooco
Wriley Roo
Rooby
Winnie The Roo – Inspired by the show Winnie the Pooh, Winnie the Roo is an excellent name for a baby kangaroo.
Roodolph – Wordplay on the famous Rudolph the Red Nose reindeer, who is a legendary member of Santa's sleigh pullers that enable gifts to be delivered worldwide and put a big smile on millions of kids' faces for Christmas.
Jumping Jack – A dreaded physical exercise by many that would be a funny name for a kangaroo who is extremely active and loves to jump around.
Randy Rooman
Grass Hopper
Scooby Roo – Wordplay on the famous Scooby-Doo character, a beloved pet dog that gets along great with humans.
Marilyn Monroo – Wordplay inspired by legend Marilyn Monroe, one of the biggest names in the movie industry of all time!
Scrappy Roo – Inspired by Scooby Doo's nephew Scrappy-Doo, Scrappy Roo is a great name for a kangaroo, as they are even known to be scrappy animals.
Dunkaroo – Inspired by the famous kid snacks that were loved in school cafeterias across America.
Male Kangaroo Names
If you want to enjoy the same level of happiness as an Aussie does with their pet kangaroo, you need the right names for each of your new friends.
Here's a great list of cute, funny, and handsome kangaroo names that suit any type of male kangaroo:
Roger
Jerald
Jordan
Liam
Noah
William
James
Oliver
Benjamin
Elijah
Lucas
Mason
Logan
Alexander
Ethan
Jacob
Michael
Daniel
Henry
Jackson
Sebastian
Aiden
Matthew
Samuel
David
Joseph
Carter
Owen
Wyatt
John
Jack
Luke
Jayden
Dylan
Grayson
Levi
Isaac
Gabriel
Julian
Mateo
Anthony
Jaxon
Lincoln
Joshua
Christopher
Andrew
Theodore
Caleb
Ryan
Asher
Nathan
Thomas
Leo
Isaiah
Charles
Josiah
Hudson
Christian
Hunter
Connor
Eli
Ezra
Aaron
Landon
Adrian
Jonathan
Nolan
Jeremiah
Easton
Elias
Colton
Cameron
Carson
Robert
Angel
Maverick
Nicholas
Dominic
Jaxson
Greyson
Adam
Ian
Austin
Santiago
Jordan
Cooper
Brayden
Roman
Evan
Ezekiel
Xavier
Jose
Jace
Jameson
Leonardo
Bryson
Axel
Everett
Parker
Kayden
Miles
Sawyer
Jason
Female Kangaroo Names
Naming a female kangaroo takes talent. Choosing something cute but not common is crucial. With all the pressure on you, you might feel like you lack inspiration for naming your pet kangaroo.
Luckily for you, I've prepared a list of awesome names for female kangaroos.
Ruth
Jenna
Bonita
Jenny
Sarah
Josie
Kaylee
Carie
Donya
Aaliyah
Abigail
Amelia
Anna
Aria
Ariana
Audrey
Aurora
Bella
Camila
Caroline
Charlotte
Chloe
Eleanor
Elena
Elizabeth
Ella
Ellie
Emilia
Emily
Emma
Grace
Hannah
Isabella
Layla
Leah
Lillian
Lily
Lucy
Luna
Maya
Mia
Mila
Naomi
Natalie
Nova
Olivia
Penelope
Samantha
Sarah
Savannah
Scarlett
Sofia
Sophia
Stella
Victoria
Violet
Willow
Zoey
Lucille
Leia
Melissa
Adelaide
Amina
Giselle
Lena
Camilla
Miriam
Millie
Brynn
Gabrielle
Sage
Annie
Logan
Lilliana
Haven
Jessica
Kaia
Amira
Adelynn
Makenzie
Stephanie
Nina
Phoebe
Arielle
Evie
Lyric
Alessandra
Gabriela
Paislee
Raelyn
Madilyn
Paris
Makenna
Kinley
Gracelyn
Talia
Maeve
Rylie
Kiara
Evelynn
Allie
Disney Kangaroo Names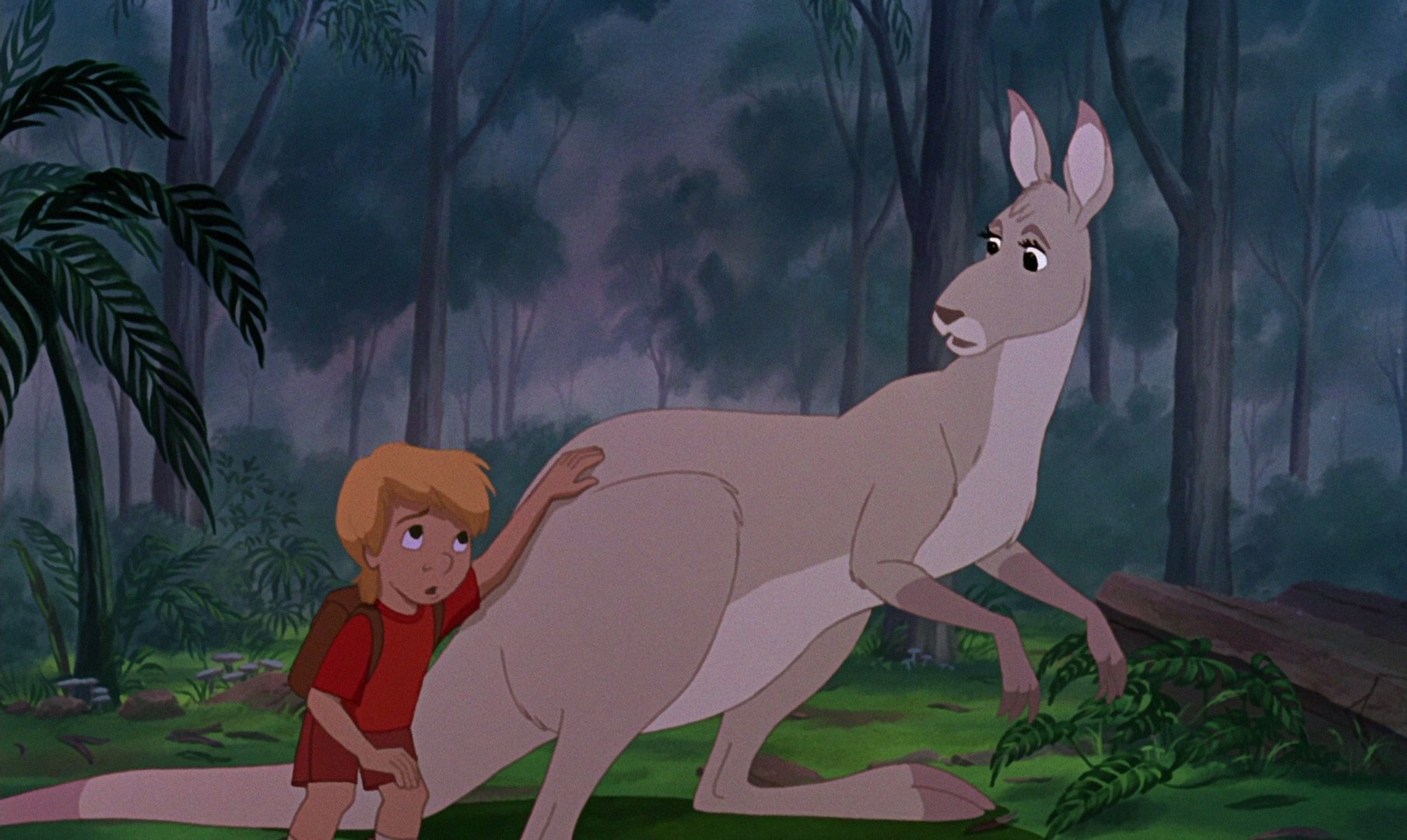 Over the years the movie company Disney has created many characters Some of these names are inspired by animals and some are more related to characters themselves.
The very nature of Australia made it a perfect place to set these movies for many of them were released after people saw kangaroos hopping in the background.
It's about time we had a list of Disney-inspired names for our kangaroos!
The kangaroo names below are all from Disney movies or animated series, the names will be loved by all Disney fans, especially young children!
These kangaroo names are inspired by their Disney character counterparts. So, if you're looking for a unique name for your pet kangaroo, this is a great resource to use.
Faloo is a female kangaroo from The Rescuers Down Under, a Disney 1990 movie that was a sequel to the 1977 film The Rescuers.
Joey the Kangaroo is a baby kangaroo from the 1948 animated short film Daddy Duck. In the film, Donald decides to adopt a child but ends up with Joey the Kangaroo, a hyperactive baby kangaroo.
Kanga is a stuffed kangaroo that first appeared in Winnie the Pooh and the Honey Tree. Very kind and welcoming, Kanga is anthropomorphic and belongs to Christopher Robin. Kanga is also the mother of Roo and a good friend of Tigger, on top of being close-knit with the Hundred Acre Wood residents.
Keira is a light-tan kangaroo with blue eyes who appears in the episode "The Bouncy Bouncy Baby" of the T.O.T.S animated series. All her hoping causes a very bumpy flight for Pip and Freddy, even though Pip stayed in the crate with Keira to keep her occupied.
Queen Kimbla is an anthropomorphic kangaroo who appears only in the episode "The Animal Kingdom" from the Aladdin TV series. She dresses in an all-pink uniform with a blue gem necklace. Queen Kimbla and all the rest of the animal kingdom didn't trust mankind, because in the past humans would hunt the animals and mined the land looking for gemstones.
Red is a male red kangaroo from the animated feature The Rescuers Down Under that Disney released in 1990. Red is captured by a poacher named McLeach.
Roo is a stuffed joey that first appeared in Winnie the Pooh and the Honey Tree. Roo is the playful and spirited son of Kanga and the best friend of Tigger, and belongs to Christopher Robin.
Sylvanian Families Kangaroo Names
Sylvanian Families are popular miniature animal figurines. They were launched in 1985, and since then numerous colorful items have been added to the collection, including sets of tables, chairs, trees, and little vehicles.
Sylvanian Families are known for creating a world in miniature, where your imagination can run wild. Every set contains a principal character (a parent) and its accessories-their home, furniture, and other things that surround them.
Below you'll find a list of all kangaroo family members in the collectible Sylvanian Families line by Kikkerland.
Bruce Springer – the father
Shelia Springer – the mother
Joanne Springer – the daughter
Joey Springer – the baby boy
Joseph Springer – the baby boy and twin of Josephine
Josephine Springer – the baby girl and twin of Joseph
Jocelyn Springer – the cousin
Warriors of Virtue Kangaroo Names
Warriors of Virtue is a Chinese American film that was released in 1997. It was a martial arts film in which anthropomorphic kangaroos accompany a kid who was once disabled in one leg and suffering from depression.
Below are the names of the kangaroos in this action-filled movie of ninja kangaroos.
Amythis
Barbarocious
Brad
Bravo
Chi
Chucky
Dogon
Dullard
Elysia
General Grillo
Hoggarth
Kathryn
Keo
Komodo
Lai
Lisa
Mantose
Master Chung
Matu
Mayor Keena
Ming
Mosely
Mudlap
Quan
Remo
Ryan Jeffers
Toby
Tracy
Tsun
Volta
Willy Beest
Yee
Yun
Tank Girl Kangaroo Names
Tank Girl is a British science-fiction comic book that was later made into a movie.
It was published in 1988 and is the story of a girl named Rebecca Buck who drives around in a tank in a futuristic Australia completing missions for an organization before she becomes an outlaw for her actions.
She has a boyfriend named Booga who is a mutant kangaroo, and for fans of this story, the names below are perfect for a kangaroo.
Booga is a mutated kangaroo and Tank Girl's devoted boyfriend.
Stevie
Barney
T-Saint
Sgt. Small
Deetee
Donner
Kesslee
Sam
Richard
Model
Max
Che'tsai
Derouche
Nikita
Razor Ray
Zack
Foreman
Town
Wayne
Rebecca
Conclusion: Kangaroo Names
That's our complete list of 361 cute and funny names for kangaroos!
The feisty Australian creatures are adorable and giving them a fitting name is now possible with our in-depth list with countless ideas and possibilities!
A name from every category from movie star kangaroos or even in honor of boxing legends, you'll be able to find a great name for your kangaroo in this list!
Use this list of names to make up your own stories or just use it to help you remember the names of all the characters in the series, whether you're a fan or just want a name for that cute fuzzy thing you decide to name after thinking about kangaroos.
Well, that brings us to the end of the article. Thanks so much for reading all the way to this point, and I wish you a successful search for your own kangaroo names.
It was an awesome article, right? You learned a lot, had fun reading along, and hopefully will use the list to help you find the perfect name for that kangaroo you're writing.
Now if you'll excuse me, I need to hop back into my pocket so I can see what's going on with my cute little joey! (just kidding)
Can Kangaroos Be Taught to Box?