There is something so unique about orange cats that just draws you towards them. Their iconic bright-colored fur certainly makes them stand out from the rest of the cats. Not to mention their fun and quirky personalities that are unique to their kind and make them extremely playful and active.
Contrary to popular belief, orange tabbies are quite rare. The orange color is passed down genetically through the X chromosome. Since males possess XY chromosomes and females contain XX chromosomes, male cats are more likely to receive the orange shade. This is why the majority of these tangerine-colored cats are males.
If you have this unique breed of cats, finding the perfect name for it could be a difficult task. Don't worry, though, because we've got you covered. You will certainly find something you like in this thorough guide on cute and quirky orange cat names.
This list contains orange cat names based on gender, eye color, and characters from different movies and TV shows.
So, without further ado, let's dive in!
Female Orange Cat Names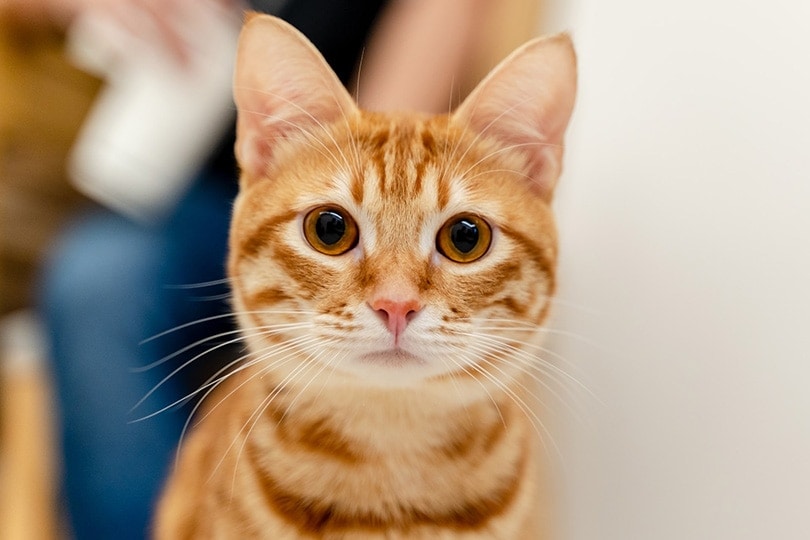 Check out this list of the unique female orange cat names for your bright-colored kitty.
Since these names are entirely based on their gender, they can work for cats that are not ginger-colored as well.
Peaches
Ruby
Scarlet
Tigress
Tweetie
Cherry
Luna
Buttercup
Bianca
Gina (after Orangina)
Poppy
Penny
Grace
Fifi
Meg
Ember
Strawberry Shortcake
Madeline
Daphne
Sandy
Lily
Vilma
Skye
Stella
Coral
Sansa
Macy
Star
Topaz
Lia
Winnie
Saffron
Lucy
Orange Cat Names from Movies
Garfield: Perhaps the most famous cat on television is the lovable ginger cat Garlfied illustrated in the self-titled cartoon created by Jim Davis. He is a fan favorite because of his love for coffee and lasagna, hatred for Mondays, and laziness.
Puss in Boots: He is another famous on-screen orange cat that has stolen quite a few hearts. This tough little kitty, who is of Spanish descent, is depicted as an outlaw in his self-titled film. He goes on various adventures with his friends, Humpty Dumpty and Kitty Softpaws, and runs into trouble each time.
If neither of these two orange cat names from movies appeals to you, consider the following cat names derived from movie characters.
Crookshanks (From Harry Potter & The Prisoner of Azkaban)
Dinah (Alice in Wonderland)
Tigger (From Winnie the Pooh)
Goose (From Captain Marvel)
Milo (From Adventures of Milo & Otis)
Oliver (From Oliver & Company)
Ron Weasly (From Harry Potter)
Kim (From KimPossible)
Glinda (From the Wizard of Oz)
Tintin (From the Adventures of TinTin)
Male Orange Cat Names
If you've got yourself a tangerine-colored cat who happens to be a male, take a look at the list of male orange cat names we have compiled.
You're sure to find something you would love to name your furry friend.
Aslan
Thomas
Tony
Flynn
Rory
Rufus
Hobbes
Prince Harry
Nemo
Edgar
Archie
Conan
Ron
Simba
Chester
Ferris
Julius
Oscar
Vincent
Kygo
Rusty
Shere Khan
Casper
Keegan
Axl Rose
Japanese Orange Cat Names
Are you a fan of anime, manga, or Japanese culture in general? Then these names are what you are looking for. These names are unique, and not many cats, especially tangerine-colored ones, may have these names.
Momo: This translates to 'peach' in Japanese. If your orange cat's fur matches with the shade of peach, then you can consider naming your furry pet Momo.
Tora: This means 'tiger' in Japanese. Since tigers in some ways are orange cats, this is an excellent name to keep your orange cat.
Sora
Yuki
Moka
Miruku
Chobi
Foku
Haru
Kai
Koko
Mei
Sakura
Chibi
Halloween Themed Orange Cat Names
Orange is a color that typically corresponds with Halloween. Thus, we have compiled some spooky and mysterious Halloween themed names for your bright colored feline.
Pumpkin
Marigold
Bonfire
Applejack
Spooky
Lucifer
Jack-o-Lantern
Hocus Pocus
Spice
Chestnut
Maple
Copper
Snickers
Jinx
Candy Corn
Pumpkin Pie
Chucky
Boo
Buffy
Salem
Pumpkin Spice
Pumpkin Head
Orange and White Cat Names
If you are looking for a name that specifically suits your orange and white-colored cats, this category is perfect for you. Check out this list of names that will WOW anyone.
Caramel: When you mix orange with white, you get the perfect shade of light brown, similar to caramel; so why not name your cat that if they have white and orange fur?
Caramello
Leo
Ollie
Freddy
Cheddar
Butterscotch
Tiger
Max
Butternut
Orange and Black Cat Names
Chester: This name belongs to a famous fictional character and the official mascot of Cheetos.
Though he is a cheetah, you can still name your black and orange cat after him due to the similarities in appearance.
Here are some other suggestions for excellent names for your furry orange and black pet, who are also known as Calico.
Callie
Amber
Oriole
Rusty
Tortie
Snickers
Sepia
Cheeto
Sundae
Twix
Cheetah
Freckles
Bumblee
Leopard
Exotic Orange Cat Names
You should consider exotic names for your tangerine-colored cat if you are looking for something unique and cool.
Rajah/Raj: If you've got a male orange tabby, you can consider calling him Rajah, which is an Indian word for prince or king. Your tabby is surely the king of the house already.
Alani: You can also name your tabby Alani, which translates to 'orange tree' in Hawaiian. Thus, this is perfect for your orange colored furry companion.
Oro: Another exotic name that is easy and simple to call is Oro. It means 'gold' in Spanish, which is a fitting name because their furry coat has a tinge of gold.
Miho: This is an Egyptian orange cat name. This name's origin comes from the lion-headed son of Bastet, who was a man depicted as having a lion's head.
We recommend these other epic orange cat names that sound exotic.
Indra
Adita
Kameko
Haneul
Ulrich
Vladimir
Sabine
Ruwa
Priya
Anatoly
Hans
Maya
Grey and Orange Cat Names
A cat with grey and orange colors is pretty rare. Thus, if you have one, you should name them something special. We suggest the following:
Dawn
Loki
Lava
Merlot
Colby
Curry
Fire
Platinum
Shadow
Smokey
Silver Fox
Pepper
Christian Grey
Orange-Eyed Cat Names
Perhaps the most beautiful orange cats are the ones that have orange eyes. They radiate warmth and light with the color of their coat and eyes.
Here are our top picks of the best orange-eyed cat names with orange fur:
Sunshine: Since they depict warmth, just like the sun does, you can name your orange-colored cat sunshine.
Carrot: Much like your cat, a carrot is pretty much orange from top to bottom. So why not name your furry little friend carrot?
Auburn
Flames
Carrot
Tangerine
Sungold
Sunny
Goldilocks
Citrus
Tobasco
Sunbeam
Sunkiss
Names for Orange Cats with Blue Eyes
If you have an orange tabby or Persian with blue eyes, you can name your fuzzy feline after their beautiful cobalt eyes.
Dragonfly: This name is perfect for an orange-colored cat with blue eyes, as dragonflies have an orange body with blue eyes.
Sapphire
Aqua
Azure
Ocean
Aquamarine
Blue-Bell
Celeste
Indigo
Florence
Navy
Sky
Midnight
Awesome Orange Cat Names
This category includes our top picks for your tangerine-colored furry feline pets.
Your orange cat is the epitome of cuteness and can add color to your life. Hence, it deserves an awesome name that reflects its tangy personality and unique appearance.
Nacho
Amber
Apricot
Terracotta
Tang
Sorbet
Nutmeg
Mimosa
Cayenne
Marmalade
Fanta
Cinnamon
Clementine
Dorito
Ember
Nectarine
Orange Peel
Sherbert
Saffron
Ginger
Riffraff
Phoenix
Firecracker
Blaze
Scorch
Inferno
Papaya
Pooh
Melon
Cheese Puff
OB (After Orange Boy)
OJ (After Orange Juice)
Noodles
Honey Pie
Blaze
Butterscotch
Caramel
Clementine
Copper
Ember
Flame
Ginger
Goldie
Honey
Julius (like Orange Julius)
Mango
Marigold
Marmalade
Nectarine
Paprika
Peach
Pumpkin
Rusty
Saffron
Sherbet
Simba
Sunbeam
Sunny
Tangerine
Topaz
Whiskey
Zest
Cinnabar
Epic Orange Cat Names
An epic cat name can WOW each and every person that hears it. Here are some epic names to consider:
Scorch
Inferno
Papaya
Pooh
Melon
Cheese Puff
OB (After Orange Boy)
OJ (After Orange Juice)
Noodles
Honey Pie
German Orange Cat Names
Are you a fan of the German language? Then check out this list of German names for your pet and their meanings.
Hans: This translates to 'God is gracious.'
Kaiser: This means 'leader' in German, so if your cat is a leader amongst all your pets, this would be perfect for them.
Otto: This translates to 'wealth' in German. It can be a particularly apt name for your kitty if they keep bringing you good fortune!
Egyptian Orange Cat Names
Did you know that in Egypt, in ancient times, cats were worshipped for being sacred? Following through with that, we have come up with the following names inspired by Egyptian mythology, rulers and deities.
Mihos
Mekal
Pakhet
Azizi
Akil
Abasi
Seti
Pepi
Omari
Umi
Zoser
Dark Orange Cat Names
If you have a ginger kitty that is on the darker side, then the following fiery names will match your kitty's appearance.
Clementine
Dorito
Ember
Cayenne
Nectarine
Sherbert
Scorch
Inferno
Conclusion: Orange Cat Names
And that was it!
Our comprehensive list of cute and quirky names for orange cats.
This guide contains all the names you can try naming your cat if their fur is orange or a mix of colors like white, black, or gray.
You might find yourself overwhelmed with the sheer variety of names, but we recommend you pick the one that you like the most, and that goes with your kitty's personality.
Go for a name that sounds great to you, and don't overthink it.
Good luck!
250+ Awesome Green-Eyed Cat Names