For most people who are planning to set up a saltwater aquarium, lobsters are the first choice. Lobsters like other invertebrates aren't too picky about their surroundings, and they can adapt faster than other saltwater organisms.
Apart from that, it is relatively easier to take care of a lobster than other marine crustaceans. But yeah, they have their own needs such as food, proper salinity of water, temperature and so on.
Though it is easier to provide them with an ideal living condition, the most daunting task as a Lobster owner would be to find a good name for them. Yeah, we know that lobsters aren't anything like the common pets that would run towards you the moment they hear you calling their names. But you would still need to give them some nice names, right?
Don't worry, we have done enough brainstorming on this and have come up with some super cool names for your lobsters. In this article, we have compiled a list of 126 cute and funny names for pet lobsters.
Let us get going!
10 Names for Your Lobsters Inspired from Cartoons
If you are planning to get a lobster for your kid, you would have to give them some names of famous cartoon characters. Lobsters have been a part of some major cartoons and animated movie series, so finding a name wouldn't be a problem.
In this section, we have compiled a list of 10 names for your lobsters that are inspired by cartoon characters.
1. Larry: If you have seen the animated movie series SpongeBob SquarePants, you might be familiar with Larry the lobster. Well, if you haven't, Larry is a muscular red lobster in the series. You can call your lobster Larry if it is a big red one.
2. Polly: Polly is a red lobster that is portrayed as an antagonist in the 1996 movie Muppet Treasure Island. In the movie, Polly is portrayed as a red lobster with big eyes, grey mustache, black eyebrows, and a large armor on his back.
3. King Crab: King Crab is a Disney movie character who is portrayed as the ruler of King Crab Island.
4. Ebirah: Ebirah is a giant lobster monster in the film Ebirah, Horror of the Deep. If your lobster is a big one, they might indeed be a monster to the other small fishes in your aquarium. Don't you think Ebirah would suit them?
5. Sebastian: Sebastian is a crab in Disney's The Little Mermaid film franchise. In the movie, Sebastian is portrayed as a crab from Jamaica and the servant of King Triton.
6. Thibault: Thibault was the pet lobster of the famous French poet Gérard de Nerval. It is said that Nerval used to take his lobster for a walk in the gardens of the Palais-Royal in Paris. Nerval had an affection for lobsters because he believed that lobsters are animals that have understood the secret of the ocean.
7. Kraken: Kraken is actually a character in the Scandinavian folklore, who is an octopus. It is written in the Norse sagas that Kraken dwells on the coasts of Norway & Greenland.
8. Hawthorne: Hawthorne is not a lobster; rather, he is a hermit crab character in the comic Sherman's Lagoon.
9. Crazy Joe: Crazy Joe is a famous character from the animated movie series Shark Tale. In the movie, Joe is portrayed as a hermit crab that lived near a dumpster.
10. Lobster Random: Lobster Random is a character in the comic book 2000 AD. He is portrayed as a super-soldier with a pair of claws surgically grafted onto his sides.
Check out whether Lobsters mate for life?
9 Funny Names for Your Lobster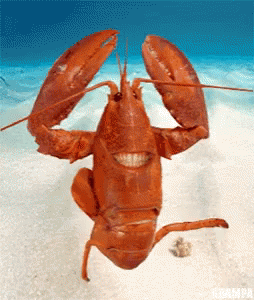 If you are a lobster owner and looking for a funny lobster name, this section is for you. In this section, we have compiled a list of 9 funny names for your lobster.
1. Shelly: Not because your lobster can write romantic poems in English but because of their hard shell covering their body.
2. Clawdious: A lobster is known for its long claws. Do you think they could possibly have a name that could better describe them?
3. Da Pinchi: If you have ever got pinched by a lobster, you would know why this name.
4. Clawson: I think the lobsters would love to have names that clearly speaks about their claws.
5. Fred: The name that has been inspired by Fred Schneider of the B-52's who are famous for Rock Lobster.
6. Blucifer: If you have a blue lobster, you can call them Blucifer. It would suit them especially with their claws and blue color.
7. Hellboy: Who needs an introduction to who Hellboy is? Well if you have a red lobster, you can call them Hellboy!
8. Mr. Lobster: Sound's funny, doesn't it?
9. Captain Hook: Imagine, what if lobsters were pirates of the marine world? They do look like a pirate with those claws, right?
22 Names for Pet Lobsters
Finding a name for your pet can be quite a daunting task. Irrespective of what pet you bring home, the moment you get them they are part of your family. And you always give the best to your family!
In this section, we have compiled a list of 22 names for pet lobsters!
Coconut
Coral
Appolo
Arnold
Bella
Bane
Bucky
Dexter
Crusty
Crispy
Copper
Flirtz
Eddy
Harold
Jane
Indy
Hermy
Lilly
Lola
Lee
Judy
Jo
25 Good Lobster Names
As pet owners, we all want the best for our pets. Best food, best care, best enclosure, and the best names for them. Because the name you choose for your pet talks tons about your love for them and you can't just give them some random names.
In this section, we have compiled a list of 25 good lobster names for you.
Cullen
Jade
Chris
Jack
Tony
Harvey
Bob
Jaan
Stella
Flint
Hulk
Edward
Opal
Toffee
Laddu
Flash
Ace
Lester
Biggie
Peggy
Marley
Anna
Amy
June
Julie
20 Cute Names for Lobsters
Here goes the list of 20 cute names for lobsters.
Buttons
Red
Blue
Bo
Jo
Donna
Daisy
Dave
Alvin
Jaimy
Simon
Theo
Laya
Sunshine
Kiwi
Goo Goo
Olivia
Queen
Po
Mantis
Betsy
Denny
Charlie
21 Cool Lobster Names
If you are looking for a cute name for your lobster, this section is for you!
Stan
Ebenezer
Rock
Kane
Jabby
Ed
Omega
Alpha
Speedy
Snip
Nazar
Marty
Mikey
Thunder
Oscar
Beast
Rover
Max
Charm
Tiger
Mufasa
20 Popular Lobster Names
In this section, we have compiled a list of 20 Popular lobster Names. The names have been compiled from the famous movie characters and other eminent personalities.
Edison
Tesla
Faraday
Benjamin
Stark
Smith
Lucy
Vision
Sam
Newton
Bhim
Mars
Lucius
Plank
Franklin
Nolan
Freud
Mole
Carl
Jacky
This was the list of some really unique, good, and funny names for pet Lobster. I hope you enjoyed reading these names and if you did let us know about your favorite Lobster name in the comment section.