🦁 Roaring from the vast plains of Africa to the imaginative realms of literature and film, lions have always captivated our senses and hearts. Their majestic manes, fierce eyes, and commanding presence have crowned them as the undisputed "Kings of the Jungle."
As symbols of strength, courage, and royalty, these magnificent creatures deserve names that echo their grandeur. Whether you're naming a new plush toy, a character in your next novel, or are simply intrigued by the fascinating world of lions, our list of lion names promises to inspire and impress.
Dive into this mane-filled adventure and discover the perfect name for your regal feline!
The Legacy of Lions: Kings of the Jungle 👑
Since the dawn of time, lions have been revered and celebrated across continents, earning them the esteemed title of "Kings of the Jungle."
Let's embark on a journey to understand why these magnificent creatures hold such a significant place in history and culture.
Ancient Civilizations: From the vast stretches of ancient Africa to the grandeur of Roman amphitheaters, lions have always captured human imagination.
The Egyptian goddess Sekhmet was depicted as a lioness, symbolizing the ferocious and protective aspects of her nature. In Ancient Rome, the mighty roar of a lion in the Colosseum was synonymous with entertainment, showcasing the animal's strength and the empire's power.
Cultural and Spiritual Symbolism: Numerous African tribes view the lion not just as an animal, but a totem, representing strength, courage, and leadership.
To the Maasai, killing a lion signified the passage of boyhood to manhood. Meanwhile, in Hindu mythology, the goddess Durga rides a lion, symbolizing her prowess and indomitable will.
The Lion in Modern Pop Culture: The modern era has not dimmed the lion's allure. They've become central characters in literature and film, resonating with audiences worldwide.
Think of Aslan in C.S. Lewis's "The Chronicles of Narnia," a symbol of nobility and sacrifice, or the journey of Simba in "The Lion King," which encapsulates growth, redemption, and legacy.
Lions in Conservation: The awe these creatures inspire also brings a responsibility towards their conservation. Their dwindling numbers in the wild due to habitat loss, poaching, and human-animal conflicts is a sobering reminder of the fragile balance of nature.
In naming a lion, one is not merely tagging an animal but celebrating a legacy steeped in tradition, power, and majesty. The names we choose for them should echo their rich history and the deep connection humans have forged with these regal beings over millennia.
Majestic & Royal Lion Names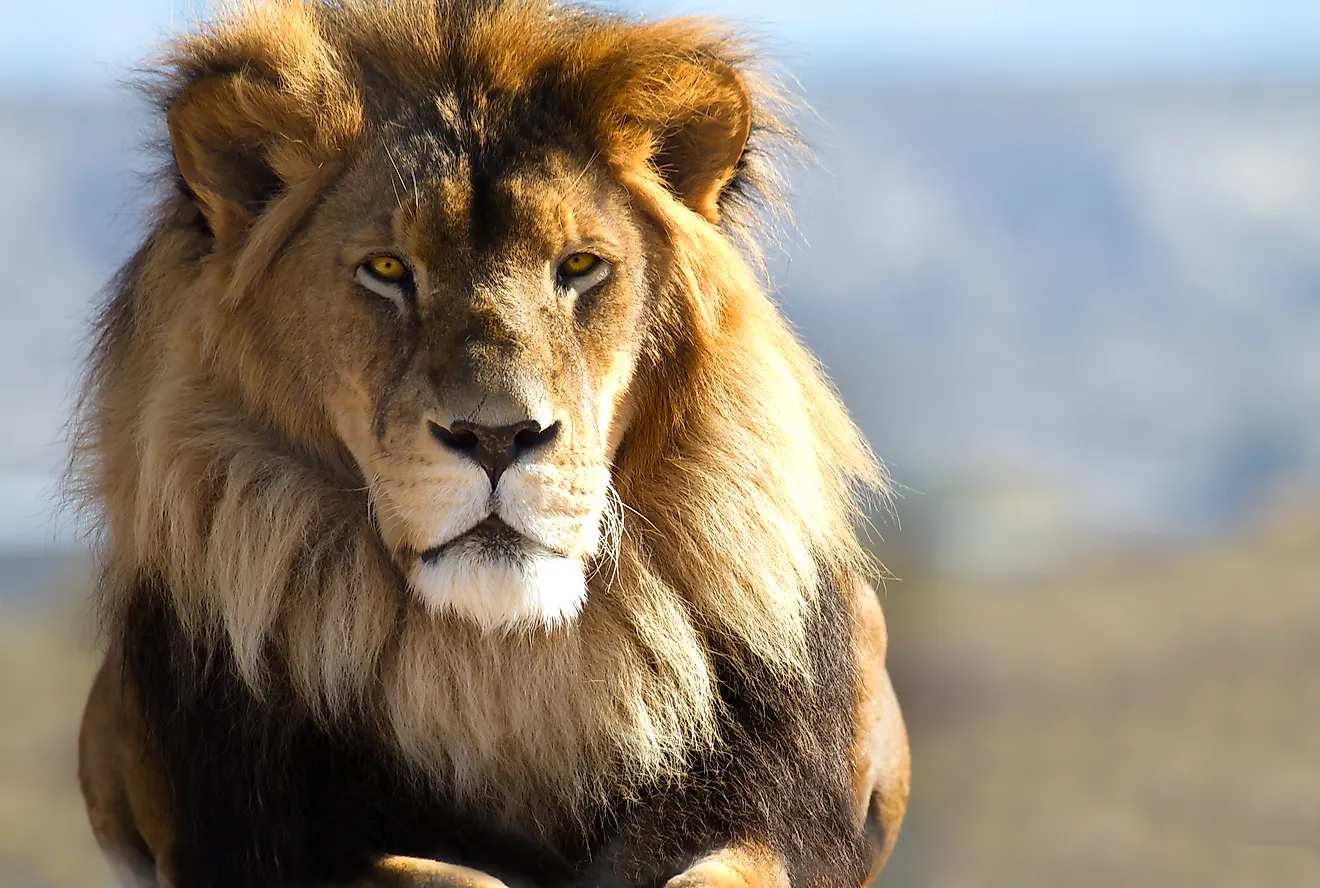 As kings of the jungle, lions exude a royal presence, making them deserving of names that reflect their majestic and regal nature. Here, we've rounded up a list of names that capture the essence of their grandeur.
Whether you're naming a pet lion, a character in a story, or simply seeking inspiration, these names evoke strength, nobility, and majesty, befitting the king of beasts.
Rex
Emperor
Sultan
Duke
Monarch
Prince
Regis
Baron
Tsar
Noble
Kingston
Knight
Crown
Majesty
Earl
Lord
Count
Pharaoh – Ancient Egyptian ruler.
Caesar – Title used by Roman emperors.
Raja – Indian or Malay title for a ruler.
Shah – Persian term for "king."
Kaiser – German for "emperor."
Emir
Czar
Dynasty
Reign
Midas – King with the golden touch.
Valor
Prestige
Eminent
Dignity
Honor
Ruler
Sire
Sovereign
Throne
Viceroy
Archduke
Imperial
Chieftain
Regent
Highness
Supreme
Magnate
Mogul
Patriarch
Despot
Legend
Epic
Fable
Odyssey
Realm
Basil – Greek for "king."
Ri – Korean word for "king."
Rexford
Brenin – Welsh word for "king."
Korol – Slavic word for "king."
Rey – Spanish for "king."
Roi – French for "king."
Royal
Kinglet
Commander
Authority
Chief
Dictator
Elvis – Means "all wise" and associated with the "King of Rock."
Sovereignty
Nobility
Pinnacle
Elite
Glorious
Master
Captain
Champion
Victor
Renowned
Notable
Illustrious
Distinguished
Prominent
Esteemed
Exalted
August
Paramount
Peerless
Superior
Predominant
Prime
Foremost
Preeminent
Stellar
Celestial
Heavenly
Pristine
Pious
Sacred
Hallowed
Blessed
Divine
Celebrate
Choosing a name from this list ensures your lion stands tall with a title that pays homage to its royal lineage. These names encompass centuries of history, mythology, and tales of valor, making them ideal for the most majestic of creatures.
Female Lion Names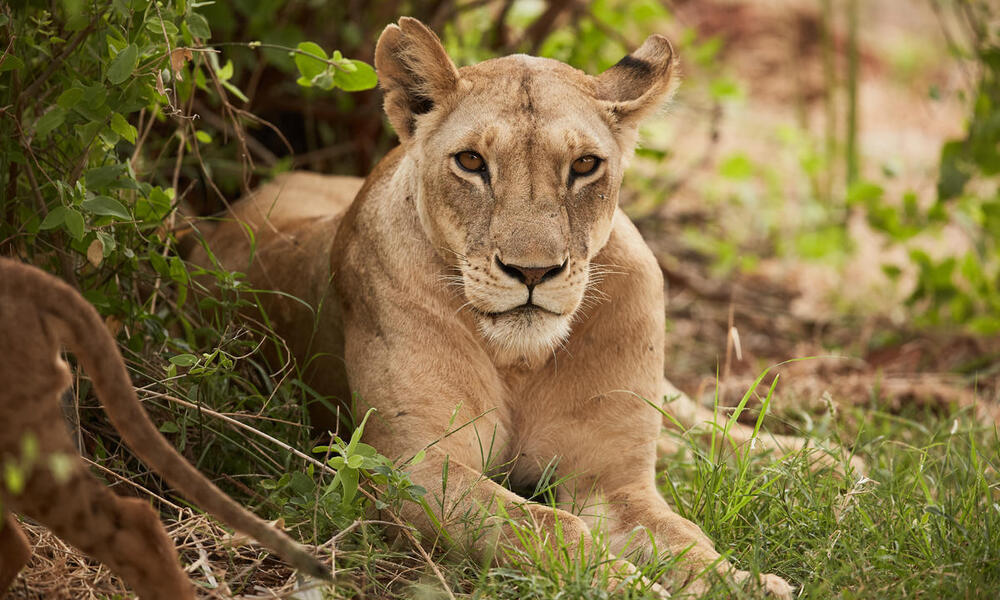 The lioness: a symbol of strength, motherhood, and beauty. As the hunters and providers of the pride, lionesses showcase both elegance and power. To honor these fierce females, here is a list of names that embody their remarkable spirit:
Leia
Aria
Sasha
Nala – The name of Simba's queen in "The Lion King".
Sarabi – Simba's mother in "The Lion King".
Kiera
Leona
Lila
Bella
Sheba
Queen
Empress
Mara
Rani – Means "queen" in Hindi.
Kiara
Athena
Freya
Diana
Venus
Lorelei
Tara
Isis
Serena
Luna
Stella
Aurora
Lyra
Celeste
Nova
Mystique
Vixen
Sierra
Duchess
Diva
Bliss
Blythe
Eve
Dawn
Zara
Jewel
Gemma
Ruby
Jade
Onyx
Pearl
Topaz
Sapphire
Amara
Nina
Tessa
Alma
Soraya
Nyra
Mira
Elsa
Nadia
Layla
Zoe
Ivy
Faye
Grace
Hope
Joy
Faith
Cherish
Destiny
Dream
Harmony
Melody
Cadence
Symphony
Sonnet
Lyric
Aria
Ballad
Echo
Rhapsody
Serenade
Cleo
Mina
Esme
Vera
Darcy
Lacy
Brielle
Camille
Delilah
Elise
Fiona
Gia
Hazel
Iris
Jasmine
Kyla
Lola
Mae
Nia
Opal
Pia
Rhea
With such a varied range, from classic to contemporary, there's a name to match every lioness's unique temperament and charm. Whether she exudes an air of royalty, elegance, or playfulness, you'll find the perfect moniker to fit her personality. 🦁❤️
Male Lion Names
A male lion embodies strength, bravery, and dominance. As the guardians and protectors of the pride, their powerful roars can be heard for miles. Their majestic manes set them apart, symbolizing authority and age. For these kings of the jungle, here's a list of names that resonate with their grandeur:
Maximus
Atlas
Zeus
Apollo
Caesar
King
Duke
Prince
Champion
Titan
Warrior
Bravo
Brave
Thor
Odin
Jupiter
Neptune
Mars
Zephyr
Storm
Blaze
Ragnar
Knight
Archer
Hunter
Gunner
Bolt
Flash
Rocky
Stone
Bear
Hawk
Falcon
Eagle
Raven
Phoenix
Orion
Spartan
Trojan
Samson
Goliath
Hercules
Hulk
Macho
Rambo
Rogue
Ranger
Rebel
Legend
Lucky
Ace
Vigor
Valor
Victor
Chief
Boss
Captain
Master
Guardian
Sentinel
Sentry
Viking
Sultan
Pharaoh
Khan
Noble
Magnus
Majesty
Supreme
Emperor
Baron
Earl
Lord
Monarch
Patriarch
Laird
Tycoon
Czar
Dynamo
Maverick
Ricochet
Striker
Tornado
Whirlwind
Twister
Tempest
Thunder
Lightning
Comet
Astro
Galaxy
Meteor
Nebula
Rocket
Stellar
Simba – The protagonist of "The Lion King".
Mufasa – Simba's father in "The Lion King".
Leo – Meaning "lion" in Latin.
Rex – Means "king" in Latin.
Leonidas – A famous warrior king of Sparta.
Every male lion, with his commanding presence and regal demeanor, deserves a name that stands out. The list above, packed with variety, ensures that you find the perfect name that mirrors the essence of your magnificent lion. 🦁👑
Fierce & Bold Lion Names
When you think of a lion, the imagery that often comes to mind is that of a fierce predator, ruling its territory with unmatched prowess. Their sheer strength, sharp claws, and penetrating gaze make them one of the most formidable animals in the wild.
If you're looking for a name that encapsulates the untamed spirit and boldness of a lion, this section is for you:
Ravage
Brutus
Blitz
Fury
Razor
Blizzard
Rampage
Vandal
Savage
Thunderbolt
Tempest
Riot
Blaze
Wildfire
Blast
Bullet
Vortex
Sirocco
Dynamite
Cyclone
Turbulence
Hellfire
Juggernaut
Vigilante
Renegade
Outlaw
Bandit
Viper
Reaper
Venom
Chaos
Wrath
Avalanche
Boulder
Quake
Blastoise
Berserk
Maul
Slash
Ransack
Scorch
Inferno
Hurricane
Cannon
Blowback
Rumble
Breaker
Wrecker
Warlord
Bandolero
Bravo
Blastoff
Sledgehammer
Ruckus
Roar
Talon
Snarl
Rave
Strike
Bluster
Crusher
Devastator
Exterminator
Frenzy
Grim
Howl
Irate
Jawbreaker
Killer
Lurk
Menace
Nightmare
Onslaught
Pummel
Quiver
Ravager
Smasher
Torment
Uproar
Vengeance
Whiplash
Xenomorph
Yawp
Zephyr
Gale
Destroyer
Flare
Ghoul
Harbinger
Impulse
Jolt
Kosmos
Lancer
Magma
Nexus
Oblivion
Pulse
Quest
Rage
Sting
This list captures the raw power, fierce attitude, and indomitable spirit that lions exude. Each name is designed to resonate with the wild heart of your lion, honoring its magnificent nature. 🦁🔥
Cute Lion Names
Ah, the cuddlier side of these majestic beasts! Lions, despite their fierce reputation, have their gentle moments, especially when they're playing or resting.
If you're seeking names that bring out the more affectionate and charming side of a lion, perhaps inspired by a cub's playful antics or a lion's lazy afternoon stretches, this section is tailored for you.
Cubby
Paws
Leo
Sunny
Muffin
Whiskers
Fluffy
Dandy
Ruffles
Buttercup
Cuddles
Buddy
Honey
Giggles
Tinker
Sprinkle
Pebble
Twinkle
Pumpkin
Fuzzball
Nibble
Snuggles
Puddle
Coco
Bambi
Buttons
Scooter
Glimmer
Star
Charm
Peanut
Cheerio
Puff
Bubble
Doodle
Sweets
TicTac
Huggie
Glee
Breezy
Munchkin
Candy
Rolly
Dreamy
Feather
Tootsie
Snicker
Crisp
Jellybean
Twist
Spark
Bliss
Chuckles
Dinky
Skipper
Marshmallow
Fizz
Gusto
Misty
Pip
Dewdrop
Lolly
Chirpy
Nuzzle
Glow
Wiggle
Sprout
Jubilee
Tickles
Petal
Whimsy
Sizzle
Pickle
Dazzle
Ripple
Dainty
Swoosh
Flicker
Frosty
Plop
Twirl
Shimmer
Razzle
Boop
Hiccup
Babble
Frisky
Merry
Zippy
Gobble
Waffle
Dimple
Snickers
Hopper
Glider
Nudge
Pounce
Tango
Whiff
Simba (Inspired by "The Lion King")
From the playful to the heart-meltingly adorable, these names are sure to give your lion or cub that extra touch of sweetness. 🦁❤️🍭
Funny Lion Names
Lions are known for their majestic and regal stature, but who says we can't have a little fun when naming them? Injecting some humor into your lion's name can be a delightful twist, showcasing their lighter side.
Ready for some lion-sized giggles? Here's a list to tickle your funny bone:
Leo-noardo DiCatrio
Roary McRoarface
Furball Khan
Paws of Fury
Clawsome
Sir Purr-a-Lot
Whiskerdo
Mane Attraction
Fluffington
Cub Sandwich
Lionel Ritchie
Mufuzz-a
Chewbacca
Pawdrey Hepburn
Mane Squeeze
Sir Growls-a-Lot
Meowzart
Furgalicious
Chase Claws-dale
Lion King-of-Jokes
Pounce de Leon
Clawdia
Sir Loin
Furrball
Kitty Galore
Cubby Bear
Leo-pard Print
King Fuzz
Roar-meo
Sir Pounce
Liontamer's Nightmare
Mr. Whisker-doodle
Catnipped
Tail-or Swift
Catrick Swayze
Mane Event
Growlcho Marx
Whisker-taker
Cub-cake
Furry Potter
Nap-oleon
Kitten Around
Rumblestiltskin
Clawed Monet
Chew-Lion
Purr-suader
Fur-real
Roar-schach
Catastrophe
Mane Course
Paw-la Deen
Chubby Cubby
Pawscar Wilde
Whisker Me Away
Fluffykins Khan
Paw-dini
Meowstermind
Lickasso
Purrsnickety
Lionardo Da Vinci
Roaring Twenties
Mane Man
Whisker Away
Paws and Reflect
Cuddle Monster
Kitty Smalls
Whisker-twitch
Pawbreaker
Sir Ruffle Mane
King of the Nap-pen
Paw King
Leonine Dion
Whiskerpillar
Fur-midable
Roar-al Advisor
Mane-stream
Paw Prince
Mane-tain
Rawr-ry Potter
Majestic Muffin
Roaring Beauty
Leonine Majesty
Meowtain King
Mane Stage
Fur-st Class
Growlacticus
Paw-thetic
Lion-dsay Lohan
Lionize Me
Rumble Roar
Roar-bocop
Cat-a-coomb
Purr-fect Storm
Catticus Finch
Roar-some
Pawsome Sauce
Paw-leonidas
Cub Scout
Mane Point
Fur-iends Forever
A lion by any other name would be just as… funny? These hilarious names are purr-fect for anyone looking to give their lion a name with a comedic twist! 😹
Baby Lion Names
Baby lions, often called cubs, are undeniably adorable. Their playful antics, soft fur, and innocent expressions melt our hearts. If you're looking for a name that captures the essence of a lion cub's charm and playfulness, then this list is for you! 🦁🍼
Cubby
Tiny Roar
Paws
Little King
Tumble
Whiskers
Pounce
Nuzzle
Soft Mane
Mini Mane
Bambi
Lil' Growl
Muffin
Fluffy
Dandelion
Playful
Mumble
Skipper
Button
Pebbles
Honey
Pip
Goldie
Lil' Paws
Naptime
Breeze
Sunny
Fuzzball
Feather
Twinkle
Glimmer
Dewy
Lulu
Cherub
Glow
Halo
Dreamer
Shimmer
Puddle
Bubble
Sprout
Wiggle
Fawn
Twist
Dove
Sparkle
Whirl
Tickle
Jiggle
Mistletoe
Cuddle
Dimple
Giggle
Tinker
Puzzle
Ruffle
Huggle
Zippy
Puff
Snuggle
Chuckle
Doodle
Nifty
Ripple
Wisp
Bubblegum
Jellybean
Lollipop
Peanut
Hiccup
Ducky
Tulip
Butterfly
Petal
Blossom
Marble
Pickle
Pumpkin
Tidbit
Nibble
Snowflake
Starlet
Twirl
Merry
Glee
Dazzle
Bliss
Cheer
Bloom
Hush
Bumble
Plink
Nectar
Honeycomb
Buddy
Pudding
Crisp
Rascal
Lolly
Kisses
Whether you're capturing their whimsical nature, the pure joy they bring, or the softness of their fur, these names are perfect for your baby lion. May your little cub grow with grace and strength! 🦁❤️🌟
Famous Lion Names
When it comes to the realm of popular culture, literature, movies, and even history, several lions have made a mark with their iconic presence.
These lions are not only known for their roles or stories but also their names, which have become synonymous with their characteristics or the tales they come from.
Here's a list of some of the most celebrated lion names from various media:
Simba – The protagonist of Disney's "The Lion King".
Mufasa – Simba's father from "The Lion King".
Nala – Simba's love interest in "The Lion King".
Scar – The antagonist of "The Lion King".
Aslan – The majestic lion from C.S. Lewis's "The Chronicles of Narnia" series.
Kovu – Featured in "The Lion King II: Simba's Pride".
Kiara – Simba and Nala's daughter from "The Lion King II: Simba's Pride".
Zira – The antagonist from "The Lion King II: Simba's Pride".
Leo – The lion mascot for MGM Studios.
Clarence – The cross-eyed lion from the 1960s TV show "Daktari".
Kopa – From the book series inspired by "The Lion King".
Raja – The lion from the movie "Aladdin", though portrayed as a tiger, the name fits for a lion too.
Richard Parker – The Bengal tiger from "Life of Pi", a fitting majestic name for a lion.
Sampson – The main character in the animated film "Wild".
Ahadi – Featured in "The Lion King" book series.
These names not only remind us of the character's unique stories but also the emotions and sentiments attached to them. Whether it's the bravery of Simba, the wisdom of Mufasa, or the magical allure of Aslan, each of these names carries with it a legacy that resonates with audiences worldwide.
Mythical Lion Names
Throughout history and across cultures, lions have been intertwined with myths, legends, and folklore. These majestic creatures have often symbolized power, courage, and nobility.
Let's explore some of the most intriguing mythical lion names that echo through time:
Sekhmet – In ancient Egyptian mythology, Sekhmet was a lioness goddess of war, often depicted with the head of a lioness and the body of a woman.
Nemean Lion – A legendary lion in Greek mythology that was slain by Hercules as one of his twelve labors.
Maahes – Known as the lion god of war in Egyptian mythology.
Narasimha – An avatar of the Hindu god Vishnu, where he is portrayed as a man with a lion's head.
Aker – A lion god of the horizon in Egyptian mythology.
Lion of Venice – A winged lion that represents Saint Mark, the patron saint of Venice.
Griffin (or Gryphon) – A mythical creature with the body of a lion and the head and wings of an eagle.
Chimera – From Greek mythology, a fire-breathing creature with the body of a lion, head of a goat, and tail of a serpent.
Leontoeides – A term meaning "lion-like" and often used to describe heroes and gods in ancient texts.
Lamassu – Protective deities from Assyrian and Babylonian mythology, depicted as having the body of a lion or bull, wings of an eagle, and the face of a man.
Shedu – Often found in Mesopotamian mythology, they are similar to Lamassu but without the wings.
Singha – A mythical lion creature found in Hindu and Thai mythology.
Aplu – A lion god of the plague in Hittite mythology.
Pi Xiu – A Chinese mythical creature that resembles a winged lion.
Komainu – Lion-dog statues that guard the entrances of shrines in Japanese folklore.
From powerful deities to guardian beings, these mythical lion names encapsulate a realm of stories that have captivated the imagination of many. Whether you're inspired by their strength, their role in ancient tales, or their mystical aura, these names offer a deep dive into a world of enchantment.
White Lion Names
White lions, with their ethereal beauty and ghostly charm, are a rarity in the wild, primarily found in the Timbavati region of South Africa. Their unique coloration is not due to albinism but rather a genetic condition called leucism.
If you're fortunate enough to name a white lion or simply enamored by their celestial allure, here's a list of names inspired by purity, elegance, and all things divine:
Lunar
Blizzard
Ivory
Mystic
Frost
Pearl
Celeste
Eclipse
Stardust
Nimbus
Glacier
Polar
Lumina
Seraphim
Snowfall
Blanca
Avalanche
Nova
Halo
Glimmer
Winter
Aria
Breeze
Crystal
Whisper
Dove
Starlight
Opal
Ethereal
Comet
Feather
Twilight
Cloud
Majesty
Arctic
Luster
Purity
Angel
Tundra
Galaxy
Radiance
Silhouette
Moonbeam
Aura
Heavenly
Glisten
Dazzle
Solstice
Serenity
Cosmic
White lions, with their captivating beauty, truly deserve names that are just as magical and inspiring as they are. These names capture the spirit of these magnificent creatures, echoing their ethereal elegance and charm.
Cartoon Lion Names
From animated films to classic cartoons, lions have always been a staple in the world of animation. Their grandeur, courage, and, at times, comical natures have charmed audiences of all ages.
Here are some iconic lion names from beloved cartoons and animated movies:
Simba – The young lion prince from Disney's "The Lion King."
Mufasa – The wise and noble king from "The Lion King."
Scar – The cunning antagonist from "The Lion King."
Nala – Simba's childhood friend and later queen in "The Lion King."
Kiara – Simba and Nala's daughter in "The Lion King II: Simba's Pride."
Kovu – Kiara's love interest in "The Lion King II: Simba's Pride."
Kion – Simba and Nala's son from "The Lion Guard."
Rafiki – The wise mandrill who often plays a guiding role in "The Lion King."
Zazu – The finicky hornbill and royal advisor in "The Lion King."
Timon – The meerkat with a carefree "Hakuna Matata" philosophy from "The Lion King."
Pumbaa – Timon's warthog buddy from "The Lion King."
Leo – The lion from "Leo the Lion," a classic cartoon series.
Snagglepuss – The pink mountain lion with a catchphrase, "Exit, stage left!" from the Hanna-Barbera cartoons.
Rolo – The lion from the "Rolo to the Rescue" video game.
Clarence – The cross-eyed lion from the TV show "Daktari" and later animated in various adaptations.
Lippy the Lion – From the Hanna-Barbera cartoon "Lippy the Lion & Hardy Har Har."
Samson – The father lion looking for his son in the animated film "The Wild."
Ryan – The sheltered lion cub from "The Wild" who craves adventure.
Linus the Lionhearted – The main character from the animated show with the same name.
Lune – The prince of the Jungle Empire in "Kimba the White Lion" (also known as "Jungle Emperor Leo" in some regions).
Kimba – The titular white lion cub from "Kimba the White Lion."
Leo – Kimba's name in some adaptations of "Kimba the White Lion."
Suki – Kimba's mate in some versions of "Kimba the White Lion."
Cartoon lions have a special place in many people's hearts. They are often more than just characters on a screen; they come with tales of courage, friendship, and sometimes pure silliness. No matter the story, these lions are bound to leave a lasting imprint on both young and old.
Tips for Naming Your Lion
Choosing a name for your lion is an exciting journey. Whether you're naming a real lion in a sanctuary, a new pet, or a character in a story, you want the name to resonate and capture the essence of the majestic beast. Here are some tips to help guide you through the naming process:
Understand Their Nature: 🦁
Remember, lions are known as the 'Kings of the Jungle' for a reason. They're strong, dignified, and majestic. Choose a name that reflects their royal status.
Consider Their Personality:
Every lion is unique. Some might be more playful, while others might be more reserved. Watch their behavior and let it inspire a name.
Cultural References Can Help:
Lions are present in various cultures, myths, and legends. Look into these stories for name inspiration.
Keep It Simple:
A name that's easy to pronounce and remember is always a good choice, especially if you'll be calling them regularly.
Try It Out:
Before settling on a name, say it out loud multiple times. See how it feels. Does it fit the lion?
Look into Their Eyes: 👀
Sometimes, a lion's eyes can tell a story. The depth, color, and expression might inspire a name.
Consider Physical Attributes:
Does your lion have any distinct markings, a particularly lush mane, or other unique features? These can inspire names too.
Historical and Fictional Names:
Look into names of famous lions from history, literature, or movies. They can provide a rich source of inspiration.
Avoid Stereotypical Names:
While names like 'Leo' or 'Simba' might be popular, think about choosing something more unique to your lion.
Ask Others for Input:
Sometimes, friends or family can come up with a name that might never have crossed your mind.
Remember, It's Okay to Change Your Mind:
If you feel that the name doesn't quite fit after some time, it's okay. Names can evolve, just like our understanding of the lion's personality.
No matter the name you choose, make sure it's given with love and respect. After all, lions are one of the most magnificent creatures on our planet, and they deserve a name that echoes their grandeur! 🌟🦁❤️
Conclusion
Naming a lion, whether it's a real-life majestic creature, a plush toy, or a fictional character, is an enchanting experience. With their regal presence and rich legacy, lions have captivated our imaginations for centuries. Your chosen name will be a reflection of your personal connection with this magnificent beast.
Whether it's a majestic, cute, fierce, or funny moniker, every name tells a story. We hope this comprehensive list of 500 lion names and the accompanying tips have inspired and aided you in finding the perfect title for your lion.
Remember, the bond between humans and these regal animals is ancient and profound, and the name you choose will forever echo the essence of this king of beasts. Roar into this naming journey with confidence and pride! 🦁👑
Also Read