When you think of lovable, quirky pets, alpacas might just top the list! With their irresistibly fluffy fleece, curious eyes, and playful demeanor, alpacas have a way of winning hearts in an instant. And just like any other member of the family, these adorable creatures deserve a name that captures their unique spirit.
Whether you're a new alpaca parent or just daydreaming about adopting one, dive into our curated list of cute and funny alpaca names. Ready to embark on this fuzzy naming adventure? Let's get started! 🦙💕
Why Alpacas Make Wonderful Pets
The world of pets is vast, from common cats and dogs to the more exotic, like reptiles and birds. But nestled comfortably between the common and the exotic are alpacas, proving themselves to be one of the most delightful animals to have around. So, what makes these fuzzy creatures so special?
Gentle Nature: Alpacas are known for their calm and gentle disposition. Their curious and friendly nature often makes them endearing to both adults and children alike.
Low Maintenance: Believe it or not, alpacas are relatively low-maintenance animals. They graze on grass, require minimal shelter, and their padded feet are gentle on the land.
Eco-Friendly: Alpaca fleece, often compared to cashmere, is not only luxurious but also sustainable. These animals don't require chemical treatments for their wool, making their fleece eco-friendly.
Unique Personalities: Just like humans, each alpaca has its own personality. Some are playful, while others are more reserved. This uniqueness adds an extra layer of fun when it comes to naming them!
Companionship: Alpacas are herd animals, meaning they thrive in groups. This social aspect can offer a wonderful sense of companionship for their owners.
Health Benefits: Interacting with alpacas can be therapeutic. Their calming presence can reduce stress and anxiety, making them great companions for therapeutic programs.
So, if you're considering adding an alpaca to your family or farm, rest assured, they'll not only bring joy but also a host of benefits. Now, let's find that perfect name for your woolly friend! 🌿🦙🌟
Cute Alpaca Names
Ah, the delightful world of alpacas! Their fluffy fleece, large eyes, and playful nature just scream "cute." Naming such adorable creatures requires an equally adorable name. Dive into this list of sweet, endearing names that perfectly capture the essence of your cuddly alpaca. 🌸🦙
Fluffy
Snowball
Puff
Mochi
Tinkerbell
Cuddles
Buttercup
Sprinkles
Daisy
Bubbles
Peaches
Marshmallow
Giggles
Waffles
Twinkle
Honeybun
Niblet
Pookie
Pompom
Doodle
Jellybean
Muffin
Nuzzle
Pudding
Ruffles
Tootsie
Snickers
Whiskers
Charm
Bambi
Twix
Peanut
Cupcake
Fizz
Taffy
Pipsqueak
Snuggle
Dimples
Lolly
Whimsy
Gummy
Puffin
Wiggles
Nougat
Mopsy
Caramel
Cinnabun
Tinsel
Gumdrops
Twizzler
Puffball
Snuggles
Dolly
Lollipop
Pebbles
Tinker
Dottie
Sprinkle
Binky
Fudge
Sparkle
These names are as lovable as alpacas themselves. Whether it's the sweetness of "Honeybun" or the playful charm of "Wiggles," there's a name here that's bound to make your heart melt every time you call out to your alpaca. 🌼🦙🎀
Funny Alpaca Names
When you look at an alpaca, it's hard not to chuckle. Those curious eyes and quirky expressions deserve a name that brings a smile to anyone who hears it. If humor is your thing and you want your alpaca to have a name that reflects its amusing nature, check out this list of whimsical names. Ready for a giggle? 😂🦙
Alpacachino
Alpacalypse
Llama Drama
Sir Spit-a-lot
Fluffernutter
Chewbacca (Alpaca twist on the Star Wars character)
Al-Pacino (Pun on the actor's name)
Woolly Bully
Capuccino
Paca Punch
Fuzzy Wuzzy
Alpacasso (a pun on Picasso)
Harry Plopper (for Harry Potter fans)
Alpaca Lunch (I'll pack a lunch!)
Fleece Lightning
Wooliver Twist
Fluff Daddy
Pac-Man
Alpaconquer
Nuzzle Monster
Sir Fuzzington
Wooly Wonka
Grin and Bear It
Drama Llama's Cousin
Alpa-cake
Munchkin
Fuzzinator
Shaggy McFluff
Sir Licks-a-Lot
Alpacaboom
Woolworth
Cuddlepaca
Chewpaca
Puff Majesty
Emperor Fluff
Fuzzball McMuffin
Woolverine
Mr. Tickles
Sir Fluff-a-lot
Fleece Witherspoon
Shakira the Shearer
Fluff Buff
Wooly Polly
Sneezy McFluff
Paca-mama
Fuzz Buzz
Woolington
Puffy Puns
Paca-Punchline
Woolly Jolly
Llamageddon
Alpacasso
Furguson
Sir Fluffington
Spittaloon
Alpalicious
Wooly Bully
Llamanade
Hairball
Noodle
Paca-Punch
Drama-Llama
Paca Picante
Wooliver
Fluffinator
Llama Mia!
Tuftsy
PacMan
Llamarazzi
Fluffbucket
Pac-a-Doodle
Llamaste
Hairy Potter
Sir Fuzzalot
These playful names will undoubtedly add a fun twist every time you introduce your alpaca to someone. Can you imagine the reactions when you tell someone you have an alpaca named "Chewpaca"? Priceless! 😆🦙🎉
Cool Alpaca Names
For the alpacas that strut their stuff and carry themselves with a unique blend of grace and pride, you need a name that oozes coolness. These names are inspired by popular culture, famous personalities, and some classic adjectives that just scream "cool." So, for the alpacas with the swag, here's a list of names that will give them the respect they deserve. 🕶️🦙💥
Maverick
Zeus
Thor
Hercules
Jazz
Neo
Onyx
Orion
Zephyr
Phoenix
Blaze
Titan
Eclipse
Storm
Flash
Raven
Diesel
Rocco
Sable
Vega
Thunder
Blade
Falcon
Knight
Bolt
Atlas
Mamba
Jet
Cobalt
Shadow
Apollo
Everest
Valkyrie
Midnight
Zenith
Iceberg
Griffin
Talon
Rebel
Sabotage
Drift
Loki
Tundra
Dragoon
Prowler
Sphinx
Raptor
Stinger
Zenon
Marauder
Avalanche
Neptune
Hades
Nimbus
Saturn
Slayer
Blitz
Fang
Viper
Stealth
Dagger
Phantom
Razor
With names as trendy and cool as these, your alpaca will be the star of any gathering or event, leaving a lasting impression on everyone they meet! 🌟🦙
Famous Alpaca Names
Every now and then, certain alpacas gain a bit of fame, either through viral internet moments, appearances in pop culture, or simply because of their unique personalities that resonate with many. Here are some names inspired by well-known alpacas or from those that remind us of famous characters and personalities. 🌟🦙✨
Cusco – Inspired by the ancient city in Peru, a homeland of alpacas.
Pacha – After the character from Disney's "The Emperor's New Groove."
Kuzco – The emperor turned llama, but we can borrow the name for our alpacas!
Peruvian Prince – A nod to their South American roots.
Paddington – For the alpaca with a sense of adventure!
Atahualpa – Named after the Incan emperor.
Woolly Wonka – For an alpaca with a whimsical side.
Andean Andy – Another nod to their Andean Mountain heritage.
Sherpa – A famous alpaca from a children's book series.
Llama Del Rey – A fun twist on the singer Lana Del Rey's name.
Al Capaco – A clever play on the notorious gangster Al Capone.
Machu Picchu – After the iconic Incan citadel.
Chaski – An Incan messenger.
Misti – One of the volcanoes in southern Peru.
Pisco – Named after the Peruvian grape brandy.
While not all these names belong to real-life famous alpacas, they're reminiscent of renowned figures or places, making your furry friend feel a bit more celebrity-like in their own right! 🎬🦙🎤
Alpaca Names Inspired by Famous Characters or Celebrities
From blockbuster movies to our favorite TV shows, iconic characters and celebrities can offer a wealth of inspiration when naming your alpaca. Whether you want your furry friend to embody the elegance of a Hollywood starlet or the bravado of a superhero, there's a name out there that's just right.
Here are some alpaca names inspired by famous characters and celebrities:
Dumbledore (From Harry Potter)
Frodo (From The Lord of the Rings)
Khaleesi (From Game of Thrones)
Marilyn (As in Marilyn Monroe)
Spock (From Star Trek)
Sherlock (From Sherlock Holmes)
Oprah (Inspired by Oprah Winfrey)
Elvis (The King of Rock 'n' Roll)
Hermione (From Harry Potter)
Gollum (From The Lord of the Rings)
Thor (Marvel superhero)
Buffy (From Buffy the Vampire Slayer)
Madonna (Pop Queen)
Yoda (From Star Wars)
Wolverine (From X-Men)
Beyoncé (Pop Icon)
T'Challa (From Black Panther)
Leia (From Star Wars)
Chandler (From Friends)
Dobby (From Harry Potter)
Taylor (Inspired by Taylor Swift)
Theon (From Game of Thrones)
Sheldon (From The Big Bang Theory)
Audrey (Inspired by Audrey Hepburn)
Neo (From The Matrix)
Cleopatra (Ancient Egyptian queen)
Daenerys (From Game of Thrones)
Arya (From Game of Thrones)
Loki (Thor's brother in Marvel)
Bardot (Inspired by Brigitte Bardot)
Mulan (Disney Princess)
Rocky (From Rocky Balboa)
Ramsay (From Game of Thrones)
Gatsby (From The Great Gatsby)
Sinatra (Inspired by Frank Sinatra)
Tyrion (From Game of Thrones)
Monroe (Inspired by Marilyn Monroe)
Dicaprio (Inspired by Leonardo Dicaprio)
Chaplin (Inspired by Charlie Chaplin)
Meryl (Inspired by Meryl Streep)
Poirot (From Agatha Christie's novels)
Moana (Disney Princess)
Simba (From The Lion King)
Bowie (Inspired by David Bowie)
Ariel (From The Little Mermaid)
Tarzan (From Tarzan)
Cher (Pop and Film Icon)
Bilbo (From The Hobbit)
Heisenberg (From Breaking Bad)
LadyGaga (Pop Icon)
These names, inspired by famous figures and characters, add a touch of glamour, humor, and flair to any alpaca. Who knows? With a name like that, your alpaca might just become the next big superstar! 🌟🦙🎬
Female Alpaca Names
Ah, the gentle elegance of a female alpaca! Naming a female alpaca can be a delightful endeavor as you search for a moniker that embodies her grace, charm, and unique personality. Here's a list of beautiful names suitable for your lovely lady alpaca:
Bella
Daisy
Willow
Luna
Rosie
Chloe
Mia
Zoe
Olive
Hazel
Amelia
Stella
Ruby
Violet
Aurora
Ivy
Lucy
Sophie
Angel
Coco
Fiona
Grace
Layla
Ellie
Mia
Poppy
Ava
Molly
Lily
Cleo
Penny
Zoe
Mabel
Ginger
Tessa
Lulu
Nala
Faye
Olive
Sienna
Layla
Ariel
Naomi
Winnie
Lila
Nova
Daphne
Joy
Esme
Skye
Finding the perfect name for your female alpaca is like selecting a gem from a treasure trove. Each name is unique, sparkly, and destined to fit her just right! 🌸🦙💖
Male Alpaca Names
From the majestic stature to their whimsical personalities, male alpacas can be a delightful presence on your farm or property. Finding the perfect name for your boy alpaca should reflect his individual character, strength, and charm. Dive into this list and discover a name that feels just right for your handsome alpaca gentleman:
Max
Oscar
Teddy
Henry
Charlie
Jack
Finn
Oliver
Leo
Jasper
Eli
Dylan
Beau
Winston
Archie
Sam
Milo
Rocky
Rufus
Tucker
Murphy
Gus
Bruno
Cody
Bentley
Chase
Luke
Rusty
Felix
Hunter
Ziggy
Jasper
Tyson
Zeus
Louie
Benny
Otis
Harvey
Rocco
Zane
Ace
Marley
Mason
Rex
Oreo
Duke
Diego
Bailey
George
Rufus
Whether he's strutting his stuff with pride or playfully grazing, your male alpaca deserves a name that stands out. These suggestions range from classic to modern, ensuring you find the ideal moniker for your fluffy companion! 🌟🦙👑
Disney-Inspired Alpaca Names
The magical world of Disney has given us numerous characters, each with their own special story and charm. If you're a fan of these tales, why not draw inspiration from them to name your fuzzy alpaca friend? Here's a list of names inspired by Disney classics and newer hits that could perfectly suit your alpaca's persona:
Simba
Aladdin
Woody
Tigger
Mufasa
Tarzan
Hercules
Flynn (from Tangled)
Baloo
Pongo
Tramp
Olaf
Buzz
Dumbo
Maui (from Moana)
Stitch
Thumper
Pluto
Nemo
Rafiki
Goofy
Baymax
Bambi
Pumbaa
Genie
Zazu
Mickey
Donald
Beast
Gaston
Timon
Jafar
Scar
Abu
Sven (from Frozen)
Kronk
Dopey
Huey
Louie
Dewey
Lightning (from Cars)
Marlin
Bruce (from Finding Nemo)
Remy (from Ratatouille)
Iago
Flik (from A Bug's Life)
Mushu
Koda (from Brother Bear)
Meeko (from Pocahontas)
Pascal (from Tangled)
These Disney-inspired names can add a touch of enchantment to your alpaca's world, connecting every hop and prance to a beloved character's adventure. ✨🦙🏰
White Alpaca Names
The purity and elegance of a white alpaca can be truly captivating. If your alpaca sports a pristine white coat, you might want to consider a name that captures this snowy essence.
Here's a list of names inspired by all things white, snowy, and ethereal:
Snowball
Snowflake
Blizzard
Frosty
Icicle
Marshmallow
Cotton
Cloud
Misty
Polar
Nimbus
Snowbell
Angel
Luna (meaning moon)
Diamond
Crystal
Ivory
Pearl
Sugar
Casper (the friendly ghost)
Dove
Iceberg
Stardust
Chalky
Milky
Starlight
Whisper
Puff
Coconut
Tofu
Snowy
Glacial
Vanilla
Cream
Porcelain
Elsa (from Frozen)
Yeti
Lacey
Ghost
Ice
Powder
Winter
Bubbles
Snowcap
Marshy
Glacier
Comet
Drift
Whitey
Arctic
Naming your white alpaca after one of these bright and pristine choices could emphasize its graceful allure and radiant charm. 🦙❄️🤍
Brown Alpaca Names
Brown alpacas, with their warm, earthy tones, evoke feelings of coziness and the beauty of nature. If your alpaca sports a lovely shade of brown, consider these names that pay homage to its delightful hue.
Here's a list inspired by various shades of brown and the wonders of the natural world:
Cocoa
Mocha
Chestnut
Caramel
Walnut
Toffee
Coffee
Fudge
Sienna
Hazelnut
Butterscotch
Pecan
Truffle
Bark
Bourbon
Russet
Woody
Bean
Ember
Cinnamon
Teddy
Acorn
Chip (as in chocolate chip)
Brownie
Maple
Almond
Auburn
Molasses
Rusty
Sable
Brunette
Earthy
Umber
Biscuit
Char
Muffin
Mudslide
Cider
Hickory
Driftwood
Sepia
Nutmeg
Clove
Oatmeal
Rye
Brun (French for brown)
Choco
Ganache
Muddy
Terra (meaning earth)
These names are perfect for celebrating the beautiful, down-to-earth charm of brown alpacas. Whether it's the sweetness of caramel or the ruggedness of bark, there's a perfect name waiting for your alpaca! 🦙🍫🍂.
Black Alpaca Names
A black alpaca with its sleek and mysterious aura deserves a name that captures its elegant essence. Whether you're seeking inspiration from the night sky or the deep shades of the world, here are names to celebrate the beauty of your dark-furred friend:
Midnight
Eclipse
Onyx
Raven
Obsidian
Noir
Charcoal
Panther
Velvet
Phantom
Jet
Soot
Nightshade
Cinder
Blackberry
Cosmos
Mystic
Stealth
Smoky
Ink
Luna (for moonless nights)
Nebula
Galaxy
Void
Eclipse
Shadow
Pitch
Coal
Ebony
Stygian
Vanta (inspired by Vantablack, one of the darkest substances known)
Carbon
Crow
Nightfall
Starless
Umbra
Blackout
Moonshadow
Nocturne
Abyss
Murk
Darko
Enigma
Silhouette
Shady
Dusky
Blackbeard
Black Swan
Twilight
Shade
These names, inspired by the rich tapestry of the night and the wonders of the universe, reflect the beauty and enigma of your black alpaca. Embrace the allure of the dark and find the perfect name for your bewitching companion! 🦙🌑🖤.
Baby Alpaca Names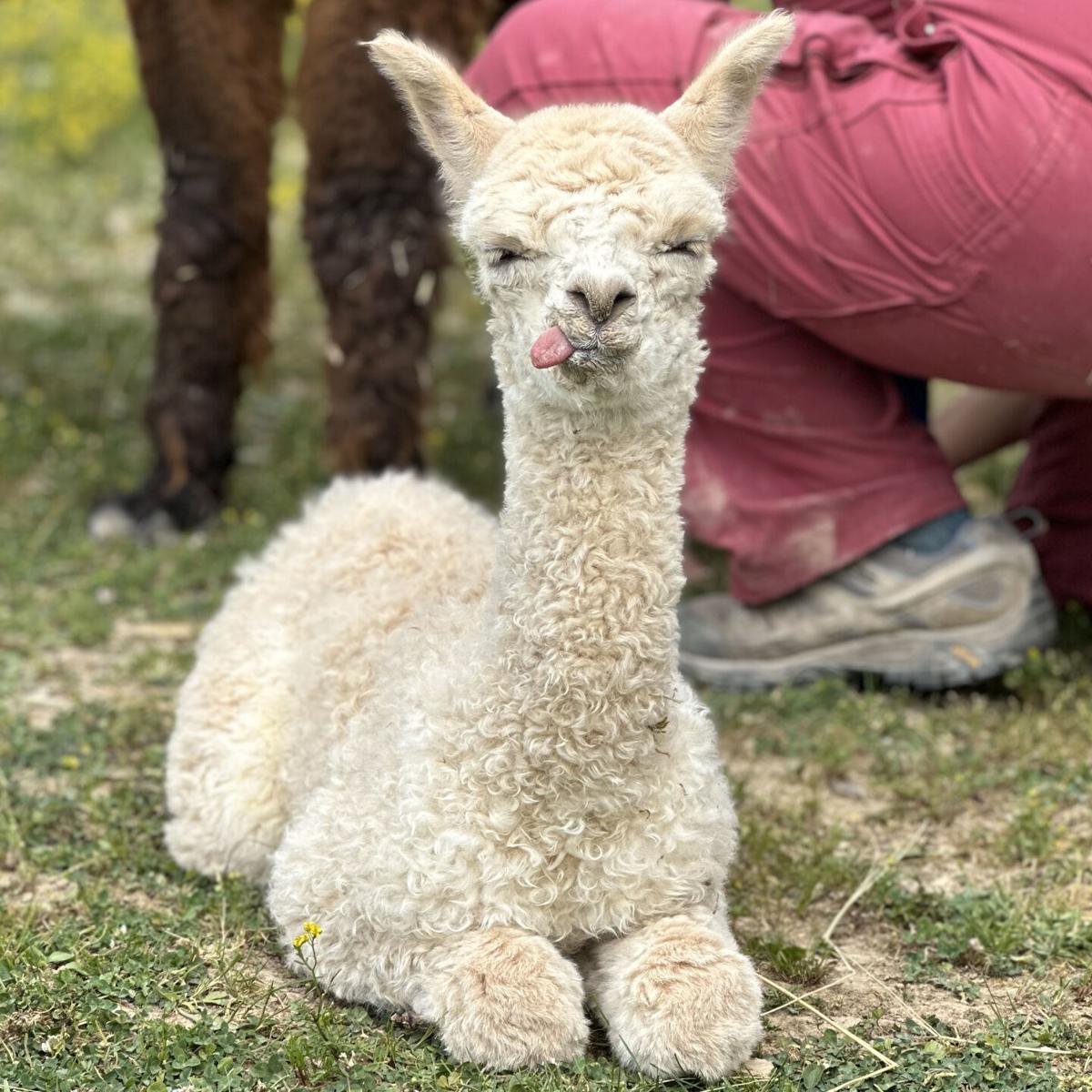 Oh, the sheer joy of witnessing a baby alpaca, often known as a 'cria'! With their fluffy appearance and heart-melting eyes, these young alpacas deserve a name as sweet and lovable as they are. Whether you're looking for a name that captures their innocence or just a playful one to highlight their youthful charm, here's a list to inspire you:
Bubbles
Muffin
Pudding
Wiggles
Tinker
Snowball
Pixie
Sprout
Poco
Fluff
Niblet
Pippin
Pebbles
Twinkle
Whiskers
Doodles
Button
Tippy
Cuddle
Giggles
Squeak
Honey
Nuzzle
Sparkle
Babyboo
Munchkin
Peanut
Binky
Ducky
Tootsie
Rascal
Tootle
Beanie
Skippy
Popcorn
Nifty
Puff
Lollipop
Jellybean
Tidbit
Sweetie
Mistletoe
Pumpkin
Marbles
Bambi
Cuddles
Sprinkles
Breezy
Cupcake
Whimsy
The arrival of a baby alpaca is a celebration of life's little miracles. Whether it's their playful antics or their gentle nuzzles, these names capture the essence of their youthful spirit. So, go ahead and pick a name that's as delightful as your little cria! 🍼🦙💛.
Tips for Naming Your Alpaca
Choosing the perfect name for your alpaca can be a delightful task, but with so many options, it can also become overwhelming. 🤔🦙 To help you find the ideal name that suits your furry friend, here are some tips to consider:
Observe Their Personality: Alpacas have unique personalities. Some might be playful, while others could be calm or even a bit sassy. Let their nature guide you towards a suitable name.
Physical Attributes: Consider naming them based on their color, size, or any distinctive physical features they might have. For instance, a fluffy white alpaca might suit the name 'Snowball'.
Keep It Short & Sweet: Short names or those with two syllables are often easier to remember and call out.
Cultural References: If you're a fan of a particular culture, literature, or movie, you can derive names from there. 'Llama Del Rey', anyone?
Stay Unique: It's okay to choose common names, but unique names can be memorable and add a special touch.
Check the Meaning: Some names have meanings in different languages. It's a good idea to check if the name has a pleasant meaning or resonance.
Ask Friends & Family: Sometimes, two heads (or more) are better than one. Getting input from others can lead to fun brainstorming sessions.
Grow with the Name: You don't have to rush the naming process. Spend a few days with your alpaca, and you might find the name naturally comes to you.
It's Okay to Change: If you feel the name you initially picked doesn't quite fit after some time, it's perfectly okay to choose another one.
Have Fun with It: Remember, naming your alpaca should be a joyous process. Go with what feels right and brings a smile to your face!
With these tips in mind, you're set to pick a name that's as unique and wonderful as your alpaca. Happy naming! 🎉🦙❤️.
Baby Alpaca Photos, Videos, and Facts
Baby Llama Photos, Videos, and Facts