Poodles are an excellent dog breed choice for pet owners who want a puny new friend in their homes. There are different types of poodles, but arguably all of them look really cute. One of their distinctive features is the curly and puffy hair all over their bodies. So, that truly makes these dogs stand out from others around them.
As a pet owner, you can set your poodle apart by giving it a unique and unforgettable name. Now, if you're not sure what name to pick for that purpose, it's okay. We're here to help you with finding the perfect name for your cute little pet.
This article will provide you with cute and funny poodle names that you can use for your pet. It will guide you on how to find a name for your dog that you like and that suits its personality and appearance.
Male Poodle Names
Poodles, both male and female, are very smart, proud, and active creatures.
If you've brought a male one into your home and have not yet named him, check out this list of male poodle names.
James
Timothy
Cooper
Tommy
Arthur
Dutch
Shelby
Paul
Peter
Champ
Deke
Zeke
Arvin
Earl
Flynn
Derek
Kelso
Cole
Mark
Henry
Geralt
Zeus
Bailey
Werner
Philip
Burt
Niko
Kirk
Rob
Bob
George
Sal
Selwyn
Terrance
Oliver
Nelson
Martin
John
Ryan
Wyatt
Roman
Michael
Franklin
Jeremy
Dan
Trevor
Kyle
Tyler
Luke
Vesemir
Mace
Anakin
Gerad
Jared
Spencer
Female Poodle Names
Female poodles tend to be a little more overprotective than their male counterparts.
They may not show their affection as much as male poodles, but they're loyal and will ensure to keep you safe whenever they feel something's wrong. This quality of theirs also makes them good guard dogs, as they'll bark at the sign of trouble.
Here are some female poodle names for you to consider for your pet.
Janine
June
Charmaine
Brie
Moira
Bridgette
Isabella
Ginger
Macy
Lexi
Jenna
Elena
Jemma
Emma
Luna
Lolo
Lulu
Rene
Ursula
Pauline
Jennifer
Lydia
Riley
Ashley
Zelda
Zoey
Hannah
Jasmine
Felicia
Felicity
Astrid
Adriana
Eva
Ava
Mildred
Kendra
Lana
Penelope
Natalie
Ada
Alex
Leia
Dorothy
Dora
Gertrude
Claudia
Abigail
Melinda
Mary
May
Dakota
Taylor
Chloe
Elizabeth
Witney
Toy Poodle Names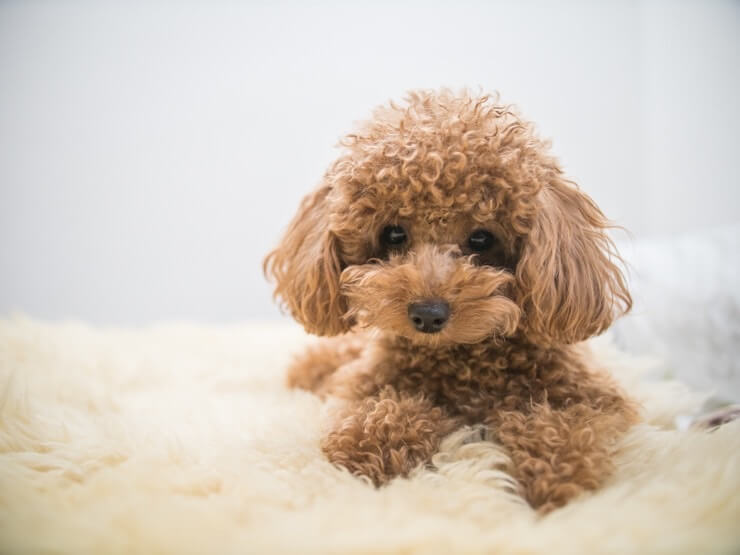 The Toy Poodle is a specific type of dog breed from the poodle group. Other dog breeds include the Miniature Poodle and the Standard Poodle.
Toy Poodles get their name from their size. They're the smallest dogs among the other two poodle breeds mentioned. So, their height is only about 10 inches, and they weigh about 6 to 9 pounds.
The following category of dog names is best suited for Toy Poodles.
Morsel
Bean
Pebbles
Damica
Nibbler
Cinderella
Kylo
Button
Lior
Munchkin
Peewee
Katniss
Squirt
Teensy
Runt
Girl Poodle Names
While this category is similar to the female names category above, it focuses specifically on small, girl poodle names instead.
Maggie
Lucy
Maisie
Daisy
Lizzie
Gigi
Kelsi
Dixie
Olivia
Jojo
Mia
Mittens
Paisley
Izzy
Jessie
Kelly
Amelia
Rosie
Sophie
Sam
Fergie
Maddy
Mandy
Jenny
Millie
Molly
Holly
Eliza
Darcy
Darling
Dela
Lady
Pixie
Gertie
Channel
Unusual Poodle Names
Caniche: We bet that you never thought that you could give your poodle an unusual name by naming it poodle (in another language). Well, the name Caniche, comes from the French word for a female duck.
Poodles originated from France and were given this name because they were water retrievers who could hunt ducks. So, if you want to name your dog after its breed in another language, then go for the unusual name Caniche.
Boy Poodle Names
This category will work for any male poodle, but it's best suited for small and young boy poodles.
Timmy
Jimmy
Rex
Ernie
Chewie
Finn
Marley
Murphy
Freddie
Casie
Terry
Carl
Ace
Max
Louie
Jerry
Cute Poodle Names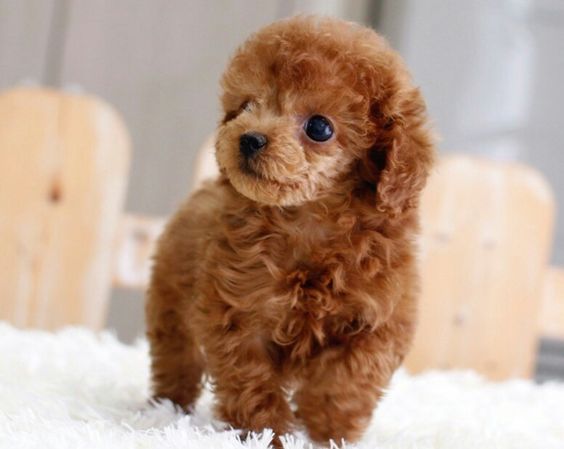 If you've been graced with seeing a poodle in person, you must know how cute their little bodies, small faces, and fluffy hair can look.
Keeping that in mind, why not give your poodle a name that sounds cute.
Now, while determining that is somewhat subjective, we think many of you will agree that the following list of cute poodle names will provide you with excellent choices for your pet.
Milo
Buddy
Poppy
Charlie
Petunia
Wally
Spud
Gadget
Hazel
Piper
Wishbone
Alfie
Phoebe
Rascal
Odie
Blue
Brody
Scrappy
Gizmo
Patches
Chase
Standard Poodle Names
The Standard Poodle is one of the most common types of poodles.
It also looks like the conventional representation of poodles. They can come in a variety of colors, like black, white, orange, and more. They also tend to have a happy and strong personality.
Browse through some names we thought would fit best for Standard Poodles.
Autumn
Bianca
Carrot
Auburn
Amber
Alaska
Carmine
Dove
Coconut
Copper
Cheeto
Bruno
Coral
Kiki
Ivory
Gale
Luana
Panther
Moonflower
Pearl
Stormy
Saffron
Tiger
Trixie
Exotic Poodle Names
Bedreven: Poodles are highly intelligent animals, which can help them learn things faster than other dog breeds. So, you won't have much trouble teaching them a few tricks, provided you put in the time and effort in the training process.
With that in mind, Bedreven is the perfect exotic name for this dog breed. This is because it's a Dutch word that means 'skilled expert', which your poodle can be in the tricks you teach it.
Black Poodle Names
Black-colored poodles are reasonably popular among pet owners. There's just something beautiful about a black dog that's a little difficult to explain.
If you're one of those pet owners but haven't named your poodle yet, take a look at some of these names.
All of the following names allude to the color black, for obvious reasons, of course.
Midnight
Pepper
Ember
Raven
Shadow
Noir
Ash
Olive
Cinder
Coal
Dusty
Knight
Coffee
Jet
Hilarious Poodle Names
Dogzilla: This name is only funny if you give it a small poodle. This way, it's ironic and, thus, humorous because Godzilla is supposed to be a large creature that towers over every other creature around it. And all you have to do is switch the first and third letters to get the name Dogzilla, so why not?
If you're not a huge fan of Dogzilla, go over some of these funny poodle names.
Dumbledog
Winnie the Poodle
Hairy Pawter
Barker
Furdinand
Curly
Boba
Indiana Bones
Howler
Noodle
Mop
Yoda
Snoop Dogg
Waggles
T Bone
Spiral
Korean Poodle Names
Hye: Do you remember when we said that poodles are highly intelligent creatures? Well, now you don't have to beat about the bush with that fact. All you must do is name your dog Hye—which means 'intelligent' in Korean.
Cho: Is your doggo a beautiful/handsome boy or girl? The answer is yes—always yes! So, name them Cho, for it means beautiful/handsome in Korean.
Little Poodle Names
Are you looking for poodle names that explicitly allude to your dog's size? Well, this list of little poodle names is just what you're looking for then.
Dinky
Dobby
Dot
Chip
Cub
Bug
Smidge
Rugrat
Piccolo
Weenie
Pup
Elf
Acorn
Beetle
Nerdy Poodle Names
Harriet: This is the name of a recurring character in the Nintendo video game series, Animal Crossing. Harriet is a pink-colored poodle who runs their very own barbershop called Shampoodle.
If you're a fan of this video game series, don't think twice about naming your poodle Harriet. Perhaps, you could also name it after the barbershop's name: Shampoodle.
Old Fashioned Poodle Names
If you like to keep your pets' names old-fashioned, you've come to the right place.
Adelaide
Abe
Agatha
Alvin
Clarabelle
Cornelius
Conrad
Ethel
Forrest
Gilbert
Geraldine
Harvey
Frida
Hyatt
Esther
Hamilton
Harold
Gail
Leonard
Joyce
Irene
Kent
Marilyn
Orson
Parker
Madeline
Norman
Tobias
Rosemary
Shirley
Thurston
Sylvan
Posh Poodle Names
For generations, owning a poodle has been considered as a symbol of wealth, luxury, and prestige. So, we've come with a list of posh poodle names to help you give your pet a name fitting to that symbolism.
Chaucer
Duke
Kingston
Duchess
Archibald
Beatrice
Prince
Lux
Alcott
Bianca
Genevieve
Violet
Hamilton
Preston
Theodra
Red Poodle Names
Are you fortunate enough to have a red poodle in your family? If yes, then check out these awesome names you can give it.
Scarlet
Merida
Merlot
Rojo
Ruby
Fox
Ariel
Princess Fiona
Blaze
Cherry
Currant
Blush
Ladybug
Silver Poodle Names
Argent: Considering poodles arguably originated from France, naming your silver doggo Argent won't go amiss. If you didn't know this already, argent is the French word for silver.
Here are some more silver poodle names you may like.
Mercury
Artemis
Stormy
Silver Sable
Misty
Blade
Foggy
Bullet
Carbon
Granite
Inky
Plata
Meeko
Conclusion: Poodle Names
With these comprehensive lists of cute and funny names for poodles, it should be a lot easier for you to pick a name for your pet.
Selecting the perfect name is only the first step in developing an unbreakable bond between you and your pet.