The majestic Mastiff, with its imposing presence and gentle demeanor, is truly a breed apart. These gentle giants, often regarded as the noble guardians of the canine world, deserve a name that resonates with their grandeur and heritage. Whether you're drawn to their history as ancient war dogs, their role as family protectors, or simply their heartwarming, droopy-eyed expressions, finding the perfect name can be quite the endeavor.
Dive into our expansive list of Mastiff names, curated to inspire and enchant, ensuring your canine companion gets a moniker as magnificent as they are!
Female Mastiff Names
With their gentle eyes, protective instincts, and regal demeanor, female Mastiffs are a blend of grace and strength. They deserve a name that not only reflects their majestic presence but also complements their tender, maternal nature.
Whether you seek a name rooted in tradition, inspired by mythology, or one that simply sounds elegant, our list of female Mastiff names aims to capture the essence of these gentle giants.
Bella
Athena
Cleopatra
Daisy
Empress
Fiona
Giselle
Hera
Isabella
Juno
Kali
Luna
Maya
Nala
Ophelia
Queen
Rhea
Stella
Tessa
Ursula
Venus
Biggie
Lilo
Juno
Athena
Harley
Victoria
Red
Gemini
Stormy
Electra
Mayflower
Harper
Grace
Duchess
viva
Raven
Octavia
Sheba
Mercedes
Autumn
Zola
Fallon
Malibu
Alex
Shebear
Brawny
Sky
Blue
Robin
Bess
Gabby
Sage
Coco
Katniss
Countess
Calisto
Elizabeth
Lily
Sierra
Daisy
Queen
Eve
Panda
Beastie
English Mastiff Names
The English Mastiff, a breed deeply rooted in British history, stands as one of the most ancient and noble of all dogs. With ties to England that date back thousands of years, these gentle giants have been a symbol of loyalty, power, and protection.
What better way to honor their rich lineage than by giving them a name reminiscent of their English heritage? Dive into our curated list of names that are quintessentially British and capture the essence of the English Mastiff.
Winston
Arthur
Eleanor
Henry
Blythe
Agatha
Edmund
Beatrice
Clarence
Victoria
Alfred
Penelope
Oliver
Matilda
Geoffrey
Rosalind
Cedric
Florence
Albert
Lillian
George
Jet
York
Harvey
Buffy
Sabrina
Zed
Charlie
Wade
Husky
Buster
Brody
Anne
Beck
Vince
Phoenix
Barney
Eva
Tammy
Usher
Caesar
Willy
Harry
Eden
Pearl
Gabriel
Joey
Dora
Bentley
Jules
Ivy
Ricky
Prince
Misty
Viceroy
Sherlock
Male Mastiff Names
Male Mastiffs exude strength, bravery, and loyalty, embodying the characteristics of the true guardians they are. When naming your male Mastiff, it's ideal to choose a name that encapsulates these traits while still reflecting his gentle and affectionate nature.
Dive into our specially curated list of names to find the one that mirrors the character and charisma of your powerful yet tender-hearted Mastiff companion.
Maximus
Brutus
Leo
Titan
Bear
Duke
Thor
Caesar
Apollo
King
Rocco
Samson
Diesel
Oscar
Atlas
Clyde
Gunner
Odin
Shadow
Zeus
Major
Angus
Arnold
Annie
Bingo
Samson
Diesel
Oscar
Carlo.
Damien
Kent
Senior
Aristotle
Hammer
Blizzard
Augustus
Tank
Falcon
Maddy
Cassie
King
Oswald
Tank
Boss
Rocky
Julius
Gunner
Lance
Benji
Edgar
Satin
Hannah
Louie
Ice
Beast
Bruno
Chief
Rain
Luna
Cinder
Champ
Archer
Grendel
Alpha
Buck
Jagger
Garnet
Rambo
Bella
Baxter
Rolf
Napoleon
Katie
Giant
Hugh
Gotham
Romy
Dixie
Bandit
Forbes
Sophie
Lydia
Hector
Rover
Charlie
Atilla
Boomer
Magnum
Jude
Maya
Harley
Luther
Bailey
Shaq
Noah
Jezebel
Hunter
Hulk
Mac
Scar
Muscles
Rufus
Ranger
Banshee
Duke
Colonel
Henry
Cooper
Tibetan Mastiff Names
The Tibetan Mastiff, a breed steeped in mystery and ancient lore, is a majestic guardian of the Himalayan mountains. Known for their thick, luscious coats and deep-set, expressive eyes, these dogs have historically protected nomadic tribes and monasteries in Tibet.
Their name should reflect their rich cultural heritage, and mystic aura that surrounds them. Here's our list inspired by the vast Tibetan landscapes, mythology, and the unique culture of the region.
Tenzin
Lobsang
Pema
Karma
Norbu (meaning 'jewel')
Dawa ('moon')
Kelsang
Choden ('devout')
Mingma
Sonam ('fortunate')
Druk ('dragon')
Lhakpa
Tsomo ('lake')
Jampa ('loving')
Pasang
Rinzen ('intelligent')
Sengge ('lion')
Chomolungma (name of Mount Everest in Tibetan)
Gyatso ('ocean')
Thubten
French Mastiff Names
If you are looking to buy a French breed mastiff, it might be wise to start looking for French names that might fit your new puppy. Below is a list of French mastiff names that might be helpful.
These names are not limited to French breeds only. Mastiff guardians who want more sophisticated names could also benefit from these names.
The French language is often associated with sophistication and love, therefore giving your mastiff a French name would make it seem more adorable.
Adelle
Bastille
Bruno
Mac
Brutus
Mack
Sumo
Christophe
Drachen
Drakkar
Dred
Etienne
Francois
Gascon
Vicki
Rina
Diana
Flora
Sable
Satin
Scarlet
Gigi
Gotham
Grail
Grendel
Harley
Sophie
Zoe
Charlie
Jacques
Nikki
Belle
Precious
Yukon
Rambo
Elodie
Fleur
Descartes
Denis
Fabien
Awesome Mastiff Names
The following are fun names derived from mastiff personalities, physical features, movies, and dog shows.
Hazel
Poppy
Dixie
Nero
Milo
Dolce
Serena
Mona
Stella
Sleepy
Mack
Murphy
Bella
Marlon
Maggie
Dylan
Lion
Rascal
Leone
Bambi
Pippa
Gino
Rudy
Aldo
Jaguar
Pudge
Neo
Wally
Emma
Scout
Moss
Sadie
Henry
Luna
Marley
Sully
Aria
Lily
Tito
Sergio
Cool Mastiff Names
The name you choose for your dog says a lot about your personality. It is refreshing to give your puppy a name that portrays you as a fun person or any other trait you like.
The following is a list of cool names you could name your new puppy:
Barkley
Eve
Buster
Gigi
Borgnine
Christopher
Max
Priam
Travis
Mason
Chase
Trucker
Leo
Fawn
Carlo
Jupiter
Beaufort
Marquis
William
Hercules
Ziggy
Diesel
Amelia
Beowulf
Atticus
Charlie
Tarsus
Tiger
Zorba
Fenton
Darwin
Lenny
Bacon
Dakota
Finn
Mia
Brutus
Siring
Baron
Fang
Kazak
Thor
Strabo
Alpine
Cute Mastiff Names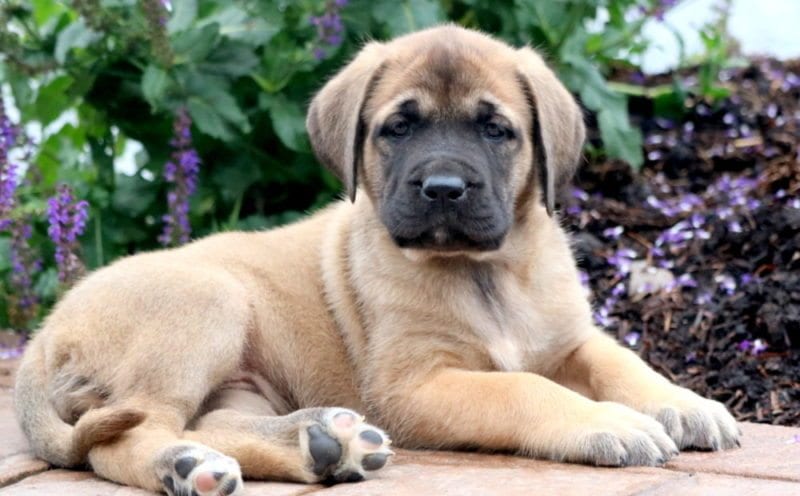 Dogs are undoubtedly one of the cutest creatures that exist. No matter the size, dogs are adorable and sweet. It is only fair that a cute creature gets a lovely name.
Here are ideas of cute mastiff names you can choose from:
Piper
Mickey
Willow
Beasley
Izzy
Joy
Lucky
Ernie
Hank
Zoey
Pooh
Alfie
Jojo
Zara
Chloe
Phoebe
Casper
Buddy
Macy
Benny
Adam
Brody
Sophie
Bella
Pluto.
Beau
Daisy
Lola
Rosie
Cooper
Louie
Jack
Patches
Wigglesworth
Happy
Chance
Oliver
Olive
Lucy
Leo
Neapolitan Mastiff Names
There are many reasons why one might be inspired to give an Italian name to their dog. For instance, it may be because you have an Italian background, or maybe you just admire the Italian heritage.
Whatever your reason is, here is a list explicitly developed for you to help you name your new puppy mastiff.
Leona
Gemma
Alto
Filippo
Giulia
Bianca
Ernesto
Vespa
Pietro
Primo
Regina
Enrico
Pasquale
Lucio
Carmela
Giovanni
Renata
Ricardo
Giuseppe
Carlo
Ignazio
Sofia
Guido
Dante
Volante
Rosalia
Diego
Ugo
Donatello
Dona
Enzo
Lorenzo
Elda
Egidio
Rosetta
Farfalle
Geronimo
Grazia
Catarina
Elmo
Luca
Fabio
Paolo
Clarice
Anita
Rocco
Roberto
Giuliano
Federico
Constanza
Vito
Matador
Allegra
Cadenza
Cira
Romano
Viviana
Renzo
Elena
Flavia
Rinaldo
Toro
Faust
Antonio
Ettore
Olympia
Angelo
Rosa
Arturo
Octavia
Colombo
Tino
Romeo
Popular Mastiff Names
There is no doubt that some mastiff names are more popular than others. However, the most popular mastiff names are inspired by their might, size, and serenity.
The color of mastiffs also inspires some names.
The following are some of the most popular mastiff names worldwide:
Isabela
Sparky
Scout
Lion
Chico
Puff
Bella
Zeus
Blanco
Alma
Bear
Waldo
Giselle
Zorro
Puma
Inocencia
Pluto
Melia
Scooby
Belinda
Ice
Diego
Beast
Chief
Fuzzball
Volt
Dante
Mona
Royce
Goliath
Rebel
Taco
Jorge
Tank
Pablo
Tarzan
Bruno
Bruce
Mufasa
Mercy
Spanish Mastiff Names
New mastiff guardians can have fun with Spanish names. You necessarily don't have to be Spanish or own a Spanish breed to give your dog a Spanish name.
You can choose to be adventurous a look into Spanish names for your new puppy.
Corazon
Vida
Alonzo
Felipe
Maya
Brisa
Marques
Valencia
Inez
Orlando
Paloma
Alicia
Vicente
Felicia
Ricardo
Margarita
Lupe
Marco
Navarro
Ria
Bonita
Valencia
Neva
Carissa
Inez
Carlos
Federico
Ventura
Vito
Paco
Juan
Rico
Querida
Santo
Ramon
Consuela
Inca
Maria
Jose
Marta
Marcia
Cielo
Savannah
Sebastian
Pedro
Nacho
Luna
Luz
Oso
Julia
Blanca
Chiquita
Sergio
Marcela
Paulo
Idola
Juana
Raymundo
Alejandro
Reina
Amar
Mora
Rafael
Nita
Carina
Quito
Inigo
Carmine
Nina
Zerlina
Raul
Natalia
Nicolas
Unique Mastiff Names
The following list of dog names is meant for new mastiff owners who would like a unique name for their puppies.
If you are the kind of person that likes out of the ordinary names, here is a list for you to get started in the name searching process.
Oliver
Ibis
Taurus
Moses
Roman
Panda
Jock
Boaz
Lava
Morley
Chica
Elliot
Chase
Snow
Pegasus
Hopper
Dagger
Everest
Milo
Walt
Oslo
Cargo
Kevin
Morgan
Roark
Ivy
Ty
Rooney
Loki
Becca
Tucker
Cisco
Rolex
Achilles
Poof
Primo
Meatloaf
Chester
Canyon
Sargent
Conclusion: Mastiff Names
Giving a name to a newly acquired puppy can be a fun yet challenging activity. This guide has given you a few ideas and insights on how to name mastiffs.
To come up with the best mastiff puppy names, you can consider their physical attributes like their size, color, coats, etc. you can also give mastiff puppies names associated with power and serenity.
Consider offering your puppy a name from a foreign heritage if you prefer to be more creative or fun.