Do you have this furry friend that's not anything but Bloodhound dog? Well, here are 512+ fantastic bloodhound names that will fit your pet to the tee.
The name that you give your pet is their first gift, followed by of course—oodles of love. You always want the names of these fantastic life companions to be as unique and creative as possible. Remember, in most cases, the breed of your doggo can inspire this creativity and uniqueness.
Pets are like our siblings. We owe them lots of love, care and sometimes we even dress them up in the most adorable outfits— if you can do all this, then you should take your time to find the perfect title that will reflect your new pet's potential and personality.
Female Bloodhound Names
Thanks to their great scent of smell, Bloodhounds are known to be the best in detecting scents on the ground. Not only are bloodhounds your great companion but also they are incredibly talented pets.
So it's very important that these exceptional pets are branded with the finest possible titles within the first week or so.
Getting to know the character of your hound before naming them is very important, but the quicker you name them, the better for both of you.
The good news is that if you were out for the best creative female Bloodhound names, then you are at the right place. Your girl bloodhound dog deserves something better than "Poochie!"
Here are the memorable female bloodhound names that you can use virtually for any color of your pet.
The Top 10 Female Bloodhound Names
Queen
Opal
Hashtag
Dingo
Banshee
Faye
Penny
Holliday
Won Ton
Glorious
Here is a long list of cool names for any female Bloodhound:
Abby
Antoinette
Glorious
Orchid
Pearl
Almond
Opal
Paradise
Pebbles
Godiva
Gidget
Golden Girl
Ophelia
Half-Note
Gypsy
Payton
Adara
Penny
Goldie
Ginge
Pandora
Angelina
Pistachio
Hope
Pippin
Air Supply
Abby
Addison
Halle
Adele
Alyssa
Amber
Olive
Honeysuckle
Applejack
Periwinkle
Holly
Harmony
Aquamarine
Aphrodite
Holiday
Aster
Asia
Piper
Pepper
Kimbra
Bliss
Kaleidoscope
Blossom
Pixie
Jezebelle
Iris
Indigo
Isabella
Beauty
Roxy
Queen Rasha
Blush
Reese
Ruby
Bambi
Jasmine
Joan of Arc
Ivy
Jenna
Raven
Inari
Primrose
Sabrina
Princess
Rio
Queen Ann
Bittersweet
Rapunzel
Pocahontas
Belle
Bright Eyes
Rosie
Bianca
Atlanta Princess
Jewel
Baroness
Jelly Bean
Bindi
Cerise
Sasha
Girl Bloodhound Names
Kimmie
Charity
Kenya
Sapphire
Juno
Savannah
Carly
Carnation
Kimono
Karma Chameleon
Sadie
Katniss
Scarlett
Cabaret
Cameo
Sappho
Jade
Jubilee
Brooklyn
Boy Bloodhound Names
Cooper
Chief
Cash
Jake
Mason
Junior
Zeke
Oakley
Champ
Ryder
Chase
Dallas
King
Ranger
Bubba
Country Bloodhound Names
Country bloodhound dog names are twangy, fun, and unique.
You can call it Country, Redneck, Western, or Hillbilly but the most obvious point to start from when you are picking your country bloodhound's name is the popular country music—the famous genre with Southern of the United States' roots.
The other areas of inspiration that you might turn to are characters, locations among other things that are similar to the cool country lifestyle.
Remember, you don't have to be a Southern dweller to like the country bloodhound dog titles. If you appreciate the fun of the country life coupled with the laid back vibe, you should count on these names.
That why we have conglomerated for you a list of great bloodhound names that will definitely please the country music lovers, fanciers of the old-fashioned southern names, city slickers, and anybody who loves the cool and ordinary environment.
Whether you live in the heart of New York or the Clemson city in South Carolina, these bloodhound names have something for everyone.
Charlie
Tyson
Ace
Gunner
Hank
Shadow
Toby
Rocky
Koda
Wyatt
Shiloh
Waylon
Moose
Bandit
Jax
Harley
Brody
Sam
Finn
Buster
Beau
Tucke
Buddy
Marley
Duke
Bear
Diesel
Hunter
Maverick
Rudy
Joey
Benny
Ollie
Rex
Chico
Chance
Scout
Luke
Otis
Rusty
Roscoe
Boomer
Ziggy
Smokey
Levi
Daisy
Charlie
Callie
Gracie
Willow
Honey
Lulu
Ruby
Dakota
Cookie
Scout
Maddie
Annie
Penny
Trixie
Angel
Sugar
Lady
Sadie
Riley
Roxy
Maggie
Ellie
Katie
Marley
Gypsy
Sassy
Foxy
Frankie
Pixie
Paisley
Lucky
Misty
Jessie
Sage
Dolly
Allie
Josie
Summer
Jolene
Lacy or Lacey
Mabel
Sunny
Dottie
Sky or Skye
Tessa
Jenny
Clover
Wynonna
Cricket
Mackenzie
Sheba
Nellie
Missy
Peaches
Sally
Famous Bloodhound Names
You will hear many of the bloodhound dog owners call them Columbo, Scooby, Sherlock, or Gadget—the main reason behind this is the fact that these famous pets possess a high scent of smell.
You can also find some other bloodhound names from your favorite TV programs or favorite books.
Besides you can choose to use the amazing sense of smell that these great family companions possess. In this line, you can name your dog Sam (from Toucan Sam) or Snuffer—highlighting this great trait.
Because bloodhound dogs are so close to you like your children are, you want to choose a name that is not only easy to pronounce but also a cute one.
These pet's cute names can come from a range of places. No matter where you pick them from when you land on the right name for your new bloodhound, you will know it.
As earlier stated, the bloodhound is a big dog that is famously known for trailing and hunting humans who have escaped from the hands of the government.
That in mind, did you or someone close got a bloodhound? Or are you planning to have this friendly family companion join your family?
Choosing the name of your pet can be an overwhelming undertaking just like choosing the best name for your baby.
Also, you want to make sure that the name is easy to pronounce and as well reflects the puppy's looks and behaviors.
To help you name your new companion we have developed for you this list of the most famous Bloodhound dog names no matter if your dog is brown or black, big or small, or male or female.
Buffalo
Max
Thunder
Sergeant
Chunky
Titan
Burly
Sasquatch
Jupiter
Dred
Magnum
Rugby
Magnum
Jaws
Tank
Sumo
Manley
Jumbo
Samson
Saturn
Maxi
Tex
Chubby
Bismarck
Kong
Boone
Lincoln
Grizzly
Brawny
Boomer
Shark
Brawler
Drakkar
Mac
Dante
Gnash
Muscles
Dragon
Mack
Grail
Drachen
Hannah
Tracker
Yukon
Trojan
Zeus
Chaos
Lurch
Hercules
Rambo
Duke
Raptor
Damien
Brutus
Trapper
Moose
Dinah
Scarlet
Abby
Charlie
Twilight
Siouxsie
Candy
Satin
Roxy
Missy
Sasha
Bella
Angel
Sable
Velve
Lady
Rave
Sophie
Jett
Edge
Jaala
Rogue
Grendel
Zima
Gotham
Ragnor
Abby
Stryker
Chloe
Willow
Princess
Zoe
Zurie
Sabre
Harley
Cute Bloodhound Names
Funny, kind, or ferocious? Here is a list of cute bloodhound names for your charming furry friends.
Remember, cute bloodhound names should not be more than two syllables.
In truth you should always treat your bloodhound like Quiser treats Rhett in the Steel Magnolias—take them with you everywhere no matter their temperament or size.
Let them become your best friends. You can leave in your car whenever you are running your errands, take them for a walk in the park, let them sleep beside you.
If you will be spending all this time with any creature, then you should always choose a name that you love and understand the method of dog naming.
Let the name be a cute one—one that you will love saying over and over again.
Short and clear names will work better than lengthy names. For instance, shouting a name like Genevieve repeatedly will most likely be cumbersome and old-fashioned. But if you are dead set on that name, you can shorten it to Genny.
Besides, if you are adopting a new bloodhound dog that you want to rename, keep the new name as similar to the old one as possible. For example, a dog named Shelby can easily be renamed to shelly.
Also to avoid confusion, let your dog's name not rhyme with any of your family members or sound like a command.
One more thing—let your chosen boy or girl puppy name still fit your full-grown bloodhound dog.
That said, take a look at these favorite cute names for your new companion.
Addy
Rosie
Rosemary
Pepper
Rocky
Popcorn
Leroy
Lexie
Lucy
Harper Lee
Maisie
Hudson
Hannah
Harley
Henry
Madison
Magnolia
Lela
Maggie
Memphi
Laverne
Max
Major
Khaki
Mollie
Kiki
Jacks
Hunter
Millie
Jack
Annie
Annabel
Sally
Percy
Gracie
Peaches
Oliver
Sad
Bacon
Ruby
Rocket
Parke
Amelia
Osca
Myrtl
Moses
Atlanta
Nellie
Funny Bloodhound Names
Keep in mind that naming your favorite pet is one of the serious businesses in your homestead. After all, this is a name that you will be saying thousands of times and it should fit the personality of your bloodhound.
But if you come up with clever wordplays or funny names you can convert this stern undertaking into great fun.
Take a look at these funniest bloodhound names—may be one of them can be the right funny name for your fascinating pet.
Liberace
Markie Mark
Indiana Bones
50 Scent
Moneypenny
Smalls
Chewbacca
Biggie
Mini-Pearl
James Earl Bones
Cinder Ella
Kanye Westie
Artoo
Dogtoo
Sorb
Snoop Dog
Ma Barker
Mr Bean
Monster
Ewok
Cookie
Cru
Santa Paws
Jimmy Chew
Virginia Woof
Droolious Caesar
Wolfgang Puck
Scary Spice
Andre the Giant
Speedy Gonzalez
Maple Sizzup
Anderson Pooper
Bark Twain
Hairy Paw-ter
Mary Puppins
Beta
Miss Havisham
Paw-casso
Woofie Goldberg
Al Poo-chino
Fresh Prints
Groucho Barks
Do-Little
Ezra Hound
Munchkin
King Kong
Won Ton
Samson
Bitsy
Cujo
Nutella
Chickpea
Bitsy
Crouto
Bon Bon
Atilla
Hulk
Sumo
Tiny
Moose
Bear Burrito
Pee Wee
Peanut
Nugget
Chunk
Bruiser
Dogzilla
Disney Bloodhound Names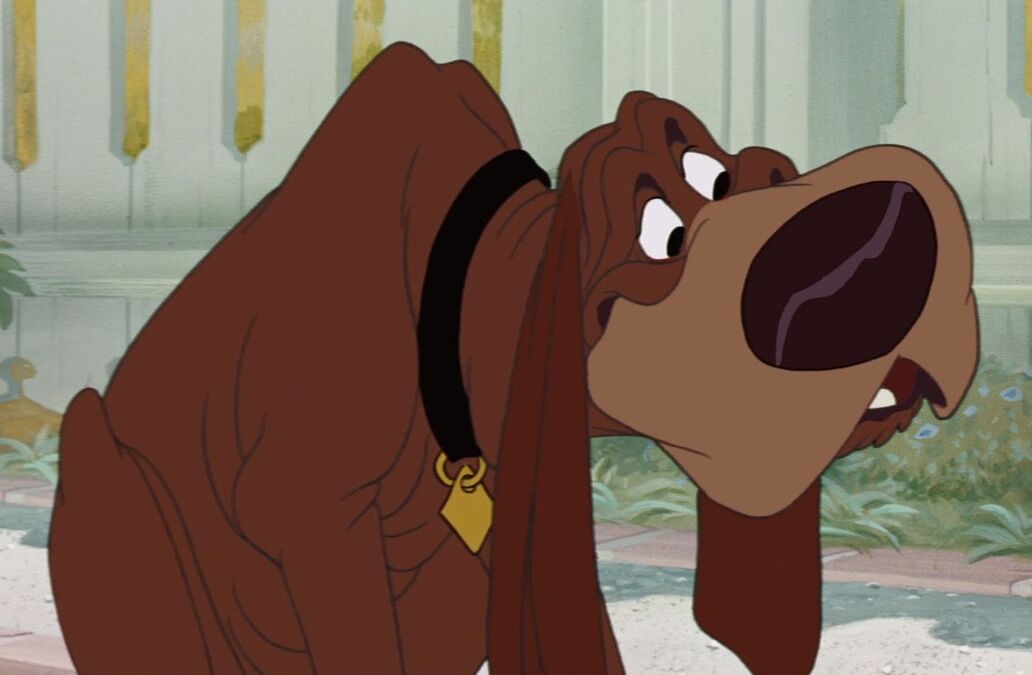 Has your charming prince lastly arrived—in the form of a new bloodhound? When you are naming this new prodigious lifetime visitor, the huge range of Disney characters is the best way to start from.
If you are out for more charming names than Peter Pan and Cinderella, then you have landed in the right place.
There are countless wonderful Disney characters to use that you get stumped on where to take off from.
This is why we have compiled a list of novel Disney Bloodhound names for you to choose from.
Ranging from Disney-inspired options like cartons and movies to cute Disney names, this list will best suit all your most adorable bloodhound pooches no matter their color, temperament, gender, or age.
Female Disney Bloodhound Dog Names
Eve
Stella
Aurora
Tinker Bell
Elsa
Ariel
Jasmine
Dory
Mulan
Wendy
Mittens
Applet
Perdita
Pocahontas
Esmeralda
Alice
Meeko
Anna
Bellie
Snow
Ursula
Moana
Male Disney Bloodhound Dog Names
Bolt
Bruno
Trusty
Dug
Jones
Pinocchio
Peter Pan
Ludwig
Julius
Woody
Pongo
Baloo
Dumbo
Eric
Aladdin
Percy
Naveen
Slin
Russell
Pete
Scar
Roger Rabbit
Indiana
Bloodhound Names Inspired from Cartoons and Movies
Without any iota of doubt, you have a favorite movie character. Maybe you have many favorites that you are unable to decide the best name for your bloodhound pooch.
Check these fascinating names derived from cartoons and movies like "The Lion King" or "101 Dalmatians"
Porkchop
Tiana
Simba
Lightning
Rapunzel
Quasimodo
Tiger
Donald
Cruella de Vil
Mickey
Stitch
Frozone
Sulley
Nemo
Nala
Mike
Buzz
Rex
Einstein
Mr. Incredible
Merida
Tarzan
Talbot
Duckworth
Robin Hood
Pegasus
Goofy
Hook
Pluto
Lilo
Zero
Hamm
Conclusion: Bloodhound Names
Are you still unsure of which name to choose from the list above? You aren't alone. Most of the dog owners only think of Simba or Mowgli whenever they lay an eye on a new dog pet. But a lot of other bloodhound parents take their time to think about the options they have.
In case you are in the camp of those with trouble deciding on their best names for their bloodhound, bear in mind that a creative pet name can be derived from various forms of inspiration, such as the dog's personality, celebrities, favorite foods, your heritage, or books among many more.
Think on this direction and decide the best name for your charming bloodhound pooch from this list.