We know how difficult it is to name a rooster and this is why we've collected the ultimate list of rooster names. You can take your time while you browse through our list as we've tried to include as many rooster names as possible.
You don't have to rush and you can browse through as many rooster names as you want. As you'll see, our list includes funny rooster names, cool rooster names, unique rooster names, regular rooster names, and even some sophisticated ones.
So don't wait any longer. Browse through the list and find the perfect nickname for your pet or future pet chicken!
Roosters make great pets if you don't mind their early morning crows and you have time to give them attention and a bit of training. Compared to their female counterparts, roosters have larger combs, tail feathers, and wattles. They are known for protecting their hens, so it's a good idea to have them accompany your flock of hens.
Here are a few things to keep in mind when keeping roosters as pets.
Roosters enjoy the company of their female counterparts, so if you want to keep one as a pet, you will need to let him have his free time with the lady hens. A good ratio is 8 to 10 hens per rooster.
It's best to adopt a rooster when he's just a chick. The sooner you start handling a rooster chick, the calmer it will grow up to be.
There's no way you can get rid of the crowing so you'll have to put up with it. However, your rooster will serve as a personal alarm system for you as they often crow if they see intruders entering your premises.
It's possible to house train a rooster with a lot of patience, time, and training.
While a pet rooster might not be for everyone, if you love the idea of an intelligent companion of a different sort, a pet rooster just might be for you.
Once you have brought your feathery, crowing buddy home, you must be wondering what to call him. To make this task easier for you, we bring to you an entire collection of the best rooster names in this post.
Keep reading to find some interesting names for your pet rooster.
Funny Rooster Names
Do you want to call your rooster something funny? If yes, here are some funny rooster names for you to choose from.
Cluck Norris
Chick Norris
Dr. Pecker
Roo
Big Daddy
Little Pecker
Russell Crow
Angry Bird
Popeye
Teriyaki
Zaxby
Bird Lancaster
Burrito
Barbeque
Chicken Fillet
Peri Peri
Clucky Cheese
Roger Poultry
David Beak-ham
Dixie Chick
Cockman
Roo-Roo
Brownie
Tikka
Yolko Ono
Rocky
Nugget
Big Red
Roo-Paul
Mother Clucker
Colonel Sanders
Brooster
Drum Stick
Birdzilla
Professor McWattles
Doodle Doo
Cockadoodle Fugdugbum
Gregory Peck
Big Bird
Little Mr. Red
Cornelius Corny Rooster
Rooster Cogburn
Randy Rooster
Chanticleer
Henry Pecked
Matilda added
Cockadoodle Moo
Beaker
Repecka
Male Rooster Names
Are you looking for rooster names that give off a sweet boyish charm? You can pick one from this list.
Milo
Ollie
Bailey
Diesel
Leo
Henry
Tank
Griffin
Buster
Comet
Bruiser
Dingo
Chad
Jeremy
Seamus
Dean
Pablo
Vito
Liam
Kale
Edwin
Hawk
Cisco
Ted
Buck
Xander
Gaspard
Dingus
Winston
Thor
Bentley
Duke
Tucker
Divot
Sammy
Chandler
Nico
Moby
Murphy
Hutch
Tanner
Franky
Paulie
Jasper
Eddie
Bart
Parker
Earl
Barclay
Gatsby
Felix
Bodie
Milo
Jojo
Hugo
Ace
Mike
Snoopy
Donner
Camey
Halsey
Baldwin
Lex
Phil
Pablo
Vito
Liam
Kale
Edwin
Hawk
Cisco
Rolph
Winter
Casper
Shepherd
Barley
Levi
Goober
Lloyd
Abber
Willis
Leo
Ted
Galahad
Bradley
Percival
Nick
Duncan
Perry
Pete
Buster
Thor
Bailey
Gunnar
Diesel
Jasper
Maverick
Fitz
Chad
Jeremy
Thomas
Caleb
Lucas
Jackson
Good Rooster Names
Don't worry about coming up with a good name for your rooster; just pick from this list of cool ideas.
Here are a few more great name suggestions for your pet rooster.
Chomper
Gummo
Matrix
Marvin
Ajax
Snoop
Journey
Odin
Corvus
Jonah
Zeppo
Atla
Crystal
Shelly
Tixie
Speedy
Fancy Rooster Names
Does your rooster stand out because of its looks? Or does it belong to one of the fancy breeds, such as the Rhode Island Red? If yes, then here are some fancy names you might want to consider.
Silkie
Patridge
Lavender
Emerald
Prince
Angel
Exotic
Polish
Crystal
Parker
Paxton
Perry
Picasso
Preston
Prince
Princeton
Quixote
Rockwell
Rooney
Roosevelt
Rory
Shakespeare
Malcolm
Nicholas
Ruby
Diamond
Sky
Hero
Best Rooster Names
Still haven't found the perfect name for your rooster? Have a look at this list of the best rooster names.
Bacon
Sherlock
Sweet Pea
Phoenix
Poncho
Pom Pom
Roaster
Rio
Roofus
Roo Roo Romeo
Sissy Boy
The Dark Lord
Tractor
Terminator
Bambi
Bam Bam
Boo
Buck
Cheese Nip
Cheese Puff
Buckbeak
Buddy
Buff
Bumble
Cadbury
Cactus
Cashew
Big Guy
Black Knight
Crock Pot
Cheese
Chicken Little
Bug Eater
Alarm Clock
Poop Maker
Oven
Toe Jam
Flappy Bird
Popcorn
Quesadilla
Stuffing
Fry
Potpie
Cheese Puff
Eloise
Irene
Nora
Cotton Candy
Alfredo
Ceaser
Chick-fil-a
Egg tart
Nugget
Bunty
Kernel
Loco
Bolba
Wormy
Lean
McChicken
Donald Trumpet
Chick-a-las Cage
Chickira
Chick Jagger
Abraham Chicken
Albert Eggstein
Gus
Haggard
Sweet and Sour
Chickovsky
Sunshine
Dawn
Midnight
Marshmallow
Cupcake
Midget
Dodo
Tootsie
Coop
Comet
Coffee
Dumpling
Drum Stick
Dusty
Fajita
Fancy Pants
Frizzy
Fudge
Gizmo
Godzilla
Houdini
Kiev
Marshmallow
Chicken Pox
Cluck
Disco
Dip
McFlurry
Egg Head
Egg Nog
Elmo
Ebenezer
McNugget
Midget
Monkey
Ninja
Noodle
Oddball
Oggy
Omelet
Parsley
Pasta
Peepers
Popcorn
Sir Clucks A Lot
Spike
Scramble
Sir Crows a Lot
Snickers
Pepper
Spongebob
Topple
Tater Tot
Tortilla
Waddles
Famous Rooster Names
Here are the names of the seven most iconic roosters that have existed in the world. Let's have a look.
Sydney Roosters – The famous Australian rugby league team that adopted a rooster as their mascot.
The Gallic Rooster – The Gallic rooster is the unofficial national symbol of France.
Kellogg's Corn Flakes – Kellogg's brand logo displays a rooster. The iconic cereal box logo has been around for many generations now.
Nando's –The well-known fast food restaurant chain originating from Africa, Nando's is famous for serving mostly roasted chicken seasoned with delicious sauces. They chose rooster as their brand mascot.
Robin Hood Rooster – This famous animated rooster appeared in Disney's 1973 film Robin Hood. He became popular for the catchy 'Whistle Stop' song.
Tottenham Hotspur – The Tottenham Hotspur Football Club, also known as the Spurs, have a rooster on their team logo.
Cool Rooster Names
Take a look at this list of cool rooster names. We bet you will find a great one here.
Gwendolin
Arania
Frostbite
Redrum
Fabio
Fitzgerald
Obi
Kenobi
Wooster
Fried Chicken
Rock the Cock
John HanCock
Tyrannosaurus Pecks
Noodle Soup
Foodie Favorite
Bok Bok Choy
Heidi Plume
Chicken Fingers
Sir Cluckington
Chicken Stew
Coopenheimer
Larry Bird
Eggdar Allan Poe
Chickstina Eggpera
Zazu
Edna
Daphne
Dorothy
Dottie
Estelle
Eloise
Felicity
Dot
Florence
Francis
Iris
Myrtle
Opal
Polly
Hedwig
Henrietta
Henny Penny
Iago
Mordecai
Pigwidgeon
Pox
Phoenix
Robot Chicken
Sadie
Benedict
Cacciatore
Cashew
Cordon Bleu
Curry
Custard
Divan
Dumpling
Drumstick
Pollo
Ranchero
Schnitzel
Sesame
Stu
Blanca
Bluebelle
Buttercup
Caramelita
Clementine
Dandelion
Dusty
Ghost
Hazel
Honey
Raven
Rusty
Sandy
Scarlet
Frenchie
Frittata
Jubilee
Kabob
Pattie
Piccata
Truffle
Baked Rooster
Garlic
Chum
Alpha
Piper
Famous Cartoon Rooster Names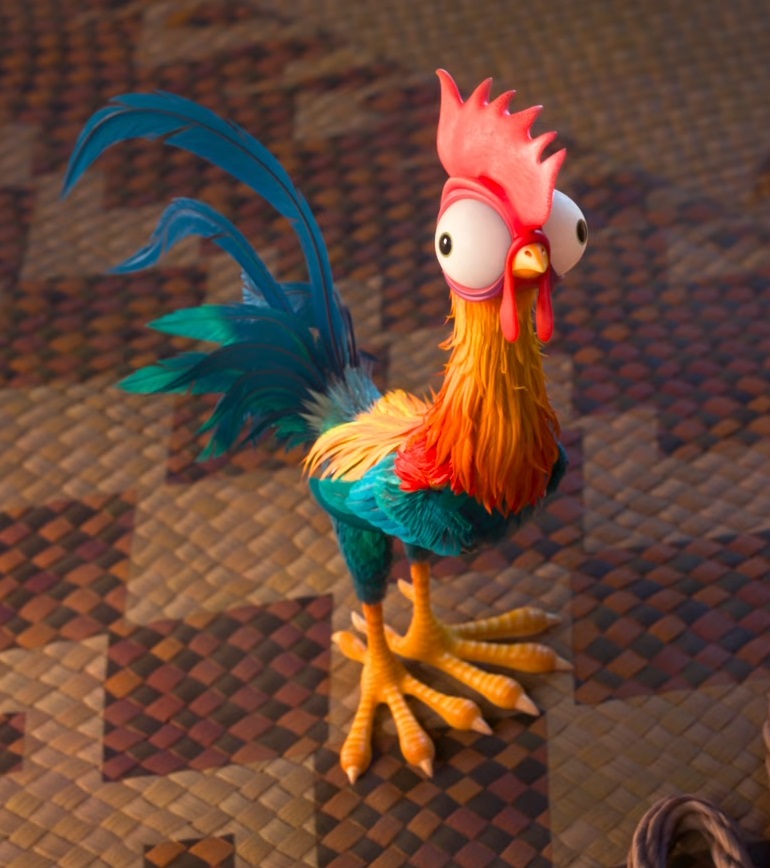 Here are the names of some of the most memorable roosters from the world of cartoons.
Foghorn Leghorn – The very famous rooster who appears in Looney Tunes and Merrie Melodies cartoons and films from Warner Bros.
Roy The Rooster – He is the deuteragonist who would sometimes play the main antagonist in both the comic strip and the animated segments of Garfield and Friends.
Heihei – He's the adventurous rooster from the Disney film, Moana.
Panchito – This fun-loving rooster is one of the three main characters from Disney's The Three Caballeros.
Gyro Gearloose – This daring rooster who was actually an inventor first appeared in comics but is best remembered for creating gadgets in Duckburg on the popular TV series DuckTales.
Cute Rooster Names
If you're looking for some cute and adorable names for your pet rooster, this list is for you.
Ginger
Ozzy
Olive
Patty
Peachy
Pebbles
Topaz
Tandoori
Xena
Primrose
Zeus
Squeaky
Mocha
Apricot
Fluffy
Wolfgang
Skyrose
Yoda
Cosmo
Nibbles
Hugsie
Boris
Goldie
Travis
Spud
Falcon
Boris
Rosebud
Fuzzles
Autumn
Amber
Lunch
Trapper
Teagan
Patches
Clover
Zev
Sizi
Anchor
Sputum
Snicker Doodles
Truffle
Mr. Foodles
Nico
Otis
Onyx
Hulk
Miles
Jinx
Shining
Chuckles
Quake
Waffles
Mr. Bitey
Laser
Mario
Goomba
Giggles
Fido
Sparky
Toby
Albus
Ektor
Thunder
Bolt
Chester
Jiff
Meatballs
Mariane
Rosalie
Chicken Strips
Jarrah
Boomerang
Buddy
Beauty
Feather Ball
Butterscotch
Bo Peep
Buffy
Caramel
Doodle
Doody
Daisy
Kuzco
Meeps
Naiyah
Whiskers
Alpacasso
Bruno
Blanca
Wumpkins
Peanut
Dawn
Fatty
Frosty
Sunny
Powder Puff
Crispy
Corny
Muffin
Nutmeg
Connie
Cookie
Phalange
Max
Grandpa Clucker
Mexican Rooster Names
If you happen to have a Mexican background or you just love the Mexican culture, here are some great Mexican names for your rooster.
Chico
Coco
Benito
Blanco
Diego
Paco
Vida
Yolanda
Zorro
Che
Chico
Coco
Flor
Fresca
Gordito
Lobo
Lupe
Nacho
Paloma
Cordero
Jicama
Tequila
Margarita
Paloma
Sangrita
Equis
Corona
Empanada
Yuca
Panucho
Diablo
Sierra
Solana
Tigre
Amor
Amigo
Armando
Bebe
Paco
Rafael
Risa
Corazon
Domingo
Fernando
Fiesta
Rosa
Santo
Sebastian
Tabasco
Querida
Oso
Sol
Taco
Toro
Conclusion: Rooster Names
Wowza! That was a lot of fun. I really hope you enjoyed this article about rooster names.
You've made it to the end. It's been a pleasure letting you in on all of the rooster names we could come up with. I hope this article helped you in your search for the perfect name for your pet rooster.
Let us know which ones made it to your list of top favorites. And, if you have your own interesting suggestions, drop them to us via email.
If you found this article helpful, please do us a favor and recommend it to anyone else looking to name their rooster.
Thanks again, and good luck!