When we think about getting pets, the first few options that come to our minds include a dog, a cat, maybe a rabbit, or a cute little hamster. Probably not a spider, though. Most people are squeamish about spiders. However, if you are not one of them, a spider can make an ideal and fascinating pet.
The homemaking and hunting behaviors of a spider are intriguing to observe. They are small and silent creatures so they would never cause any disturbance to your housemates or neighbors.
When it comes to keeping spiders as pets, tarantulas are usually the top favorites.
They are by far the most popular pet spiders and can be bought from most pet stores. The best beginner tarantulas are either burrowers or ground dwellers. They usually have docile personalities and are slow movers. If you take good care of them, these spiders can live for as long as 15 to 20 years.
Here are 10 common species of tarantula that can make interesting pets.
Mexican Red-Knee – The Mexican red-knee is often the first choice for spider lovers. The males live for about 10 years or so but the females have a much longer lifespan of nearly 20 to 30 years. You can easily house them in a 5- to 10-gallon tank and since they're quite docile, they typically are easy to handle.
Costa Rican Zebra – Costa Rican zebras are peaceful, ground-dwelling tarantulas that can move fast. The females again have a longer lifespan of 20 years compared to males who live only around 5 years. They prefer to live in a warm and humid environment. These spiders are not ideal for those who like to handle their pet spiders.
Pink Toed Tarantula – Pink-Toes are famous for building themselves complex and strong silk hides to live in. These hides feel like silk cloth when touched. It's a lot of fun watching the spiders building them.
Chilean Rose – These are also known as Chilean fire tarantulas. They are typical burrowing spiders that require warm and humid surroundings and have quite calm personalities. The females can live up to 20 years while the males only live around 5 years.
Honduran Curly Hair – Also referred to as the wooly tarantula or curly hair tarantula, this ground-dwelling spider is very slow-moving, very hardy, and fast-growing. They can easily live in a small enclosure such as a 5-gallon tank.
A few other types of spiders that can be kept as pets include the wolf spiders, jumping spiders (have an amazing ability to jump and are brightly colored), fishing spiders, and grass spiders.
Finding the Perfect Name for Your Pet Spider
Once you bring your 'itsy bitsy' buddy home, the first thing that comes to mind is "What Should I call My spider?"
If you're also wondering about this then you've come to the right place. Here we have come up with a whole collection of the best pet spider names. Keep scrolling to find some interesting name options for your spider.
Cool Spider Names
Have a look at the cool list of names for your spider.
Ember
Spindra
Webster
Muffet
Hunter
Sonic
Cherry
Otto
Chester
Sprite
Zorro
Fuzzy Wuzzy
Woof
Vanilla
Blue
Snowy
Bright
Blossom
Phantom
Terrence
Loki
Raven
Jumper
Skreech
Lacy
Tinkerbelle
Jinx
Twitch
Maleficent
Rock
Ernie
Lydia
Simba
Frowler
Digger
Lucifer
Coco
Myteka
Salem
Fan
George
Oved
Malvolio
Cuddles
Plo
Gangle
Belva
Clarice
Iris
Tomlin
Giggles
Brutus
Parker
Icky
Salt
Cuddles
Roonie
Venom Machine
Spinner
Tweedle
Nugget
Vixie
Lumpy
Sugar
Aragorn
Percy
Sophie
Jello
Toni
Pythagoras
Stevy
Blinky
Daddy Long Legs
Lacy
Chloe
Brine
Button
Badass Spider Names
Do you want to highlight your spider's tough and intimidating personality? Here are some badass names you can choose from.
Apollo
Scooter
Zeus
Tornado
Acrobat
Wilder
Stormy
The Dark Knight
Rogue
Rumer
Buster
Death
Danger
Electra
Harley
Gunner
Diesel
Hero
Jazz
Striker
Power
Rebel
Rocky
Ryler
Mitzy
Shooter
Mars
Spiderwick
Breaker
Brutus
Suvorov
Bison
Sephiroth
Fury
Scully
Magnus
Meansy
Taboo
Lux
Anarchy
Gunnie
Copper
Venom
Rogue
Griphook
Prometheus
Lash
Alpha
Jericho
Claws
Ultimate Warrior
Big Show
Steamboat
Batista
Rhodes
Justice
Taz
Wahoo
Venus
Trixy
Zen
Blaze
Thor
Funny Spider Names
Check out this list if you're looking for some fun and unconventional spider names.
Peter Parker – It's like the reverse Spider-Man. Peter Parker is the protagonist of the superhero movie, Spider-Man.
Silk Factory – If you have an industrious spider that loves building silk hides, this is the perfect name for them.
Arnold Schwarzenegger – It's in honor of the famous Austrian-American actor and body-builder.
Fuzz Lightyear – This one is apt for your fast-moving speedy little spider.
Mister / Miss Skinny Legs – Because their 8 skinny legs are one of their unique features.
Tarantulasaurus – A great option for giant tarantulas.
Little Miss. Muffet – Who doesn't remember this famous nursery rhyme where the spider scares Miss. Muffet.
Good Spider Names
Is your search still not over? Here are some more ideas that may interest you.
Alois
Luna
Beast
Ebony
Romanoff
Reggies
Artemis
Danny
Crazy 8
Rooney
Suckies
Barb
Tiger
Daedric
Crepsley
Cara Mia
Webber
Fernando
Blue
Chaos
Sunshine
Chromatus
James
Joe
Domingo
Curly
Dave
Betty
Female Spider Names
Are you looking for the perfect name for your lady spider? Have a look at this list.
Lola
Minnie
Pumpkin
Abby
Roxy
Ruby
Quincy
Quincia
Hannah
Hazel
Ivy
Mandy
Margo
Sophie
Anya
Cally
Candy
Cici
Derby
Ellie
Valentina
Wilma
Wendy
Crystal
Diva
Hissy
Petra
Emma
Angel
Pumpkin
Darla
Fancy
Marjorie
Yellow
Norma
Doris
Opal
Nora
Ivory
Izzie
Janie
Iris
Betsy
Linda
Polly
Hope
Irene
Kira
Kiwi
Mia
Spideralla
Black Diamond
Jewel
Fantasy Spider Names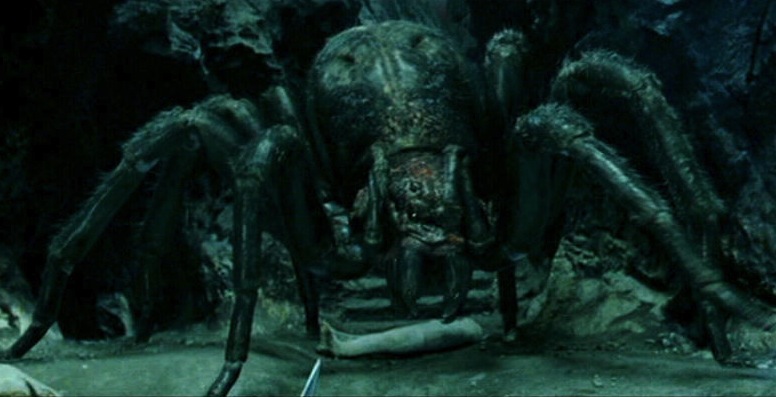 There have been so many spiders that have existed in the fictional world. If you are looking for fantasy-inspired names for your buddy, here's the list for you.
Shelob – A fictional demon in the form of a giant spider from The Lord of the Rings series.
Anansi – An Akan folklore character that used to take the shape of a spider.
Aragog – The famous talking spider that was owned by Hagrid in the Harry Potter series.
Spider-Ham – A fictional character that appeared in Marvel comics.
Boris the Spider – A song written by the bass guitarist John Entwistle.
Miss Flora Spider – The title character from one of the bestselling children's books by David Kirk.
Cute Spider Names
Spiders are interesting and adorable creatures for those who have a knack for them. Here are some more adorable name ideas for your spider.
Mr. Foodles
Fluffy
Rosebud
Wolfgang
Skyrose
Arania
Gwendolin
Arania
Frostbite
Leggy
Itsy Bitsy
Missy
Luke Little
Muffin
Fuzzles
Zoey
Snicker Doodles
Truffle
Travis
Spud
Falcon
Boris
Yoda
Nico
Otis
Aurora
Piper
Randy
Curie
Sylvester
Freckles
Mr. Salt and Pepper
Onyx
Creepette
Cosmo
Nibbles
Hugsie
Boris
Goldie
Hulk
Incy Wincy
Miles
Jinx
Shining
Redrum
Chum
Alpha
Chuckles
Quake
Waffles
Octavia
Mr. Bitey
Fido
Sparky
Toby
Laser
Madonna
Spidey
Mario
Archemedes
Goomba
Giggles
Famous Spider Names
Tarantulina Jolie – Inspired by the charismatic Angelina Jolie.
Quentin Tarantulino – Are you a Quentin Tarantino fan? Then this is the name for you.
Harriet the Spider – This is a famous female striped knee tarantula kept at the Peggy Baert Nature Museum in Chicago. This spider has also made television and film appearances.
Diane Web-ber – The name of the famous American model, dancer, and actress.
Conclusion: Cool and Funny Pet Spider Names
Spiders can be truly fascinating creatures and can make calm and interesting pets. However, there are few things you should keep in mind before getting a pet spider.
Almost all spiders are poisonous to some level. And they do bite too. But they would bite only when they feel threatened. Also, their bite is usually as harmful as a bee sting. However, some people can show an allergic reaction to bee stings, so care should be taken when dealing with spiders.
In addition to biting, tarantulas exhibit another mode of protection, that is, they flick their abdominal hairs when threatened.
Spiders are known for being natural escape artists so you have to provide them a properly sealed environment to protect them and your home.
Spiders do not enjoy handling at all. Handling your spider makes it stressed which can trigger aggressive behaviors such as a bite or an attempt to escape. If you wish to have a pet that you can carry around on your shoulder or put inside your pocket, a spider is not a good choice. Moreover, dropping a tarantula can cause its abdomen to burst, which may lead to its death.
Spiders are not social creatures and do not react well to other household pets.
Some states prohibit the purchase or possession of spiders so check your local laws before you get one.
We hope you enjoyed going through all the interesting name suggestions. Let us know which ones you liked the best in the comment section below.