Leopard geckos, with their captivating spotted patterns and inquisitive eyes, have rapidly become one of the most sought-after reptilian pets worldwide. They're not just visually striking; their playful demeanor and fascinating behaviors make them irresistible companions for many. But, like any pet, naming your leopard gecko is a significant rite of passage. It's the beginning of an exciting journey, a bond between owner and pet, that starts with the simple act of bestowing upon them a name that suits their unique charm.
In this guide, we're about to embark on a fun-filled naming adventure, exploring a wide range of playful and imaginative names perfect for your vibrant reptile.
Cute Leopard Gecko Names
There's something inherently adorable about leopard geckos. With their big eyes and tiny stature, it's only fitting that we start our naming journey with some utterly cute options. Whether it's their sweet behaviors or charming appearance that's stolen your heart, these names are sure to be a fitting match for your delightful gecko.
Bubbles
Sparkle
Pippin
Mochi
Snickers
Pebbles
Wiggles
Niblet
Daisy
Cuddles
Muffin
Pudding
Twinkle
Tinker
Jellybean
Lulu
Doodle
Fluffy
Buttercup
Kiwi
Marshmallow
Button
Coco
Noodle
Sprout
Mimi
Kiki
Starlet
Mistletoe
Luna
Dreamer
Waffle
Peanut
Cupcake
Bambi
Charm
Giggly
Beanie
Rolo
Truffle
Scampers – A great way to address your leopard gecko as it sprints hurriedly.
Apricot – A cute fruit name for your pet.
Gucci – Name your lizard with a dash of finesse.
Scaly – Cutely pick a literal name for your scaly pal.
Psycho – A name with a little heads up that best describes your fiery friend!
Trixie – Pick this name that translates into "bringer of joy."
Flick – A moniker for a lively and energetic pet.
Oreo – Named after the popular white and black cookie.
Ruby – A nice name for your precious gem.
Honey – Implies that your leopard gecko is an absolute sweetheart.
Bumpy – Name your pet leopard gecko after its skin texture.
Snickers – A name after a lip-smacking candy bar.
Smiley – Pick this moniker to describe the gorgeous smile of your pet.
Sweetums – The most affectionate name to address a pet.
Ozzy – A name with an English origin that means "divine power."
Mushu – Translates into "very pleasing" in the Indian origin.
Nova – A Latin name that means "new," for your newly-bought leopard gecko.
Dotty – A Greek name with the meaning, "gift of God." Also details out the dots on your pet's body.
Puffy – Choose this name to describe your pet's "soft" personality.
Rainbow – Because your gecko adds colors to your life!
Iggy – A Latin name for your fiery pet.
Sprinkles – An American name that translates into "beautiful."
Pebbles – A feel-good name that's synonymous with a pebble in an ocean. Positive, relaxing, and happy!
Cupcake – Named after a sweet little cake that everybody loves.
These names emphasize the adorable nature of leopard geckos and can add a touch of sweetness every time you call out to your pet.
Cool Leopard Gecko Names
When it comes to naming your leopard gecko, there's a world of coolness awaiting exploration. For those reptile enthusiasts who want a name that resonates with the sleek, fascinating nature of their pet, a cool name is the way to go.
Whether it's inspired by a famous personality, a trendy term, or just something that sounds suave, these names are all about capturing the effortless charisma and intriguing personality of your scaly friend. So, dive into this list and discover a name that's as effortlessly cool as your leopard gecko.
Nessie
Snape
Tyler
Plum
Sasha
Spyro
Reptar
Igor
Blacky
Alpha
Quill
Constantina
Trace
Darius
Zara
Kaan
Sean
Randall
Loki
Nigel
Camille
Kale
Axel
Draco – Name your gecko after Harry Potter's popular character, Draco Malfoy.
Thanos – Add a villainy element by naming your pet after this popular fictional supervillain.
Archie – A shorter version of Archibald that means "bold" or "brave."
Zuko – An Arabic name that translates into "Gift of God."
Bonita – A popular Spanish name that means "beautiful." Indeed, an impeccable option for your pet.
Khaleesi – Channel your Game of Thrones vibes and name your leopard gecko after Daenerys Targaryen!
Rex – A powerful Latin name with the meaning "A mighty ruler."
Aiden – This name translates into "Fiery" or "bringer of fire."
Antonio – Derived from the Greek Origin, and means "Highly Praiseworthy."
Sapphire – A pretty and feminine name after a gorgeous September birthstone.
Neo – A crisp and clear-cut name for your scaly friend.
Blizard – Rhymes with "lizard," is fun to call out, and extremely cute.
Rocky – Ideal for a leopard gecko rocky skin. Or just someone who loves crawling on rocky terrains.
Rolo – A popular pet name that is ideal for all kinds of species.
Dexter – Carries a myriad of pop culture references, and has become a favorite name among pet parents.
Buzz – Named after Buzz Lightyear – a Toy Story favorite!
Leo – A literal short name for your leopard gecko.
Kobe – This is a popular gecko name.
Cleo – Translates into "pride." A viable option if you don't want to go too ancient by naming your gecko Cleopatra.
Randal – Seeking inspiration from Monsters Inc.'s fictional lizard character.
Razor – A classy option if you want a name with greater oomph.
Pooie – A cute original name for a brand new family pet.
Scarlet – An ideal name for a vivacious, female leopard gecko.
Sunny – Because there's nothing more your reptile will cherish than basking under the blazing sun!
Jax – A short and versatile pet name.
Max – Another single syllabled name, which often proves to be a great choice.
Beans – A sought-after name for a small-sized pet.
Funny Leopard Gecko Names
Got a gecko with a sense of humor? Or perhaps you enjoy a good chuckle every time you look at your pet? Either way, these funny names are bound to make you smile and capture the quirky personality of leopard geckos.
Mr. Spots
Gecko Suave
Lizardo DiCaprio
Gecko-rrito
Giggles
Slinky
Winkie
Hiss-terious
Geckzilla
Sir Licks-a-lot
Leonardo DiGecko
Wrinkles
Giggletoes
Sunspot Chuckler
Geckoing Crazy
Sir Grin-a-lot
Lizardbeth
Gecko Balboa
Geckolicious
GiggleTail
Tailzilla
Mr. Tickletail
Geckoroni
Liz-zard
The Lizard of Oz
Lizardbeth
Eggsy
Donatello
Herpo
Trousers
Wiggles
Clutch
Basil
Squirt
Twinkle Toes
Geico
PufnStuf
Rap-tile
Fabio
Spot
Charmander
Boris
Chet Gecko
Freckles
Spike
Skinkerbelle
Licketysplit
These whimsical names add a touch of humor every time you refer to your pet, reflecting the fun side of owning a leopard gecko.
Unique Leopard Gecko Names
If you're in search of something truly one-of-a-kind for your distinctive gecko, this list is for you. Delve into these unique names that are as special as your pet.
Solstice
Morpheus
Orion
Nimbus
Vesta
Calyx
Tundra
Helix
Nyx
Vega
Talon
Odyssey
Zephyra
Calico
Riven
Luminara
Valkyrie
Quill
Astraeus
Elara
Halcyon
Lyric
Nyx
Echo
Sable
Mystique
Zenith
Enigma
Nebula
Tindra
These names have unique origins or meanings and would suit a leopard gecko with an equally distinct personality.
Female Leopard Gecko Names
Leopard geckos, with their graceful movements and intriguing gaze, can often exude a certain feminine charm. For those lovely lady geckos, it's essential to find a name that encapsulates their elegance and charm. Whether you're drawn to classic, modern, or even mystical names, there's no shortage of beautiful names to adorn your female leopard gecko. Here's a list of names curated specifically for those enchanting gecko gals:
Ivory
Lila
Bella
Luna
Cleo
Daisy
Mira
Saphira
Willow
Zoe
Athena
Nala
Giselle
Ruby
Opal
Serenity
Tessa
Ivy
Aurora
Stella
Freya
Nova
Celeste
Amara
Fiona
Mia
Esme
Iris
Hazel
Sienna
Pearl
Adia
Cali
Delia
Elora
Fergie
Isadora
Maggie
Jade
Joanna
Kira
Layla
Meg
Noella
Pheobe
Penelope
Rose
Rubie
Savannah
Sara
Twinkle
Viola
Kiwi
Each of these names carries a feminine allure, making them apt choices for your female leopard gecko. Whether you're looking for something simple and sweet, or unique and profound, this list offers a delightful range to consider.
Male Leopard Gecko Names
Every male leopard gecko has a distinct personality. Some strut with confidence, while others lounge with a laid-back attitude. These little reptilian gents deserve a name that resonates with their character, highlighting their masculine allure. Whether it's a name with historical significance, something nature-inspired, or a trendy modern moniker, here's a compilation crafted just for your male leopard gecko:
Max
Leo
Zeus
Atlas
Rocky
Thor
Jasper
Bruno
Zane
Apollo
Chase
Finn
Rex
Hunter
Asher
Dante
Blade
Odin
Luke
Archer
Blaze
Jett
Koda
Phoenix
Ace
Flynn
Draco
Troy
Titan
Nero
Abe
Antonio
Cecil
Clint
Clyde
Darwin
Earl
Eric
Fernando
George
Henry
Jayden
Kurt
Lenny
Monty
Nicholas
Noah
Ralph
Salvador
Tim
Woody
Xander
Zane
Leon
Gus – An adorable name if you're an Augustus Waters' fan from The Fault in our Stars.
Barney – The main character, the Tyrannosaurus from Barney & Friends.
These names, ranging from classic to contemporary, can perfectly encapsulate the essence of your male leopard gecko. With each name carrying its unique flair, you're bound to find the right fit for your little companion.
Badass Leopard Gecko Names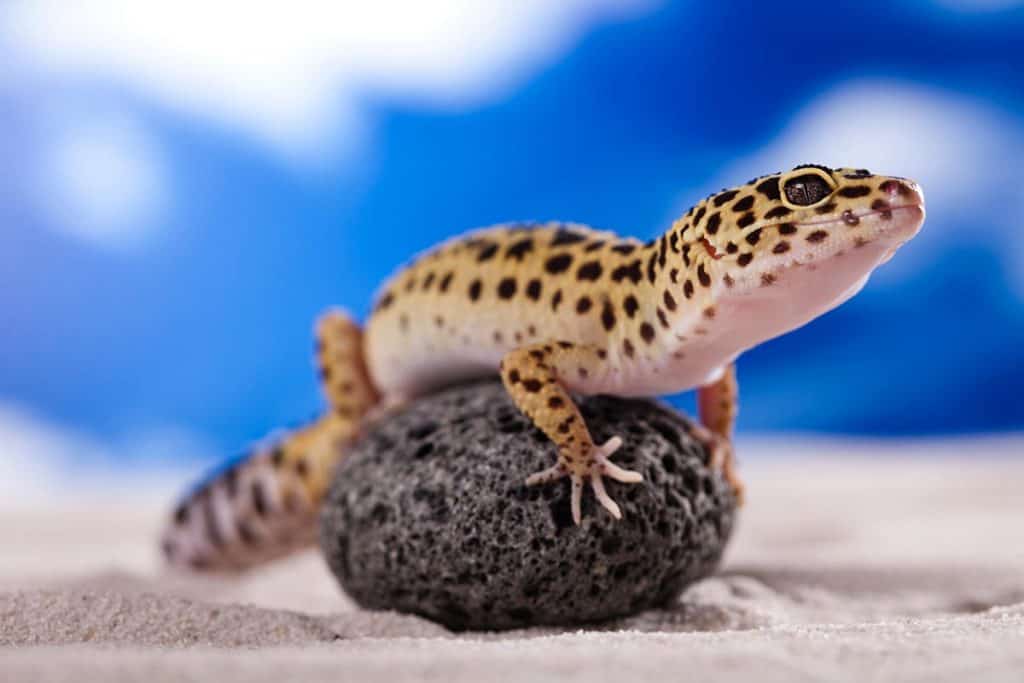 For those leopard geckos that strut with a little extra swagger or have that fierce glint in their eye, a badass name might just be what you're looking for. Showcase their strong and mighty nature with these names.
Blaze
Spike
Thunder
Raptor
Viper
Tank
Rogue
Jett
Razor
Fang
Ajax
Brutus – For all the literati's out there, "Et Tu, Brute?"
Crusher
Drake
Goliath
Iago
Kenji
Lida
Una
Phoenix
Hercules
Raffaello
Astra
Blade
Gunner
Julius
Lucifer – This devilish name also means "Morning Star."
Titan
Skrillex
Zeus
Mario
Firen
Hyperion
Omega
Sniper
Tangerine/Yellow Leopard Geckos Names
Tangerine and yellow leopard geckos exhibit stunning shades that immediately grab one's attention. Their vibrant hues are reminiscent of sunlit days and citrusy delights. Let's find a name that captures the essence of their bright and cheerful appearance:
Sunny
Tangelo
Citrus
Amber
Saffron
Lemon
Tangy
Marigold
Butterscotch
Honey
Goldie
Tangerina
Yolk
Tropic
Zest
Dandelion
Mango
Mimosa
Sunbeam
Goldenrod
Sherbet
Solar
Mustard
Toffee
With these names inspired by shades of yellow, fruits, and sunny days, your tangerine or yellow leopard gecko will have a moniker that perfectly complements its brilliant coloration.
Fancy Leopard Gecko Names
When it comes to elegance, not even the most refined aristocrats can match the poise of a leopard gecko with its intricate patterns and regal posture. To honor their innate sophistication, some gecko owners prefer names that evoke a sense of luxury and grandeur.
If you're looking to bestow a title upon your gecko that echoes the splendor of kings, queens, and mythical legends, then you're in the right place. Let's explore some fancy monikers for your graceful reptile:
Baron
Duchess
Windsor
Anastasia
Reginald
Isabella
Valentino
Seraphina
Laurent
Elizabetta
Maximilian
Octavia
Archibald
Penelope
Beauregard
Guinevere
Theodora
Ambrosius
Lysandra
Ferdinand
Marcellus
Celestia
Percival
Arabella
Roderick
Evangeline
Raphael
Calista
Beaumont
Imelda
Timon
Marlin
Coral
Emerald
Genie
Lumiere
Maximus
Estelle
Selina
Riva
Plum
Nova
Anastasia
Perseus
Klaus
Igor
Machalite
Sierra
Margot
Kenji
Fire
Bree
Elektra
Victoria
Ulysses
Louis
Adelene
Delta
Houdini
Voila
Balenciaga
Timothy
Anthony
Caviar – When we think fancy, we think Caviar!
These aristocratic titles are not just for show; they symbolize the timeless elegance and grandeur your leopard gecko embodies. With one of these names, your pet will surely rule its terrarium with style and grace.
Names Inspired by Famous Reptiles and Characters
Every so often, the world of pop culture graces us with unforgettable reptilian characters. These iconic beings, whether they're fierce dragons from fantasy realms or animated, talking turtles navigating the challenges of the urban jungle, capture our imaginations and hearts.
For those leopard gecko owners who have a penchant for movies, books, and TV shows, naming their pets after renowned reptilian figures can add a layer of fun and nostalgia. Here are some names inspired by famous reptiles and reptilian characters:
Godzilla – The king of monsters himself. Great for a gecko with a mighty presence.
Raphael – One of the Teenage Mutant Ninja Turtles, known for his red bandana and twin sais.
Leonardo – The blue-banded, katana-wielding turtle leader.
Rex – From the lovable T-Rex in "Toy Story."
Smaug – The fearsome dragon from "The Hobbit."
Yoshi – Mario's dinosaur sidekick from the famous video game series.
Rango – The chameleon protagonist of the animated movie "Rango."
Donnie – Short for Donatello, the tech genius among the Ninja Turtles.
Mikey – Short for Michelangelo, the fun-loving turtle with nunchaku.
Kaa – The hypnotic python from "The Jungle Book."
Spike – The friendly dragon from "My Little Pony."
Voldemort – Named after the snake-faced villain of "Harry Potter."
Bowser – Mario's primary adversary in the video game world, though not a reptile, has a dragon-like demeanor.
Mushu – The fiery little dragon from "Mulan."
Drogon – One of Daenerys Targaryen's dragons from "Game of Thrones."
Falkor – The luckdragon from "The NeverEnding Story."
Slippy – The toad pilot from the video game "Star Fox."
Liz – The Magic School Bus's pet lizard.
Puff – From the song "Puff the Magic Dragon."
Slytherin – Named after the snake-themed house in "Harry Potter."
Drawing from the rich world of entertainment and literature, these names are bound to strike a chord with fans and evoke memories of iconic scenes and stories. Your leopard gecko, bearing one of these names, will not only carry its own unique charm but also a legacy of legendary reptilian tales.
Why Naming Your Leopard Gecko Matters
In the grand scheme of pet ownership, naming might seem like a trivial step. After all, it's not as if your leopard gecko will come running when called like a dog might, or respond with a purr like cats often do. However, naming your leopard gecko — or any pet for that matter — has deeper implications than one might first assume. Here's why this naming ritual is of essence:
Personal Connection
Assigning a name to your gecko establishes a personal bond between the pet and its owner. Every time you call out its name, whether it's during feeding time or a playful session, it reinforces the relationship you're building.
Identity and Individuality
While leopard geckos might share common characteristics, each has its own temperament, quirks, and behaviors. By naming your gecko, you acknowledge its uniqueness, essentially giving it an identity separate from the rest.
Responsibility and Care
Naming is often the first step new pet owners take. It's an act that solidifies your commitment to the well-being of the creature in your care. With a name, the gecko isn't just "a pet"; it becomes "my pet."
Ease of Communication
Especially if you have multiple pets, naming makes communication about their needs and behaviors much easier. It's more efficient to say, "Spike needs a new heating lamp," than "That gecko with the spot on its tail needs a new heating lamp."
Fun and Creativity
Let's not forget the sheer joy of the naming process! It's a creative endeavor that allows you to express your perceptions, hopes, and memories through the names you consider and eventually choose.
In essence, naming isn't just about labels. It's an emotional and psychological process that enriches the pet-owner relationship, making each moment with your leopard gecko even more special. So, as you skim through the list of names in the following sections, remember that the name you choose will play a role in the many joyful days ahead with your scaly companion.
Tips for Choosing a Leopard Gecko Name
Choosing a name for your leopard gecko is an exciting endeavor, but it can also be a tad overwhelming with so many options available. After all, this is a name that you'll use for years to come whenever referring to your delightful, scaled friend. Here are some pointers to help you select a name that's just as distinctive as your pet:
Observe Their Behavior
Sometimes, the best names are derived from the gecko's unique quirks or mannerisms. Is your gecko always eager to explore? Perhaps "Adventurer" or "Wanderer" might be apt. If they often appear contemplative, a name like "Thinker" or "Muse" might be suitable.
Physical Attributes
Leopard geckos come in various colors and patterns. You can choose a name that reflects their appearance, such as "Dot" for a gecko with distinctive spots or "Goldie" for one with a golden hue.
Personal Interests
Use your hobbies and passions as inspiration. If you're a music lover, consider names like "Harmony" or "Lyric." Bookworms might lean towards names from their favorite literature, like "Gollum" or "Frodo."
Cultural and Geographic Inspirations
Think of names from different cultures that might suit your gecko. For instance, "Kai," which means "ocean" in Hawaiian, might be ideal for a gecko with a fluid movement. Or perhaps "Zulu," after the African tribe known for its fierce warriors, for a feisty gecko.
Simplicity is Key
While it's tempting to pick a grandiose or intricate name, remember that simpler names are easier to recall and more likely to be used. If you're leaning towards "Lord Percival of the Dunes," perhaps "Percy" would be more practical!
Say It Out Loud
Sometimes, names look great on paper but don't sound as catchy when spoken. Before finalizing a name, say it out loud a few times. It'll give you a feel for how it rolls off the tongue and if it suits your gecko.
Flexibility for Growth
While your gecko might be tiny now, remember that it'll grow in size and possibly change in behavior. A name that suits a baby gecko might not be fitting when it matures. Choose something that'll stand the test of time.
Lastly, while all these tips are handy, the most crucial aspect of naming is to pick something that resonates with you. Your leopard gecko's name should evoke joy, warmth, and perhaps even a chuckle every time you use it. Dive into the naming journey with an open heart, and you're bound to find the perfect moniker for your scaly companion!
Related articles:
Can Leopard Geckos Eat Hornworms?