Surely you have seen a butterfly or moths fluttering through the landscape at least once in your lifetime, but how much do you know about them in their larval form? Caterpillars are remarkably diverse, just as varied in form and pattern as the grown-up moths. For starters, they have twelve eyes (six tiny eyelets) and six legs. They even eat their eggshell as the first meal! Luckily, you have got over a hundred species growing exponentially in North Carolina!
Afflicted Dagger Moth Caterpillar
Brown-orange head with an orange body
The ubiquity of oak trees helps produce two caterpillar broods every year
Sparse whitish hair
Lean black dorsal stripes on the back
Bulging head
American Dagger Moth Caterpillar
Hairy, fuzzy pale yellow body with hair tufts
Long yellow hair cause instant itching
Black hair and long black lashes
Hair can break off into skin and sting, leaving burning sensation and skin irritation
American Lady Caterpillar
Black, branched spikes stick out of red-orange dots
Nest built with silk makes for a safe retreat
Black bands alternating with thin white/yellow bands
American Lappet Moth Caterpillar
Hairy legs
Lappers (hairy sides) present
Reddish-orange bands on the head
Wrinkled and bumpy body with two hands
Angus' Datana Moth Caterpillar
White wispy hairs
Feasts alone or in groups on leaves
Elongated black body with yellow/white lines
Red and black legs
Army Cutworm
Bear a drab grey, brown, or orange body
Considered an agricultural pest
Tiny black dots spaced throughout the body
A pale band that extends down the spine
Banded Tussock Moth Caterpillar
Bristly body with distinct colors
Two pairs of white and black lengthy lashes on the head
The second pair of lashes below the first, leaning forward
The third pair positioned rearwards
Banded Woollybear Caterpillar
A dense layering of rust and black colored spiky hair
Black rear-end and head
Seeks refuge under leaf litter
A reddish-maroonish middle band that expands on maturity
Bent-line Dart Moth Caterpillar
Brown bodied with a brown head
Cryptically-colored species
A slender, pointed line extending till the read-end
Bent-line Gray Moth Caterpillar
Burnt bodied
Nibbles the tree leaves as they form and fall
Flat face with a brown head
Black-blotched Prominent Moth Caterpillar
Brown-body with a brown head
A hump on the lower half
Elongated horn beside the head
Wavy speckled lines
Black-waved Flannel Moth Caterpillar
Full of fuzzy, frilly hair
Overall color varies – brown, white, rusty orange, or yellow
Stinging setae are concealed among the hair
Blinded Sphinx Moth Caterpillar
White freckles and specks on the green body
Grows into a moth with eyespots devoid of pupils
Lacks head
Brown legs with green tail
Buck Moth Caterpillar
White dots all over the black-white body
A red-colored head
Multiple spines and their offshoots cause burning pain
Clusters of yellow spikes
Camouflaged Emerald Moth Caterpillar
Colorful body covered in debris
Uses plant parts to camouflage with surroundings
Spiky legs
Diagonally-positioned stripes and brown head
Catalpa Sphinx Moth Caterpillar
Black body with white capsules
Hosts on the native catalpa tree
A black-colored head and tan sides
Cecropia Silk Moth Caterpillar
Green, white, yellow body
Secrets chemical for defense
Yellow dots with spiny orange, blue bumps
Common Buckeye Butterfly Caterpillar
Orange/brown/multicolored head
Eyes morph into blue after maturation
Black body with white specks
Common Sawfly Larva
Yellow body with black spots
Multiple legs
Matures into a wasp
Bends backward
Cross-striped Cabbage Worm
Brown head with yellow sides
When young, it is small and green
Black dots throughout the body
Definite Tussock Moth Caterpillar
Black body with yellow cocoon
Black lashes
Holding it can cause pain and irritation.
Yellow bumps and head
Dogwood Sawfly Larva
Fuzzy, waxy appearance
It appears like plump flies and does not sting
Black colored head and yellow belly
Double-lined Prominent Caterpillar
A green head and black eyes
Red patches and stripe
Bears red patches that grow into a large stripe
Eastern Black Swallowtail Butterfly Caterpillar
Orange bumps on the body
Feeds on distinct wild plants and herbs
Causes stinky smell
Eastern Tent Caterpillar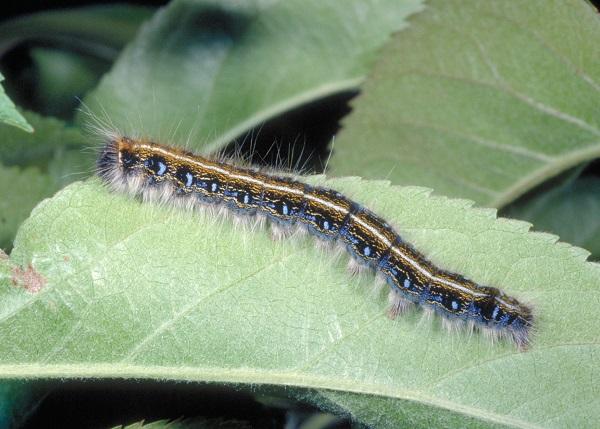 A black-colored head
Its skin tents are tough to tear and offer a secure retreat for resting
Orange hair on feet
A white line on the back
Eastern Tiger Swallowtail Caterpillar
Green body
Gazes right at you through its clear eyespots
Eyespot on the side
Speckled body
Eight-spotted Forester Moth Caterpillar
Black polka dots on the body
Looks more like a butterfly than a moth
Orange head with rings
Blackish-white stripes
Evergreen Bagworm
Multicolored/brown head
An intelligent case that prevents it from drying out
Speckled, mottled body
Fall Webworm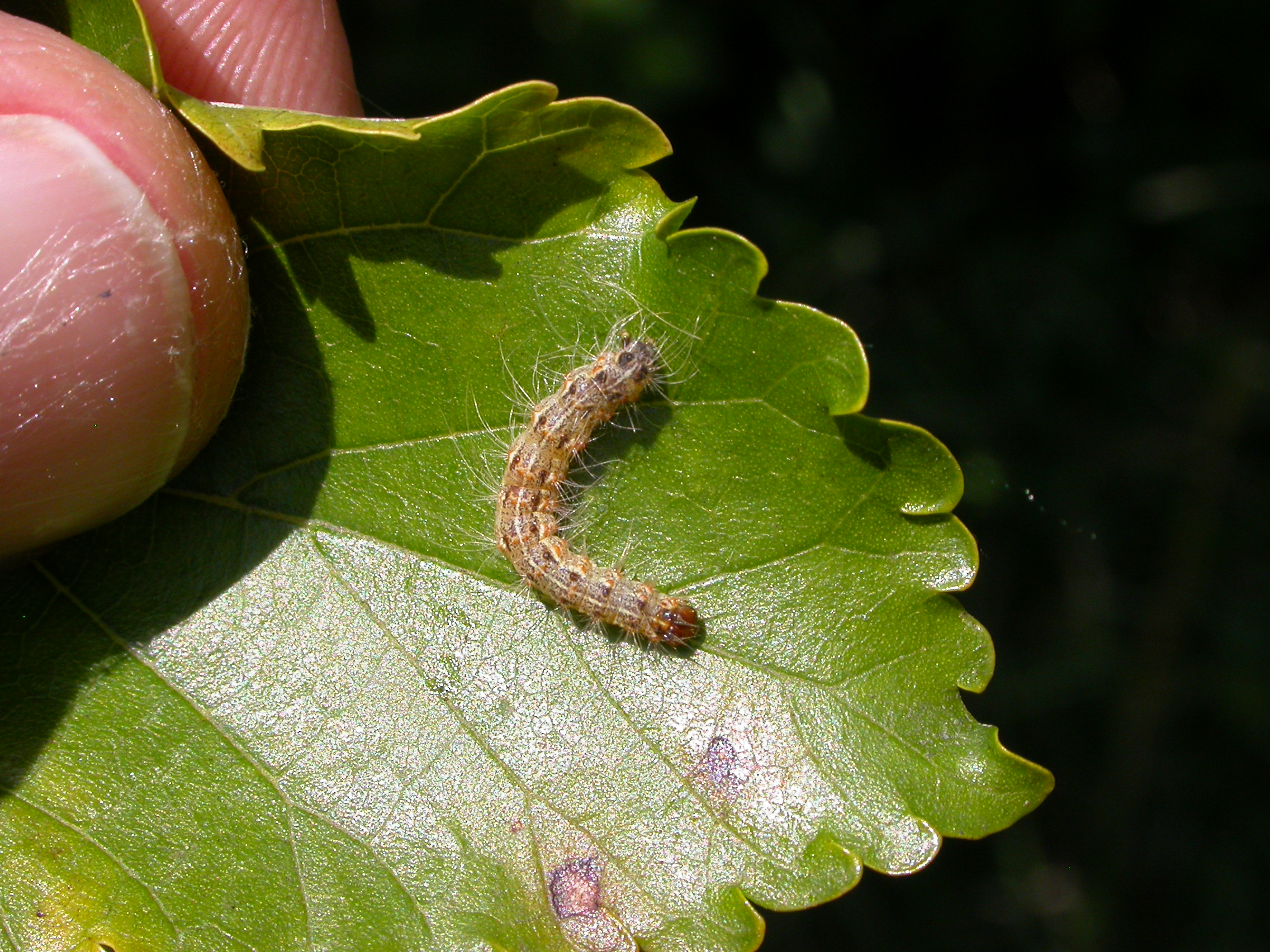 Found in clusters
Lengthy yellow/white don't possess stinging capabilities
Covers with spikes and hair
False Unicorn Caterpillar
Brown head with red bumps
Feeds on woody plants like Fagus and Betula
Sharp bristles on the body
Fig Sphinx Moth Caterpillar
Black/green/white-colored head
Undergoes extreme color transitions ranging from white to two-toned
White diagonal lines on sides
Forest Tent Caterpillar
Black/brown body
Usually sticks in a herd while traveling on tree trunks
Light blue stripes and yellow lines
Feathery legs
Giant Leopard Moth Caterpillar
Black-colored head and body
Surprisingly safe to touch despite deadly-looking black clusters of spikes
Expansive yellow-red bands on body
Gold Moth Caterpillar
Orange head and body
Loses its bright colors to turn into a metallic, shining beauty
Black stripes with white sides
Goldenrod Hooded Owlet Moth Caterpillar
Only 1.1" in size
Long yellow, green, white stripes and a brown line on their fleshy bodies.
Striped body
Hahncappsia Moth Caterpillar
Fleshy green-green body
A summer moth and active during summer months.
Covered with black dots
Hibiscus Leaf Caterpillar
Brown/tan body with a yellow-brown head
Feeds on the leaves of tropical flowers
Four black dots on each segment
Hickory Horned Devil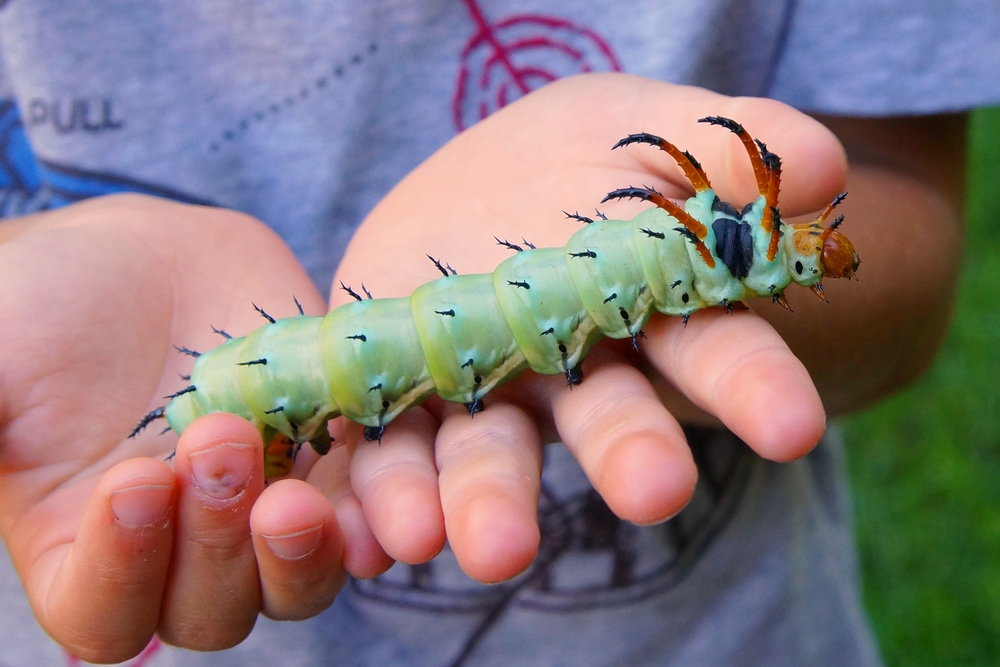 Long antennae and curved antlers
Despite its appearance, it is safe to touch
Blackish-red horns
Orange/red/multicolored/black-colored head
Hitched Arches Moth Caterpillar
Diamond-like green body
Universally found in distinct habitats as it feeds on varied plant
Flat read end
Yellow bands
Humped Green Fruitworm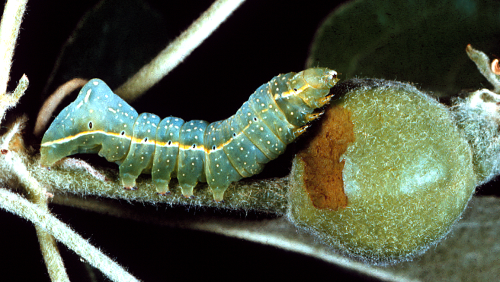 Green body and head
Features a yellow-striped triangular bump near its rear end.
Yellow speckles and stripes
Imperial Moth Caterpillar
Brown-green body with yellow/orange/black/brown head
Bears multiple rows with pointy horns on the head with a variably-colored body
Fine white hair
Io Moth Caterpillar
Green/red/white body
An array of green spines cover the entire body
White and red stripes on the side
Juniper-twig Geometer Moth Caterpillar
White stripes on the body
The slender brownish-green body helps it merge with the conifers it feasts on
Brown head with yellow legs
Large Tolype Moth Caterpillar
Pale-colored body with bumps
Carries a feathery fringe around its legs to cover lichen-laced trunks
White/gray hairs around body
Long-horned Slug
Variety of colors on body – green, purple, brown, red, maroon
Develops purple diamonds on its back
Two orange tails and dots
Luna Moth Caterpillar
Green/orange body with pink-red dots
Blackish-brown head
Covered in tiny red spots and stripes with yellow centers.
Mealybug Destroyer Beetle Larva
White, cotton-like body
Devours multiple plant-attacking bugs
Covered with hairs
Milkweed Tussock Moth Caterpillar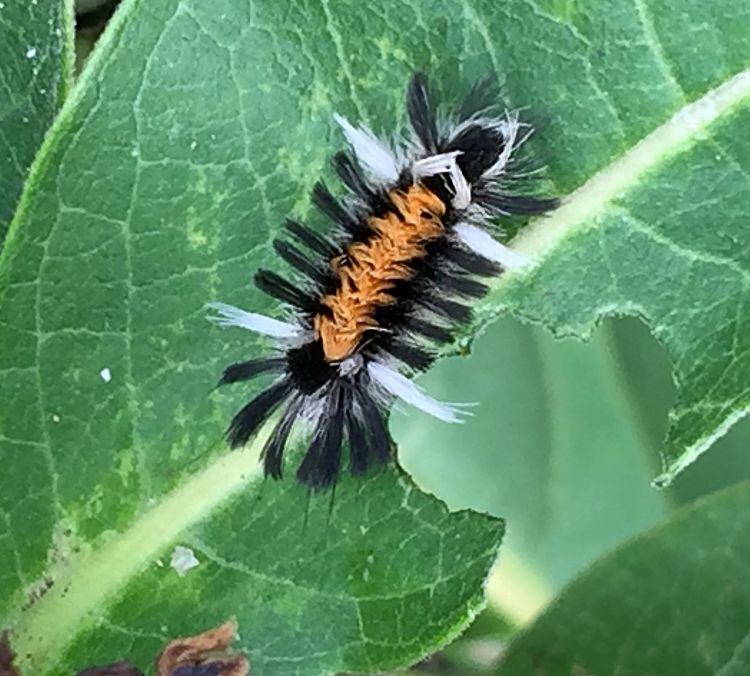 Marroonish-yellow body
Loves feeding on its host plants
Yellow hairs on the back
Black hair tufts and head
Mini Bagworm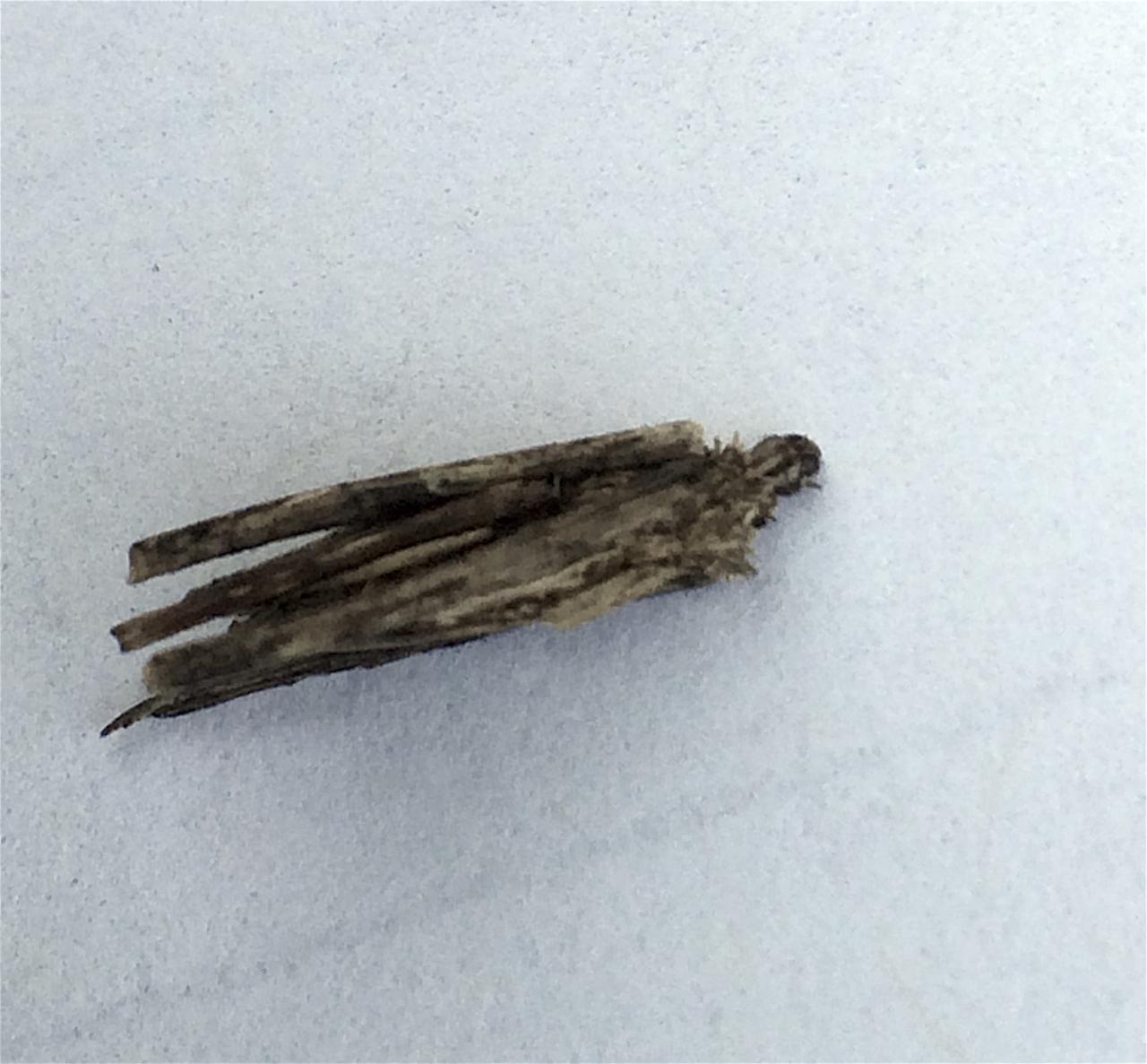 Dried needle-like body
Movable cases enclosing it are built with whichever dead plant it feeds on
Multicolored head (black-brown striped)
Monarch Butterfly Caterpillar
Blackish-yellow stripes
Two black tails
Favors milkweed as a host, and relies on its presence to maintain populations
A pair of black antennae
Monkey Slug Caterpillar
Fuzzy, hairy body
Appears more like a hairy octopus than a caterpillar.
Snail-like bodily features
Brown head with black tip
Nason's Slug
Green body with orange dots
Appears more like a snail without a shell; less like a caterpillar.
Spines in the dots
Oldwife Underwing Moth Caterpillar
Ivory head
Dark, squiggly lines embrace the head and body
Four white bumps on the head
Hair fringes by legs
Orangedog Caterpillar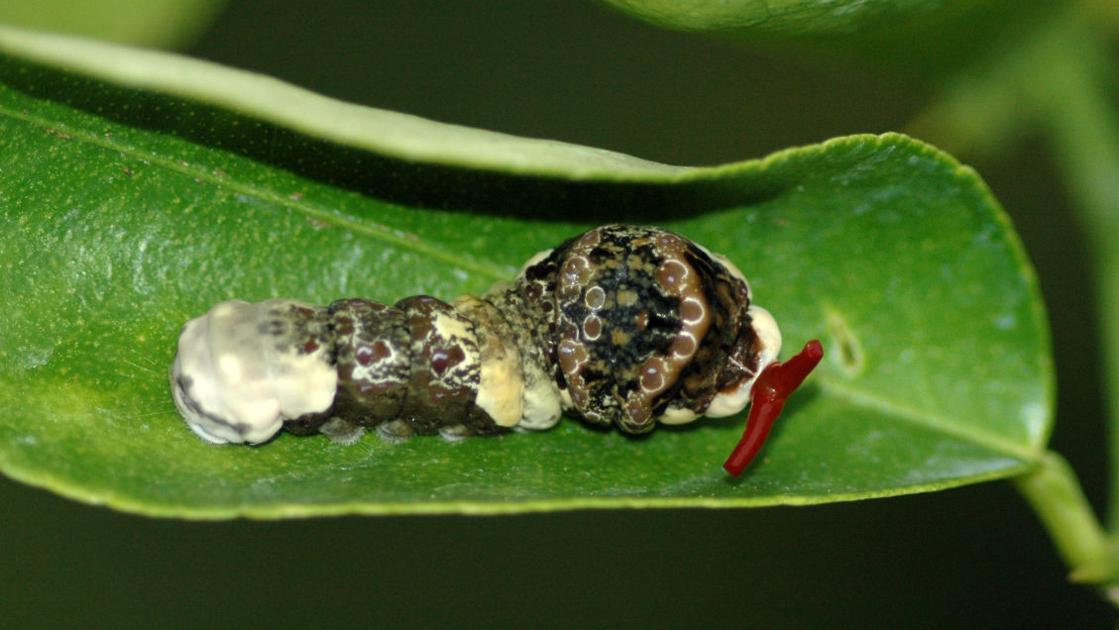 Snake-like appearance
Snakes around citrus trees and feeds on leaves by sticking its tongue out at predators.
Wide head
Red tongue
Owl-eyed Bird Dropping Moth Caterpillar
White "i" on back
Quietly resides in oak barrens and woodlands
Black-colored head
Orange sides
Wispy black hair on the body
Pandorus Sphinx Moth Caterpillar
Orange/green/brown body
Engulfs vines growing in the forests and gardens.
White/orange side spots
Green-colored head
Pipevine Swallowtail Butterfly Caterpillar
Reddish-purple body
Mimicked by butterflies due to its reputation for tasting terrible
Orange tentacles and dots
Black-colored head
Polyphemus Moth Caterpillar
Chubby green body
Matures into a large, curvy moth with alluring eyes.
White dots and red rings
Flat brown head
Puss Caterpillar
Brownish-orange body
Looks fascinating, but it's best to avoid contact with its stinging hairs
Furry and soft to touch
Question Mark Caterpillar
Red, orange body
The head and body stick out branching spikes
Black and red spikes
Red-colored head with white dots
Red Admiral Butterfly Caterpillar
Black body with orange base spots
Gives its location away by securing leaves with silk and folding them
Black branching spikes
Red-humped Caterpillar
Red hump and head
Skeletonizes leaves, leaving behind only their veins.
Black spikes
Orange sides
Red-spotted Purple Admiral Caterpillar
Grey/white-colored body
Uses its own droppings to safeguard its cocoon.
Two black antennae
Retarded Dagger Moth Caterpillar
White bands and black lines
Usually spotted on maple trees.
Four red bumps with hairs
Brown speckled head
Saddleback Caterpillar
Greenish-brown body
Touching the black 'button' on its back causes stinging pain
Bears white rings
Antennae by butt and head
Saddled Prominent Moth Caterpillar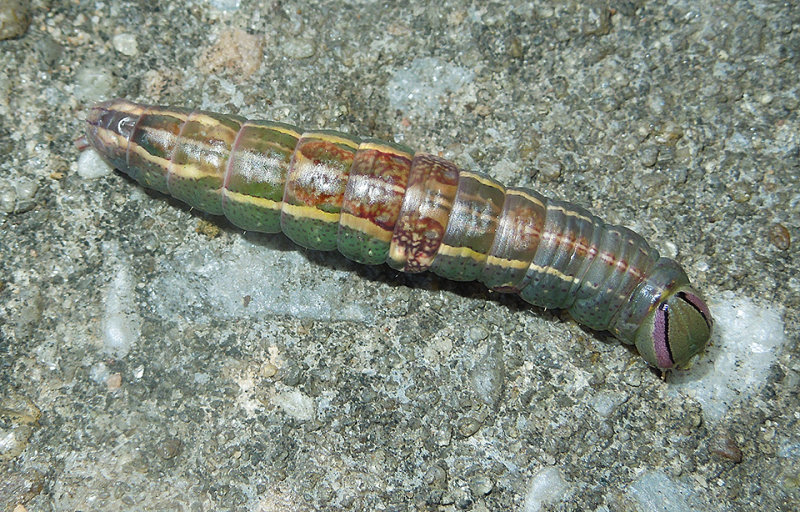 Flat brown head
Characterized by its instability.
Diagonal dashes on the side
Silver-spotted Skipper Caterpillar
Reddish-maroon head
Loves taking daytime naps in the leaves of its host
Orange eye spots
Dark rings
Silvery Checkerspot Caterpillar
Spiky black body
Inhabited in moist, somewhat open spaces like meadows and streamsides
A black-colored head with orange side stripes
Skiff Slug
Egg-shaped body
Blends well with shrub leaves and treas that it engulfs to veins
Flattened back
Raised towards the sides
Slug Caterpillar
Egg-shaped body
Possesses wide, flat body and resembles snails
Covered with spines
Green colored
Smaller Parasa Moth Caterpillar
Flat-bodied
Sluggishly moves over stems of plants
Short brown hairs
Smartweed Caterpillar
Black colored
Makes an appearance during the spring and fall seasons
V-shaped yellow sides
Snowberry Clearwing Moth Caterpillar
A green head
A harmless, sharp-looking horn stationed at its rear end
Carries a black tail
Yellow scruff neck
Southern Tussock Moth Caterpillar
Blackish-brown head
It's recommended to tread cautiously near this caterpillar.
Black bumps on the back
Spicebush Swallowtail Butterfly Caterpillar
Carries a bulging head with multiple bright colors
A greenish-yellow body
Appears snake-like
Has steely blue dots on the side
Spiny Elm Caterpillar
Its sting causes excruciating pain
A black-colored head and body
Black spikes
Four red legs with a bumpy head
Spiny Oak Slug
Possesses short hairs that can embed themselves and cause irritation
Orangish-brown body with brown bands
A brown-colored head with spiky hairs
Spotted Apatelodes Moth Caterpillar
Its soft, fine hairs might fasten themselves in the skin
Extremely fuzzy in appearance
Bears black antennae
Covered with long black hairs
Red legs and feet
Spotted Tussock Moth Caterpillar
It is a non-stinging caterpillar
A woolly-bear like appearance
Black dots and bumps
Yellowish towards the middle
Spun Glass Slug
Looks more like a delicate chandelier than a caterpillar
Oval in shape
Fairly transparent in appearance
Green-colored body
Stinging Rose Caterpillar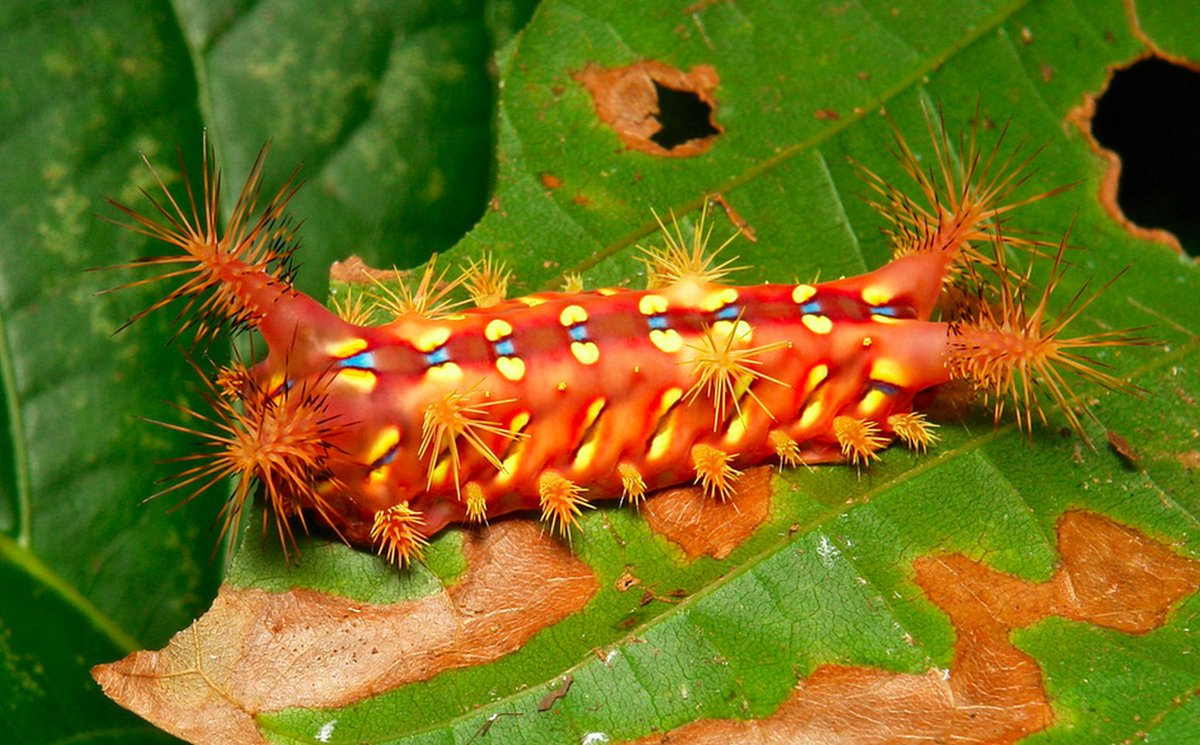 Its stinging hairs cause pain when touched
Yellowish-red in color
A purple band on the middle of the back
Short-sized horns
Sycamore Tussock Moth Caterpillar
The pencils and tufts on its skin may irritate the skin
Orange-headed caterpillar
Orange-colored lashes
Furry with black hairs
Tersa Sphinx Moth Caterpillar
A snake-like appearance
Brown or green bodied
Large eyespots are helpful for the identification
A black, thorned tail
Bears a bulging head
The Half-wing Moth Caterpillar
Thin tap stripes extending towards the back
Orange spots on the side
Black speckles on its head
Twig-like appearance
Thistle Caterpillar
A black-colored head
Orangish-red nodes
Hairy, fuzzy face
Features yellow branching spines
Tiger Moth Caterpillar
Black-colored body
A yellow line running through the middle
A black-colored head
Feeds on distinct plants
Tobacco Hornworm
Well known to crop farmers where it destroys plants like tobacco and tomato upon maturation
Bright green body and head
Carries seven white diagonal stripes located at an upward angle
Tiny black eyespots rest at the base of each angled line
Tulip-tree Beauty Moth Caterpillar
A swollen neck provides it a snake-like profile
A yellow-colored head
Green-colored body
Slender black and white sidelines
Unicorn Caterpillar Moth
Elevated head like that of a unicorn
A white V-shaped mark
Long, single horn
Bears sparse hairs
Variable Oakleaf Caterpillar
Oozes out a stinging, acidic spray that leaves handlers with blisters
Green-colored body
Paired red bumps
Diagonal stripes on the face
Variegated Fritillary Butterfly Caterpillar
Red-colored body
Fashions long black spikes
Elongated yellow lines on the body
Virginia Creeper Hornworm
A greenish-brown body
Black-colored tail
Presence of white granules and dots
Virginian Tiger Moth Caterpillar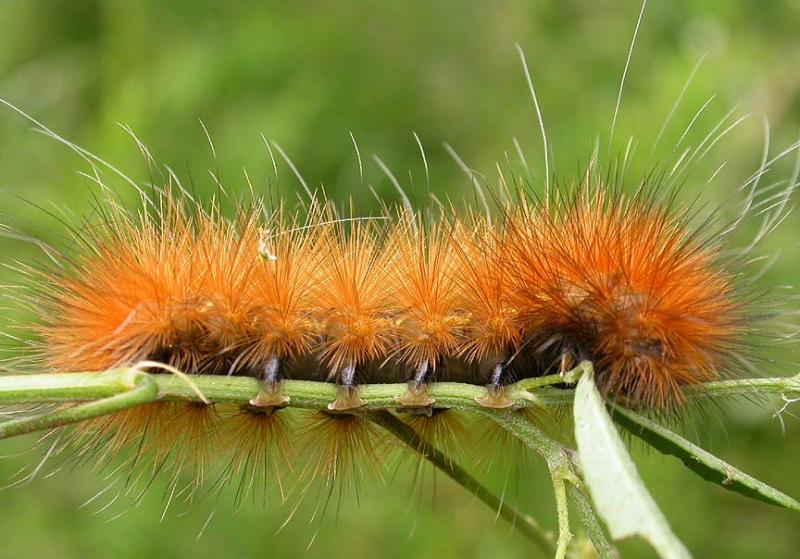 Its hairs aren't poisonous but can irritate the skin
Rusty-orange body
Blackish rings between the orange
A black-colored head
Walnut Caterpillar
The hairs might appear menacing, but it does not sting
Black-colored head
Whitish-black body
Wavy-lined Heterocampa Moth Caterpillar
Forms antlers on its head
Carries two tails
Greenish-brown body
White Admiral Caterpillar
Does a great impression of bird-dropping
Features two black spiky horns
Two bumps on the back
Greyish-brown head
White Flannel Moth Caterpillar
Boldly-colored body
Bears short and stinging hairs
Yellowish-red head
White Furcula Caterpillar
A long forked tail sticking straight up
Large brown-colored head
Bristles on the tail
White-blotched Heterocampa Caterpillar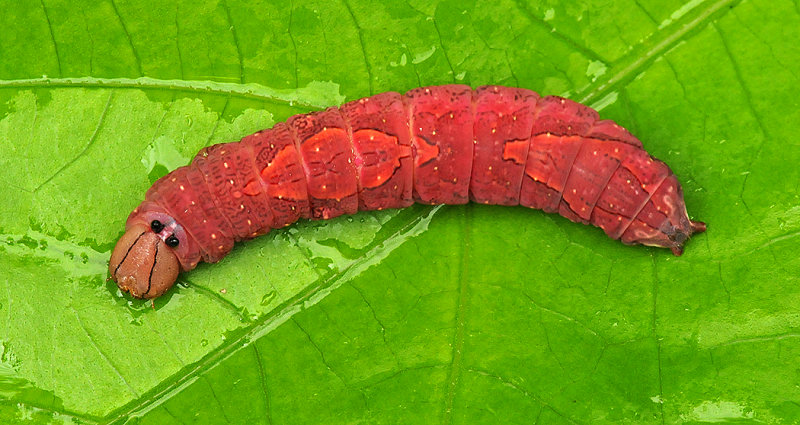 Undergoes dramatic color transformation as it mutates into purple
Boasts a birthmark on the back
Two black bumps
White-marked Tussock Moth Caterpillar
Causes pain and itching upon touching it
Yellow-colored body
Black stripe on the back
Black-colored antennae
100 Types of Caterpillars in North Carolina
So, this was all about the 100 commonly found species of caterpillars in North Carolina.
Observing a caterpillar grow into adulthood is an exciting experience, raising it is even better!
For starters, you get to testify one of the world's most natural events. Moreover, you'll get the opportunity to definitely distinguish among the hundreds of species around!