Dachshunds are adorable dogs that are colloquially known as a sausage or wiener dog because of their long backs. Though Dachshunds are relatively small, their bark is huge. That, coupled with their vigilant nature, makes this breed excellent watchdogs.
These dogs are also endearing and cuddly, which is one reason why so many people love bringing them into their homes.
If your newest family member is a cute little Dachshund, and you still haven't decided what you're going to call it, this article will help. Here are cute and funny names for Dachshunds that you can use for your adorable new pet.
Female Dachshund Names
There's a fairly common misperception that female Dachshunds are more loyal and affectionate than their male counterparts.
However, if you interact with both, you'll learn that both female and male Dachshunds behave in very similar ways to their owners.
So, it's best to avoid thinking along gender lines when you're picking one for your home. One time when that can be relevant, however, is when you're selecting your doggo's name.
Thus, here's a list of female Dachshund names that might pique your interest.
Macy
Jess
Kiley
Miley
Samantha
Sandra
Pauline
Ursula
Paula
Rachel
Torrie
Luna
Zelda
Mildred
Charmaine
Bridget
Wendy
Ginger
Amelia
Hilda
Elsa
Claudia
Leona
Martha
Lillie
Daphne
Belle
Penelope
Mabel
Gigi
Male Dachshund Names
Check out the following male Dachshund names for one that you can give to your pup.
Dirk
Kyle
Derick
Baldwin
Dieter
Adler
Paul
Carl
Jason
George
Finn
Duke
Hank
Benny
Rusty
Murphy
Gus
Jack
Charlie
Sean
Mason
Phil
Steve
Mike
Tyke
Ford
Holt
Girl Dachshund Names
The following list of girl Dachshund names is perfect if you're looking for a cutesy name for your female Dachshund pup! Browse through each one and find your favorite.
Bonnie
Tess
Birdie
Betty
Darla
Daisy
Krissy
Leah
Lola
Abby
Mia
Millie
Olivia
Piper
Romy
Remy
Molly
Felicity
Lulu
Freya
Gracie
Greta
Karina
Kenna
Kitty
Rosie
Ashley
Alena
Tilly
Nella
Zoe
Charlotte
Cathy
Annie
Edie
Orla
Rosa
Ellie
Emma
Marla
Maisie
Martha
Roxie
Silvy
Sam
Sally
Sandy
Brandy
Cassie
Clara
Missy
Minnie
Nora
Lizzie
Lotta
Felicia
Cute Dachshund Names
If someone doesn't think that Dachshunds are one of the cutest doggos out there, show them the Instagram pages of one or more cute Dachsunds.
No, but all kidding aside, Dachshunds are cute also because they're so small and have short, stumpy legs.
Go over some of these cute Dachshund names for your doggo.
Snickers
Nugget
Brownie
Honey
Chip
Tootsie
Pippin
Tot
Biscuit
Mocha
Giggles
Skip
Coco
Bubbles
Twiglet
Sparky
Cutestuff
Butterscotch
Charm
Cookie
Twinkle
Pixie
Fifi
Paws
Skip
Popcorn
Waffles
Speedy
Pickle
Scoot
Funniest Dachshund Names
Dobby: Dobby is a character from the fantasy novel series Harry Potter. Through the live-action film adaptation, we got to see what this male house-elf looks like—beyond the images in our imaginations.
If you haven't seen him, he's small, short, thin, and, well, looks like an elf. So, one could argue that he sort of looks like a funny-looking Dachshund.
Give your doggo this name, and see what reactions you get from people when you tell them its name. We're sure you're going to elicit more than a few laughs from people who get the reference.
Best Dachshund Names
Dachshunds are known as sausage (or wiener) dogs by many. So, our pick for the best names for these doggos is the names of sausages. Check these out!
Bologna
Helzel
Lolita
Pepperoni
Vienna
Haggis
Chorizo
Chipolata
Salami
Frankfurter
Glamorgan
All of the names above contain two or more synonyms, which can prove cumbersome as a doggo name. In that case, you could shorten them. For example, you could shorten Glamorgan to Glam or Morgan.
One-syllable names tend to be more memorable because they're a lot easier to pronounce too! So, don't be afraid to mix things up. Every category should only help direct you in picking a name that's unique for your doggo.
Boy Dachshund Names
This category consists of names that are made for your good boy. Check out these boy Dachshund names!
Max
Opie
Rover
Alex
Gulliver
Jasper
Barkley
Lucky
Bernie
Jimmie
Milo
Otis
Teddy
Rascal
Augie
Rocky
Scully
Gizmo
Scully
Murray
Cooper
Dino
Archie
Funny Dachshund Names
Funny pet names are some of the best names because they'll always put a smile on your face. So, let's go over some funny Dachshund names that'll do the same for you!
Lady Little Legs
Sir Sausage
Dash
Pocket
Rooster
Monstress
Fig
Sergeant
Tickle
Lofty
Long-Backer
Limo
Southern Dachshund Names
This category of names is best suited for your little Southern Dachshund. Take a look!
Harley
Celia
Walker
Maribelle
Uga
Smokey
Deacon
Annabel
Huck
Grady
Dawson
Casey
Frances
Calvin
Georgia
Beau
Roy
Delta
Atticus
Constance
Imogene
Virginia
Anna Mae
Fenton
Eloise
Tallulah
Suellen
Florence
Blanche
Orson
Clementine
Tucker
Adorable Dachshund Names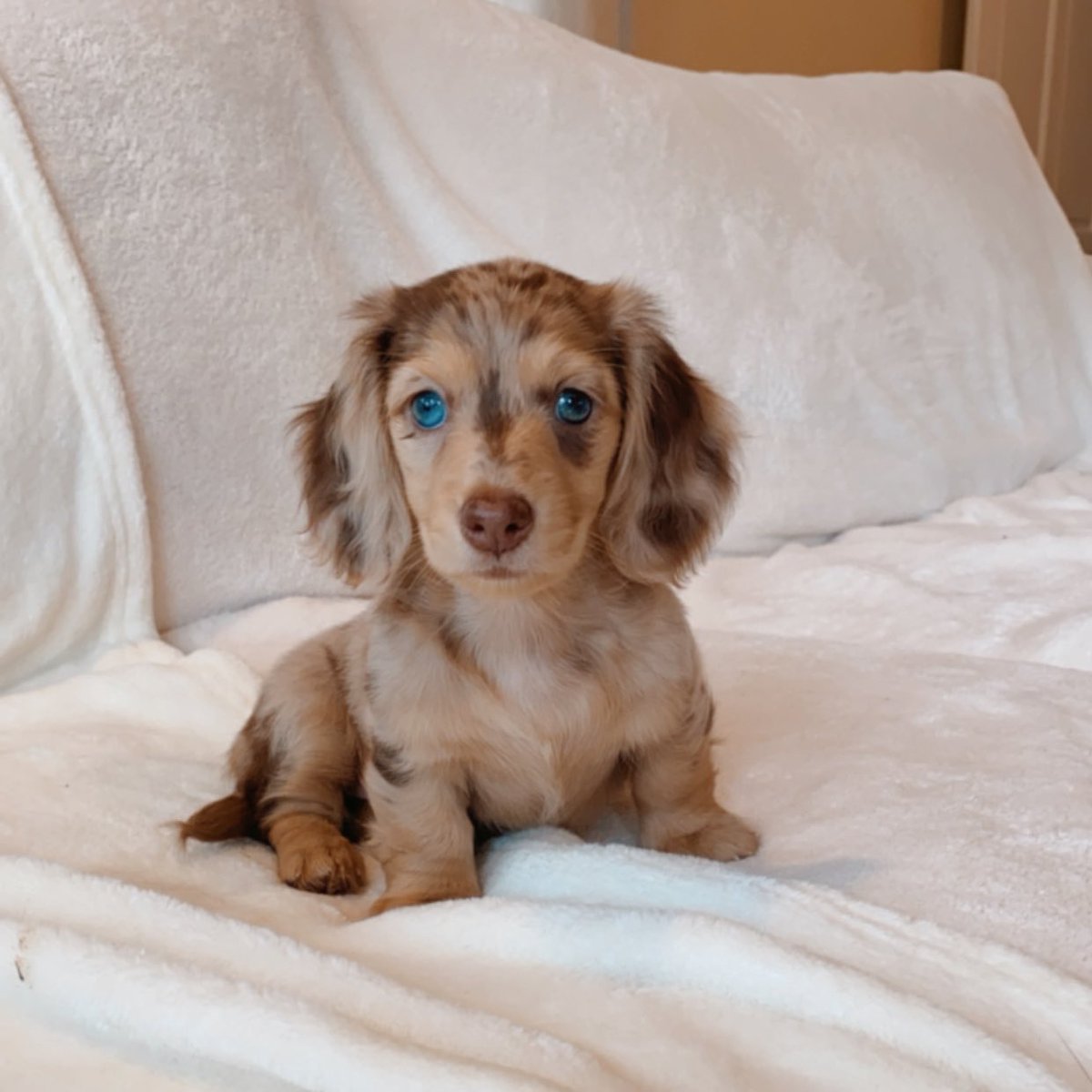 Honeydew: If you like following pets on Instagram, you may have come across an adorable Dapple Dachshund pup called Honeydew. So, why not name your doggo after that famous pup?
Black and Tan Dachshund Names
Dinah: Dinah is the love interest of the Disney character Pluto. When she made her first appearance in The Sleep Walker, she was a black and tan Dachshund.
However, later on, the artists changed the color of her coat to that of a red Daschund. Nevertheless, Dinah is a great and apt name for a black and tan Dachshund.
Chocolate Dachshund Names
Choco-Salami: There's no reason why you shouldn't name your chocolate Dachshund after two foods that it kind of looks like.
Disney Dachshund Names
Slinky: Slinky is a side character from the iconic Pixar (now owned by Disney) film series Toy Story. He's a toy Dachshund with a brown-colored body.
Like most dogs, Slinky is a loyal pal to the other characters in the film series. He's also friendly, kind, sweet, funny, protective, and caring. If you're a fan of the Toy Story franchise, then go for the name Slinky.
Dapple Dachshund Names
Dapple Dachshunds is a type of Sausage Dogs that have specific patterns to their coats. Their coats have spots all around, and these dogs can have smooth, long, or wire coats.
Like all other Dachshunds, however, they're adorable creatures that are also intelligent, stubborn, and courageous.
Take a look at some of these Dapple Dachsund names that reference their unique coats.
Sprinkles
Blotches
Motley
Shady
Mottle
Orchard
Cheetah
Stipple
Cobbles
Crumb
Dollop
Dotty
Fawn
Brindle
Checkers
Merle
Fleck
Grain
Streaks
Tabby
Gravel
Atom
Leopard
Marbles
Smudge
Domino
Specky
Pepper
Splodges
Splotch
Patches
Droplet
Pebbles
Long-Haired Dachshund Names
Dachshunds have three types of coats, one of which is long-haired. Here are some names for your pup with long hair.
Tarfful: If you're a Star Wars fan, you probably know about the Wookie Chewbacca. Well, there's another Wookie you could name your long-haired doggo after, General Tarfful. Tarfful helped defend his people during the Clone Wars. So, if your doggo is as brave as Tarfful, you must consider this name.
Furry
Bear
Wolf
Whiskers
Sulley
Teddy
Cashmere
Fuzz
Chewie
Quill
Shaggy
Charmin
Feathers
Fox
Grizzly
Ducky
Silky
Puffin
Cloud
Dusty
Lamb
Wookie
Lion
Miniature Dachshund Names
Miniature Dachshunds are the smallest of this breed (as the name suggests). Thus, they weigh only about 11 pounds or even under that. The following names are perfect for your small creature.
Shorty
Hulk
Smallfry
Doodle
Cub
Micro
Shrimp
Bean
Tic Tac
Bambi
Chico
Scamp
Nacho
Piebald Dachshund Names
Piebald Dachshunds exist when both parents contain the recessive piebald gene. Therefore, this wiener dog has a specific coat type with colored fur over a coat of plain white.
Piebald Dachshunds are unique creatures, and both parents don't have to be Piebalds for its baby to be one. So, let's get into some names you can use for your pet.
Red Dachshund Names
The color of Red Dachshunds' coats can vary from blonde to a shade of red similar to that of dark mahogany. Your beautiful red doggo, in that case, will have a black nose, black eyes, and black nails.
Vulcan: In Roman mythology, Vulcan is the god of fire. Give your red-coated doggo this badass name and show off your knowledge on mythologies and history.
Bloom
Eclipse
Rufus
Comet
Coral
Ember
Topaz
Amber
Chestnut
Blaze
Sunshine
Cherry
Burgundy
Bordeaux
Goldie
Blondie
Fennec
Hazel
Ladybug
Peaches
Oakley
Robin
Poppy
Dynamite
Elmo
Rouge
Berry
Sienna
Conclusion: Dachshund Names
Well, that's our take on cute and funny names for Dachshunds, and these various categories should give you a lot to think about. Once you name your dog, it sticks for the rest of its life. So, it's best to think it through before you settle on a name.
Go over some of its features and behavior that sticks out the most or that you find appealing, and work with that!
Good Luck!