The Aristocats is a Disney Animated Film, released in December 1970. The name of the film is a pun because the movie is about a group of aristocratic cats. There are several cats in this film, as one could guess. So, cat owners have many options for names to consider for their kittens. If you're a fan of the film or just like any one of the characters, this article is for you. We'll go over several Aristocats names for your cat and provide important details about the film itself.
An Overview of Various Aristocats Names
Relying on references from films, TV, books, and other media is a great way to get ideas for names for your pet. You can find names that are funny, interesting, and instantly recognizable (if you share the name with a friend).
Let's dive into the names (and relevant details) of the characters from the film The Aristocats. While our focus is solely on names for kittens, you can use them for any other pet if you like.
Thomas O'Malley
This is the name of the protagonist of the film. Their full name is Abraham e Lacy Giuseppe Casey Thomas O'Malley. Thomas is a male alley cat who's generally friendly with everyone he meets. Thomas's love interest in the film is a cat named Duchess.
He meets them and her children for the first time when they're stranded in the woods. The two eventually fall in love, and Thomas is an excellent fatherly figure to her children.
Throughout the film, Thomas consistently rises to the occasion and protects them in the face of adversity.
Appearance – Thomas has an orange coat, a white muzzle, yellow eyes, and a crimson nose.
Personality – Thomas is caring, kind, brave, charming, streetsmart, heroic, selfless, and witty.
Duchess
Duchess is the deuteragonist of the film and the love interest of Thomas O'Malley. She is the pet of the aristocrat, Madame Adelaide Bonfamille. Because of that, she's elegant, ladylike, beautiful, and well looked after.
Despite coming from a life of privilege, she doesn't look down on alley cats—which is also why she falls in love with Thomas.
In addition to that, Duchess is friendly with whomever she interacts with and generally compassionate and sweet. She also enjoys music and teaches her children how to play the piano.
Appearance – Duchess is a purebred Turkish Angora cat, with long, white hair and sapphire-blue eyes.
Personality – Duchess is known for being compassionate, sweet, caring. She's also protective of her children— like all mommas are. Also, because of her upbringing, she's elegant and proper.
Toulouse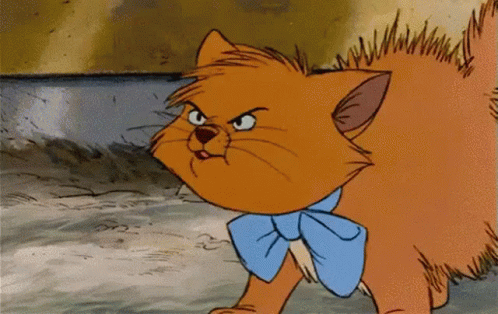 Toulouse is Duchess' oldest child. He had dreamed of meeting a tough alley cat and got his wish when he met Thomas. The kitten constantly tries to appear tough and attempts to hiss and puff up to showcase that. Other than that, he's relatively easygoing and is also an aspiring painter.
Appearance – Toulouse is a small and plump kitten, albeit larger than his siblings. He has long orange fur all over his body, with shorter and lighter fur on his belly. The kitten also has beautiful green eyes.
Personality – Toulouse is a confident, kind, laid-back, rowdy, and funny little cat.
Berlioz
Berlioz is Duchess' youngest child. The kitten is male and very sweet-natured like his siblings. While he is generally naïve, he's not particularly easy to impress. So if you're looking for boy Aristocat names, Berlioz is an apt and unique name for your cute male kitten.
Appearance – Berlioz is a small and relatively thin kitten with dark grey fur all over his body and light grey fur on his belly. He has bright blue eyes, and you'll almost always find a smile on his little face.
Personality – Berlioz is kind and caring, like his siblings. He's also quiet and shy but simultaneously mischievous when he feels like it.
Marie
Marie is the Duchess' middle child and her only daughter. Marie looks like a smaller version of her mother, and she behaves in a similar, ladylike way. Marie is a hopeless romantic and is often lost in her own thoughts.
That said, she's a curious cat (and no, in this case, curiosity didn't kill the cat), and that tends to put her in a bit of trouble throughout the film. If your kitten is female, you can't go wrong with settling for this girl Aristocat's name.
Appearance – Like Duchess, Marie also looks like a typical, slender, white-haired Turkish Angora cat. She has deep blue eyes and a small pink nose.
Personality – Because of Marie's upbringing, she tends to be a bit spoiled and a little prissy—she isn't afraid to tattle on her brothers if things don't go her way. Despite that, however, she is still kind and caring—a clear influence from her mother.
Scat Cat
Scat cat gets his name from the musical term scat, which means to use your voice to imitate the sound of an instrument. Scat Cat is Thomas' best friend and is the leader of the alley cats. Scat Cat, like his name suggests, loves jazz music, playing trumpet, parties, and singing.
Appearance – Scat Cat is a chonky boy who has black fur, a red bow time, and a small tophat to complete his look.
Personality – Scat Cat is an extremely helpful cat, giving Thomas, Duchess, and her three children a place to stay after they were stranded in the woods. He's also charming, friendly, social, and gentlemanly. His love for music and performing also make him an energetic and fun-loving character. Scat Cat is a great choice for a unisex cat name.
Hit Cat
If you have an English cat, the name Hit Cat is a perfect choice. Hit Cat plays the acoustic guitar in Scat Cat's band.
Shun Gon the Chinese
Shun Gon is a Siamese cat. Like Hit Cat, he is also in Scat Cat's band. He plays the drums on a set made of pots. This multitalented cat also plays the piano.
Billy Boss
Billy Boss is a Russian cat who plays the cello in Scat Cat's band. Is your Russian cat a bit of a boss at home? Well, Billy Boss is a good choice for a Russian cat name.
Peppo
Peppo also plays in Scat Cat's band. This Italian cat plays the accordion.
A Brief Summary of the Film's Plot
The film is based in Paris, in the year 1910. Aristocrat, Madame Adelaide Bonfamille, owns a cat named Duchess and her three children. In her will, Bonfamille mentions that her fortune will go to her butler Edgar after taking care of the cats until they die.
Edgar, thinking he won't live long enough to use that fortune, plots to remove Duchess and her kittens from that inheritance position.
Edgar attempts to dispose of the cats in the countryside but is attacked by two hounds. He leaves the cats behind, and Duchess and her kittens are stranded in the woods. There, they find Thomas, an alley cat. The entire story is about getting Duchess back to Paris, and Thomas successfully helps them achieve that, with a few twists and turns along the way.
When they reach the Bonfamille's mansion, Edgar attempts to dispose them, but Scat Cat and his gang save the day. Bonfamille removes Edgar from her will and welcomes Thomas into her family. Thomas and Duchess fall in love, and the two of them are happy together.
Knowing the plot can help you contextualize the characters, allowing you to select one of the many male and female Aristocats names that's best suited to your cat.
FAQ
What are The Aristocats kittens' names? There are three kittens in The Aristocats, all children of Duchess. Their names are:
What Is the Siamese Cat's Names in The Aristocats? The Siamese cat's name in the film is Shun Gon the Chinese.
Who Are The Aristocats Named After? Two of the kittens from The Aristocats are named after two French artists. The cat Berlioz is named after the famous composer Hector Berlioz, and the cat Toulouse is named after the French illustrator and painter Henri de Toulouse-Lautrec.
What Is the Black Cat's Name in The Aristocats? The black cat's name in The Aristocats is Scat Cat.
Last Few Words
If you're looking for sophisticated and memorable names for your cat, The Aristocats is an excellent source to consult. While some of the names are inspired by famous real-life artists, they are all unique.
When considering The Aristocats' names for your cat, make sure to go over each cat's appearance, personality, and breed. While it's not a bad idea to select a name that best reflects your cat's idiosyncrasies, it doesn't hurt to mix-match your options.
Anyone who's a fan of this series is going to take a trip down memory lane when they hear your pet cats' Aristocats-inspired names!
Good Luck!